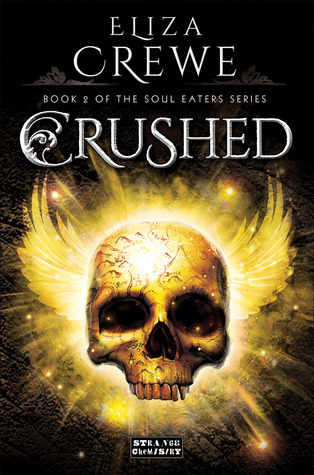 This world is so amazing. If you haven't read this series yet, you are making a bad life choice. Really, it's that good.
Crushed picks up right where Cracked left off, except with a little added twist; Meda is learning very quickly that she belongs with the Crusaders almost as much as she belongs with the demons. AKA: Not as much as she thought she would. There isn't any young adult book tropes. Everything is very well done, and the story arcs are undisputedly better than most anything in this genre. I was blown away reading the second installment maybe even more so than the first. Once you've finished (maybe in one sitting because you're a lovesick fool like me) you'll be begging for more.
"It's illegal, you know," he murmurs. "Stealing."
I clear my throat. "Stealing?"
"My heart. I could have you arrested."
I snort. "For that tiny thing? I'd get a misdemeanor at most."
Meda doesn't just meet the high expectations that were set for her in Cracked — she surpasses them. I seriously do not want to keep busting out my soap box, but Meda is the seventeen year old girl that more seventeen year old girls need to read about. She's phenomenal and I am head over heels in love with her.
"What a foolish thing, the human heart, being both fragile and reckless. No wonder we spend such an inordinate amount of time in pain."
You know what was the best part of this book (as heart wrenching as it was)? She didn't pick him. She didn't pick the guy who was honest with her and told her what he wanted. She didn't pick the only person that truly understood her. She didn't pick the one begging for her to pick him. She picked herself, and you don't see that shit everyday and you sure don't see it in YA books ever.
Oh, and my review for Cracked was correct; I did fall in love with him, but:

"I'll do whatever you want, Meda." His voice is rough. "But pick me."