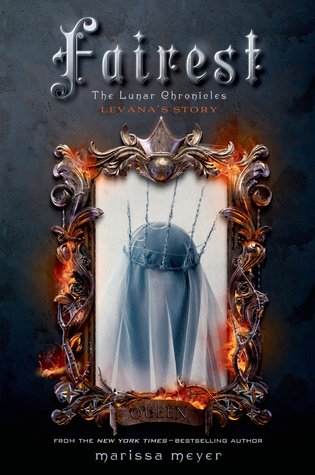 "Are you still waiting for me to fall in love with you?"
This was actually my favorite book in the Lunar Chronicles, thus far. I'd rather read about Levana than Cinder any day, and some of her confessions made my heart bleed for her. Seriously, this was such an empathy packed little book for me. Hell, I even shed a few tears when she revealed herself, really revealed herself, to Evret. This book surpassed all my expectations.
We also get to see some pretty heart-warming glimpses of Winter, Jacin, and even little Cinder. I actually have high hopes that Winter will be the best princess of them all. I think this Snow White retelling is the best twist of any of these renditions.
"She cried for the girl who had never belonged. A girl who tried so hard, harder than anyone else, and still never had anything to show for it."
Sometimes, I think a big contributing factor to my liking the book is for me to be able to understand and rationalize the big bad villain. Well, Marissa Meyer accomplished that. Not only was I able to interpret why Levana is the way she is and why she wants to conquer Earth so badly, but I actually feel sorry for her and hope she finds redemption instead of death in Winter. I can't help but wonder how different Levana would be if someone, anyone, just showed her a little bit of love. Yes, her family was horrible, but would've she been different if she showed Evret the real her earlier and he was able to accept it and give her love in return?
I was dreading to start this book, because this world is just not hooking me the way it has for most of my friends, but when I hit the 80% mark and realized the last 20% was Winter's preview, I was legitimately sad.