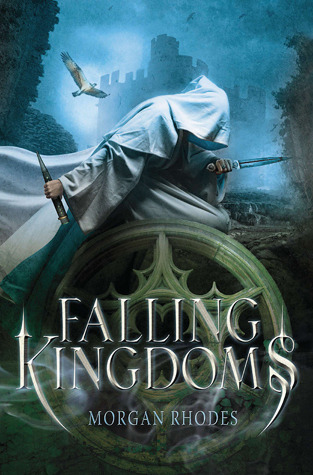 Falling Kingdoms is a much smaller scale, YA, version of A Game of Thrones. I think that's why I gave this four stars, instead of five, because A Game of Thrones is very near and dear to my heart, and it just does it better. This would also be a wonderful introduction to fantasy that I would recommend with my whole heart.
I will say though, Instead of the 900 characters in George RR Martin's world, this book only really follows four characters. Right when you start this book you'll receive a character list from each kingdom, and it will probably seem super overwhelming, but the book really only revolves around the four, while the rest are just side characters. I really liked this, because that's my main critique with A Game of Thrones, I always get really sad when I've read twenty-something chapters and I still haven't seen my favorite characters.
Another comparison I'd like to make, that I know will upset a lot of people, is that Falling Kingdoms deserves the hype that Throne of Glass receives. This book was so much better than that entire series. There was no filler in this, no pointless angst, and no weak characters. Everywhere I look, I see people constantly ranting and raving over Throne of Glass, but I've only seen one person give this book the praise it deserves (gingerreadslainey). Seriously, Falling Kingdoms deserves more attention.
"Even paradise could become a prison if one had enough time to take notice of the walls."
Mytica has three kingdoms:
1.) Limeros, the Northern Kingdom -Very cold land, their main export is fishing, but they have a very good military. Also has a very power-hungry king, King Gaius.
2.) Paelsia, the Middle Kingdom – The worst of the three kingdoms. The land is very dry and poor, it's only is really used to make wines. It's basically a desert.
3.) Auranos, the Southern Kingdom – A very lush and accommodating place to live, but the kingdom is very stingy with its resources. This kingdom is also said to house four hidden magic crystals.
Within these three kingdoms are the four main characters I mentioned previously:
1.) Cleo, who is hands down the star of this book. She is the princess of Auranos, who witnessed a terrible attack caused by the boy she is promised to marry. This attack is what starts the wheels in motion for the war. She's strong, persistent, and has a heart of gold. She believes in the old forgotten magic, and will do anything for her loved ones.
2.) Jonas is the younger brother of the boy who was on the receiving end of the attack. Through most of this book he is blinded by his vengeance for his older brother, but towards the end of the book he starts to see the bigger picture.
3.) Lucia is the child you will read about in the prologue. There is a great prophecy about her and what she will be able to accomplish in this life. She is also the proof that magic does exists.
4.) Magnus is hands down my favorite character in this book. I am quite smitten! He is the prince of Limeros, and Lucia is his adopted sister. He is constantly struggling with the battle of his heart versus his tyrant of a father. He's strong and rough on the outside, being primed to take over the throne one day. Inside he's so caring and devoted, just like a good king should be. I haven't felt such a strong attraction to a new male lead in a very, very long time. Seriously, Magnus is everything I want in a male lead. He's such a conflicted character that brought me so much empathy. He alone is six out of five stars. But Morgan Rhodes does try to go full GRRM in this book, because Magnus totally has a crush on Lucia before it comes out that they are not blood related.
"Be happy enough for both of us"
I am a little doubtful about this storyline being stretched for six books (and a 3 book spin-off/companion series), so I'm going into Rebel Spring with a little caution. Hopefully, it doesn't disappoint, because I loved this book and I honestly think it's maybe the best YA Fantasy I've ever read.