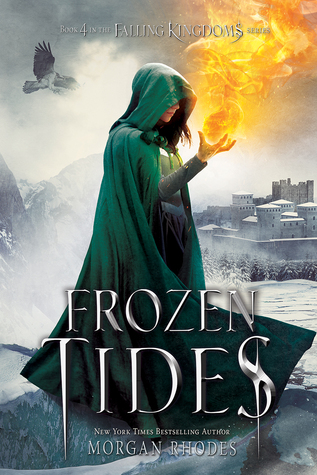 "Because if you don't choose to fight against the wrong in the world, then you are the wrong in the world. "
These books, somehow, just keep getting better and better. This book was phenomenal. This series is, hands down, the best series I've read in 2015. The fifth book very quickly became one of my most anticipated reads of 2016.
Each book in this series always starts with a map. Every book the map gets bigger and bigger, allowing you to see more of the surrounding areas of Mytica. The map in Gathering Darkness teaches us about Kraeshia, and how Mytica won't be on the only land mass in this six book story, but the map in Frozen Tides really makes the reader realize how small Mytica really is.
In this book, we are still following the main four characters. Cleo is still the star, in my opinion, and really shows how amazing Morgan Rhodes can write character growth. We no longer have this single minded girl, who was never able to think for herself. We now have this beautiful, empathic soul, who is constantly striving to be better. Cleo is so strong and would be completely capable of running her own kingdom.
In every one of these reviews I gush over Magnus, but the sentiment has held true over these four books; Magnus is everything I want in a male protagonist. Every book he gets stronger, and realizes his heart is capable and deserving of love. If pages 378 and 379 didn't make you feel everything that you've ever wanted in this series, then I don't really have words for you, because that was Christmas coming early for me.
"She was his princess. No. She was his goddess. With her golden skin and golden hair. She was his light. His life. His everything. He loved her more than anything else in this world."
Lucia is still fighting her many demons. She is now accompanied by the Fire Kindred, Kyan, who you very early on realize has his own agenda. She does find out much more about her birth family She has a sister named Laelia, who confides in her who their real father was: The old Paelsia ruler, Chieftain Basiliu. You know, the one her father screwed over, and then murdered, at the end of Falling Kingdoms. She also is carrying a very big secret with only herself, that will completely change this world and this story as we know it She's pregnant with Alexius' child. So the most powerful sorceress the world will ever know is now also carrying a Watchers' baby. How's that for new story arcs?. I also empathize a little more with Lucia during this book, but she's still by far my least favorite of the four.
Then we have Jonas, who just can't catch a break. The poor guy feels like everything he touches just fails and now he gets to deal with the mourning of Lysandra's death. In Falling Kingdoms, Jonas was the character that held the most vengeance, and it made him blind to so many other things. I now feel like at this point in the story there has been a role reversal with him and the other three characters. Magnus has all the vengeance from trying to conquer not only his father, but also his kingdom. Cleo is constantly seeking vengeance for her family and friend's deaths. Lucia has more vengeance in her little body, than the whole freaking cast combined. Then we have poor Jonas, and it feels like he's just trying to get by and do the right thing, but it's always failing at least now he has Felix back by his side. Jonas also actually stands up for Cleo and Magnus when Nic tips off a new angst development that will surely happen in the following book Celo's first love, Theon, has a identical twin brother in Kraeshia. Nic tells him not only what happened to his brother, but that Magnus was the one to kill him.
Amara, from Gathering Darkness, makes a huge appearance in Frozen Tides. She causes probably the biggest stir in this book, and it didn't have anything to do with her having obtained the Water Kindred in Gathering Darkness She not only murdered her entire family back in Kraeshia, she also marries King Gaius! She does fall in love with Felix briefly before showing her true colors, but maybe he will be her undoing or her redemption. Needless to say, she will make a huge impact in the fifth book. I actually felt a lot of empathy towards Amara, and I think a lot of girls will probably feel the same. Even with her horrible actions you can always see why she doing the things that she does, because of everything she's been through. I don't really want to compare this series to A Game of Thrones anymore, because this whole world, and its characters, have grown so much and really became their own, but I have to say that Arama gives me the same feelings that Cersei gives me in A Game of Thrones. They are both villains who I have a great deal of feelings for, and I developed a huge love and hate relationship for both of them.
The Gaius prologue was something I didn't expect at all. Speaking of empathy, you will feel it for The King in this book, not as much as Amara, but you'll still feel some. You'll also discover a secret that Gaius mother was not only a witch that started his infatuation with The Kindreds, but that she also took away the love of this life — Cleo's mom, that will just make you believe that Cleo and Magnus are truly meant to be, and probably the best book couple I've ever read.
This book introduces us to a new witch named Olivia. She has been sent to the mortal realm by the last remaining Watcher in The Sanctuary, Timotheus, to watch over Jonas (mostly) and Nic. She not only does an amazing job by saving Jonas' life, she plays a major role in the turn of events that happen as the end of this book by telling Cleo and Magnus that The King was coming back with his new bride.
I love these characters, and this whole world is very reminiscent of the way I felt while reading Harry Potter. I'm not sure there is a bigger compliment that I could give to Morgan Rhodes, or this series, than that. I am completely infatuated, and cannot wait to see how this beautiful story will unfold.