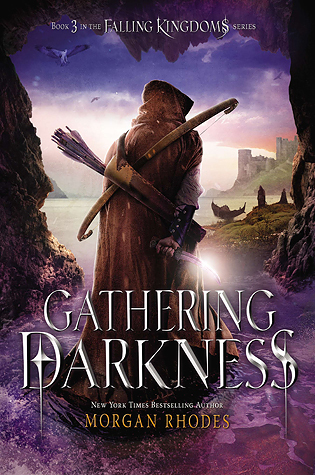 This book was everything I wanted. Everything Rebel Spring lacked, this book had excess of. This book was very close to perfect in my eyes. Seriously, I completely loved this installment. And holy shit that ending. Like, holy shit.
"In the shadow my father has cast over my entire life, you are the only light I can see anymore. And, whatever the cost, I refuse to let that light be extinguished"
Magnus had a major mess up in this book, but I'm going to look past it and try to remember he's an eighteen year old boy. But besides that, Magnus is perfect. He's like everything I would want and then more some. Him and Cleo have more sexual tension than even Mac and Barrons from The Fever Series. I would be hard pressed to think of a book moment from the past few years, that made me smile (and giggle) harder than Cleo and Magnus in the villa. It's scenes like that that remind me why I love reading, and why I love entering these fictional worlds. Seriously, if they make this into a movie, everyone is going to be gushing over that part. So beyond perfect. OTP!
"This was the boy who now kissed her without reservation, as if he were dying and she was air itself."
Cleo and Magnus aren't the only love story going on. Lucia's Watcher Alexius plays a very major part in this book. He added such great suspense, because he makes the reader constantly question whether or not he's actually good. We also have Jonas and Lysandra's budding romance. I mean, Jonas is such a fickle fellow, but my prediction is that he's totally going to end up with Lysandra if they both can stay alive.
This book was the introduction of Felix, who just happens to save Jonas a couple times. Oh, and he becomes very helpful in helping Jonas rescue my two favorite Rebels. I knew from the start there was more to Felix than he lead on, but I never guessed his actual background that he has worked for The King since he was a child. I do trust him, but it may be a little too late for Jonas to prove that he does as well.
We are also introduced to two new characters that are from Kraeshia, which is another kingdom far, far away, which you can only get to by boat. They are a brother, Ashur, and sister, Amara, combination who is very interested in the Kindred (along with everyone else). Ashur ended up rather likeable, but Amara will for sure be in Frozen Tides for bad reasons. I also have to say how much I loved the Nic and Ashur situation I hope he's not dead. Or, I hope Lucia can hurry her ass over to them and use her Earth magic.
Oh, and I can't wait to see that other Kindred, because holy shit was that unexpected but amazing.
This book had no down time. It was constant action on top of even more action. The suspense of so many different scenes just about killed me. I really couldn't have asked for a better installment. This series is my new guilty pleasure.
I didn't think I'd be participating in Cram-A-Thon, but I've read the first three books of this series in three days because they are absolutely nothing short of magical.