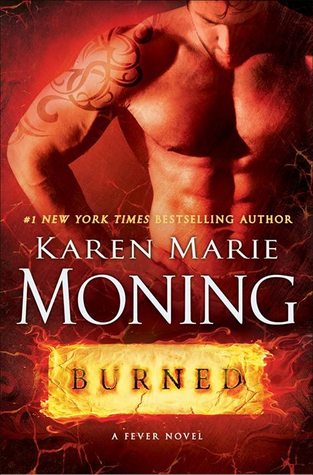 I waited two years and two months for this book. It got pushed back and pushed back some more. It even switched the original main protagonists. The series got cut shorter. I was okay with all of this because I had faith in KMM.
This was, hands down, my most anticipated book of 2015. I don't think I've ever read a bigger let down. Barron and Mac got the ending KMM intended in Shadowfever, therefore we get a forced story from the shell of the character Mac used to be. She's weak and not the same character I fell in love with – It was SO fucking forced that Mac was actually invisible for most of the book, spying on the people the book should have really been about.
I was so excited! I took the day off and curled up in bed with fruit (little did I know the sadness I was about to experience):


The book starts out in Barron's POV and I have a huge smile on my face. Only to fucking realize I'm re-reading The Alpha Alternative: JZB Sex Scene. Instant dread filled my stomach.
Karen Marie Moning sold out. This is what you get when the author is writing because of deadlines, reviews, and money. Not the story they created and loved. I feel like she had so many critics of Iced, that this was a big apology and her way to try to make things right. In the process, she completely ruined MY Fever world.
Instead of appeasing people, write Dani's story. Don't write a washed up new version of Mac's. It's insulting. Speaking of Dani Jada… What in the hell even was that? I even hated that predictable "twist" – She's of age now, so the pedobears are gone! She went into The Hall of Days a immature, slang speaking, mess of a girl! But she same out a proper speaking, educated, sex kitten of a woman!. Jesus, was this book butchered.
What even happened in this book – They saved Christian and killed The Hag? Well, I'm happy I read 512 pages for ONE chapter. Oh, and don't even get me started on that pathetic attempt at a cliffhanger.
I am so let down and disgusted I am not even sure I will be able to finish this series. The most sad part is you get little glimpse at the KMM I know and love.
"I'm a moth to his flame and it frightens me how willingly I'd burn my wings off for him. Destroy the world. Follow him to Hell. It's scary to feel like you can't breathe without someone."
How can someone write that, make me feel crazy things, and then slap my in the face with this knock off story that should be Dani's.
/rant.
Additionally, I preordered the ebook, because I couldn't wait for my signed copy to arrive. It came in the mail today, and the sadness is still lingering.