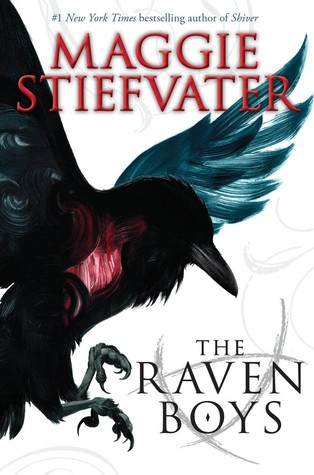 Buddy Read with #RavenCycleReadAlong!
Confession: I've been on Goodreads since 2009, and in 2009 my young and very cringey self wrote a very embarrassing gush review over Maggie Stiefvater's Shiver. To this day, it is still my most liked review. It is seriously a paragraph of me just fangirling, but I don't have the heart to change a single thing about it.
So since Shiver, I haven't read a Maggie Stiefvater book, so I was a little apprehensive to even start The Raven Boys. Then Michelle from MichEllisLife told me about this readalong, so I figured I'd give the series a shot. I never expected to love this book as much as I did.
The Raven Boys made me feel exactly what I want to feel when I start a new book. That magic of not being able to put it down. The ignored glances at my alarm clock when I notice it's past three AM. The heart wrenching pain when I become so obsessed I forget that these are just fictional characters. The Raven Boys is the best book I've read since The Name of the Wind.
This completely unique story is about a girl, Blue, that lives in a house full of psychics. She is the only one in her family that does not have psychic powers, but instead possesses something much different. Blue amplifies the spirit's voices. This not only helps her family, but also helps the spirits in other ways. Blue is a little bitter that she cannot actually see the spirits, until one night she is able to see one.
Then, of course, we have our raven boys who are in hunt of something that is much bigger than they are aware of: Gansey is the ringleader. Adam is from a broken home. Ronan has a lot of anger trapped inside him. Noah is carrying the biggest secret of them all.
Basically, most all the raven boys are very privileged young men that go to an even more privileged college preparatory school. Blue tries to stay far away from them, or any boy because of a prophecy her mother has told her since birth, but their paths inevitable cross.
I think that is the theme of this whole book: inevitability. How we all have choices, and how much that one small forgettable choice can change not only your future, but so many people's future. How that choice can make different paths cross, which in turn develops even more inevitable events.
This is such a whimsical story, written so beautifully, filled with magic. The foreshadowing, the metaphors, the prose. Maggie Stiefvater is a God amongst men. I have nothing to compare it to, because it's incomparable. This book has everything I'd ever want in a story. This is the type of book that makes me feel guilty giving other books five star ratings, because this is deserving of something more, something that surpasses all the others.
Hopefully this is a little better than my paragraph gush of Shiver, but I'm going to guess it's not by much. My personal opinion is that the blurb of this book does nothing for what the book actually is. So if you're holding off because of that, please give this book a try. Or better yet, join us for this #RavenCycleReadAlong!
"She recognized the strange happiness that came from loving something without knowing why you did, that strange happiness that was sometimes so big that it felt like sadness."