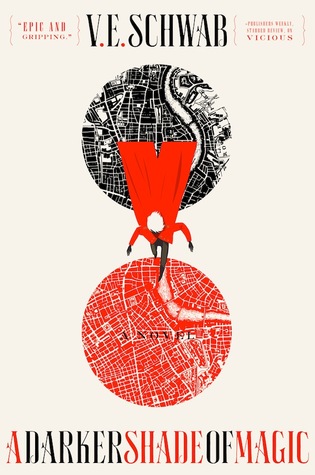 Readalong for the BooktubeSFF Awards which is being hosted by Nicole from Nicole's Adventures in SFF, Chelsea from TheReadingOutlaw, Samantha from Novels and Nonsense, Paul from Common Touch of Fantasy, Elizabeth from books and pieces, Kaitlin from Kitty G, Lindsey from Lindsey Rey, Elena from Elena Reads Books, and Thomas from SFF180!
"Love doesn't keep us from freezing to death, Kell," she continued, "or starving, or being knifed for the coins in our pocket. Love doesn't buy us anything, so be glad for what you have and who you have because you may want for things but you need for nothing."
This book had such a promising start, but I ended up feeling very underwhelmed. I think some of V.E. Schwab's ideas are so brilliant and could be phenomenally developed upon. I was so in love with this world, and I couldn't stop gushing over the unique idea of four different Londons, but the plot just got less and less climactic and I got more and more bored.
Like I said, I loved the four different Londons:
Grey London (smells like smoke) is like our real world's London, with no magic. We get to meet our main protagonist's love interest, Lila Bard, in this city.
Red London (smells like flowers) is the home of that main protagonist, Kell, where he and his royal family rule. There is an abundance of magic in this London, most coming from a red river that lights up the whole city.
White London (smells like blood) is a city in war with itself. It is ruled by evil twins, but everyone is fighting for magic and power within this corrupt city.
Black London (we don't know what it smells like) we learn basically nothing about. It has been a lost city ever since regular people cannot travel between worlds.
Only Antaris, like Kell, can travel between the Londons with a token from that world and their blood to make a doorway. We only learn about one other Antaris, and he is from White London. After a crazy turn of events Kell accidently smuggles something very powerful out of Black London, and the last half of this book is him and Lila's adventures dealing with the smuggled item.
In summary, the best parts of this book were the four alternate Londons, Kell, and Kell's magical coat. Once I was able to get past those neat aspects I became very bored and it felt like a chore to finish this book. I couldn't connect with the rest of the characters, not even the strong female lead, and I really couldn't even muster any empathy towards their quest.
I did develop an incredible amount of empathy for Beloc. Unfortunately, that didn't really matter. Hopefully he somehow is in A Gathering of Shadows, because it would be an absolute shame for that build up to be for absolutely nothing. Especially if Holland is able to make a new appearance!
I'm being very generous with a three star rating, just because I liked the unique premise so much. I can't really put my finger on why the latter half of this book didn't work for me, but it just felt like it was missing something. I was so surprised because of how much I loved the first half, but the rest just didn't work for me. I feel like maybe I would enjoy Vicious more.