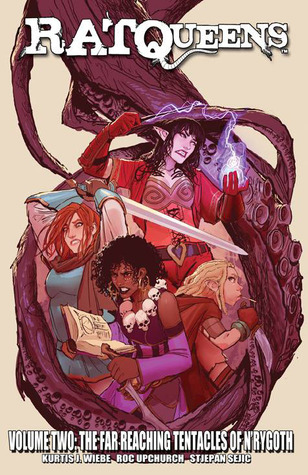 Bilford Bogin! It's with a heavy heart that I must inform you that Rat Queens, Vol. 2 did not live up to Vol. 1. The magical D&D vibe was missing. There wasn't nearly enough Betty for my liking. Two of the chapters felt so much like fillers, that they hardly had anything to do with the main story of this collection.
I'm sad, I'm hurt, but I'm mostly just let down. Since finishing Sass & Sorcery last night, in one sitting, I rushed out today to make sure I got my greedy little hands on this volume. I was filled with so much glee, while getting comfy on my bed, to start this graphic-novel that I was so sure would be a masterpiece. After I finished it, and while writing this review currently, I can't help but feel disappointed.
As for the two chapters that I felt were more filler, we did get a lot of back-story, which I absolutely appreciate, but it just felt so weird with their city falling around them. Yet, at the same time, I didn't really enjoy this "boss" as much as I thought I would, so part of me wishes that all three chapters were just more back-story on these kick ass heroines that I love.
I didn't like the art as much either. I did notice another name as an illustrator for this volume, but I guess I just like Roc Upchurch's solo style more. Apparently, Roc Upchurch stopped illustrating this series after issue 8 and Stjepan Šejić took over, so that explains why I was being so negative about the final pieces. This actually really scares me for Vol. 3: Demons.
I also want to also emphasize, again, that is not a PG book by any means! Go into this knowing that there will be lots of blood, swearing, drinking, drug use, and sex, lots of sex.
I'm now going to break down each chapter in this bind up. There will be SPOILERS, so please use caution in continuing if you have not read this graphic-novel or its predecessor Vol. 1: Sass & Sorcery!
CHAPTER SIX:
We get introduced to Sawyer's second in command, Lola. They find a letter that leads them right to Bernadette, and Sawyer discovers who is really behind everything that happened in Vol. 1: Sass & Sorcery. We also are introduced to Dee's husband, yes I said husband, Mezikiah.
We have our third cameo from the beloved Gary, which was probably my favorite scene/panel from this entire bind up.
CHAPTER SEVEN:
The Haruspex Requiem has been stolen, which is a high priest mask that can summon creatures from the abyss, and that is why Mezikiah is in Palisade. Gerrig Lake has absorbed the masks power and has unleashed three demons to destroy all of Palisade while Sawyer is captured and forced to watch.
CHAPTER EIGHT:
This chapter was all about Violet's past. We learn about her influential figure that is the reason for the name "Rat Queens", and we also learn that her mother was a pretty strong female as well. Oh, and we get lots of scenes with Violet's magnificent beard. This chapter had a wonderful message about being who you want to be, and fuck what others think about it.
CHAPTER NINE:
Then, this chapter is the one mostly all about Hannah and her past! Hannah has become my favorite Rat Queen. From her amazing aesthetic, to her past that we are able to learn about in this chapter, Hannah has forced her way into my little black heart. After Hannah's blast form the past, we realize that these three demons are messing with everyone's memories so they will be unable to fight. The Rat Queens, Four Daves, Lola, and Braga arrive to defend what is left of Palisade.
CHAPTER TEN:
Oh, I'm also in love with Tizzie. It's completely normal for me to want to date a comic book character, right? This chapter shows Tizzie and Hannah's past together, and how friendships can be very unexpected. Then we find out why Hannah's hair is always perfect, and it will just make you like her even more. Dee does what she thinks is right, and maybe learns a secret about her God, N'rygoth. Oh, and she banishes the demons back home and completely saves Palisade, even though it is in ruins without many survivors. This compilation ends on a cliffhanger that has to do with Hannah's father.
Overall, it was a good story, I just wasn't blown away like in Vol. 1: Sass & Sorcery. I will still auto buy Vol. 3: Demons when it comes out next month. And I still have to recommend this series to any fantasy lover, because it's really worth it, especially if you're just starting out with graphic-novels. Also, this installment was still focused on strong, diverse, females and their even stronger friendships. That alone makes me able to look past the not as great art, and not as developed story, because I need much more girl-power in my reading life.