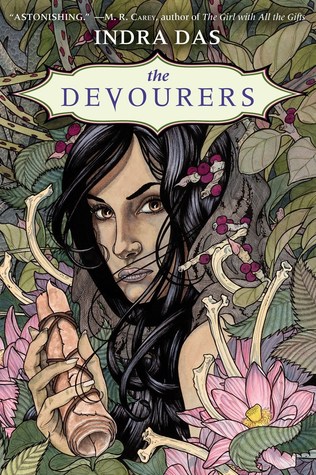 ARC provided by the publisher via Netgalley in exchange for an honest review.
The Devourers is a twist on Indian folklore that is an absolutely wonderful representation of different cultures, gender issues, bi-sexuality, unconventional love, masculinity, and even rape. This story has werewolf folklore from many different cultures, too. I think this book would appeal to many different readers that read my reviews.
I'm going to be rather vague in this review, because I think this book is probably best read not knowing anything about the actual story. What I will say is that this is a story about a man, Alok, that meets a mysterious stranger in Kolkata, India. This stranger begins to tell him a story. This stranger will later ask Alok if he will transcribe this story for him. Alok finds himself absolutely obsessed with this tale, and finds it impossible to say no. From there the story will shift from what is being transcribed, to Alok and this stranger's relationship in real time.
This story deals with, and conquers, so many hard topics. This book is mostly centered on a rape, and there is never any question on whether or not it was consensual, mistakenly consensual, or any of these tropes that authors like to romanticize rape into being. There is no forgiveness or understanding, it is just depicted how it truly is—unforgivable.
This book really touched me, and gave me a lot of feelings. This book doesn't shy away from hard topics. It's actually hard for me to believe this is Indra Das' first book, because I'm so impressed with the feelings he was able to evoke from me, while constructing this excellent and well thought-out novel. I can't think of the last time I've read such an impressive debut book, and I can't wait to read more from him.
The only negative thing I can really say is that this book does read a little slow in some of the transcribed parts. That didn't stop this from being an amazing and magical read for me. From the stunning cover to the last page that left me utterly astonished, I was completely enthralled. This was a wonderful book that I completely recommend if you want something unique, that feels fantasy, and is very thought provoking.