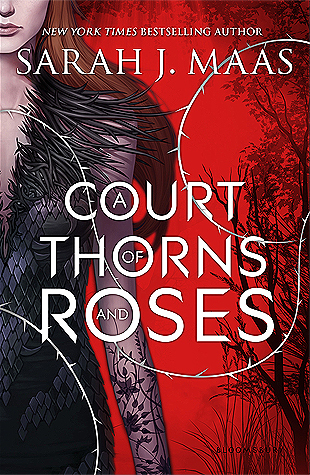 "Be glad of your human heart, Feyre. Pity those who don't feel anything at all."
I'm such a sucker for anything fae, so this book did me in. There just seems to be a serious lack of anything new with faeries, so whenever I see something – I devoured it. This book was thrilling, it was magical, and it was unique. I give a 100% recommendation for anyone craving a new fae series.
This book has many of the same faerie stereotypes: the "season" courts, fae food, the ash wood, the iron resistance and the lying (with a twist). Maas does something that I feel that many authors never master, and that is creating a world that I wish I could live in. One of the best parts of reading is feeling like you're living a life you'll actually never live, but very rarely will you end a story and wish you just lived among that world. The master of this trick is JK Rowling. Hogwarts, Diagon Alley, England in general… I want(ed) to live there, and I felt very similar to Feyre's stay at the Spring Court.
Basically, this book is about a young woman who kills a faerie that is shape shifted into a wolf. Another faerie tracks her down and gives her two options: Come and live with him until the end of her days, or give up her life right then and there as payment. We soon find out that this demanding faerie is the High King of the Spring Court. We also find out a very wicked woman is trying to take over not only the Spring Court, but the other six courts as well. Each court has lost a great amount of their power, but the Spring Court also carries a curse. Then a really beautiful story (with a Beauty and the Beast retelling) of love and sacrifice is unfolded.
Anyone who is close to me knows that I always say that I fall in love with the guy the girl never picks, always. So I go into every book knowing this about myself, and I have come to peace with it. That all being said, I fucking love Rhysand. Nesta (one of Feyre's sisters) was also a wonderful side character. I sure hope Alis and her nephews found Nesta at the end of this book, so I can read all about it in the next book! Then there is Lucien, and I don't even know where to begin. I loved everything about him, too.
The ending comes a little fast for my liking. The last task seemed very short and rushed, and gave it a really weird feel. I loved this book up until this, and I was pretty sad when it ended. This beautiful build up for a small firework. I still liked the firework and thought it was beautiful, but in my heart… I was hoping for a grand finale of explosions. This book was also a little slow to get going into this amazing build up, so for these two huge reasons I cannot give this book five stars. As much as I wish I could give this a perfect rating, these two ginormous flaws prevent me from doing so. I still loved this book, and cannot wait for the second installment.