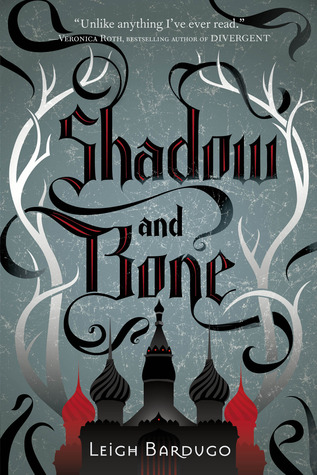 Earlier this year I read Six of Crows and didn't expect to like it as much as I did. I was so impressed with the writing and world building that I knew I was going to eventually read Leigh Bardugo's Grisha Trilogy. My only regret is that I didn't read this sooner, because it actually blew me away.
First off, I read this in one sitting. Like, I moved from a chair to my bed, and that was the only task I did while reading this book. I just couldn't stop reading, and that's a feeling I haven't had with a first book of a series for a while.
Next, the Darkling. Do I really need to say more? Hello, perfect antihero. Seriously, morally grey villains are my weakness. I fell in love with him after chapter six, and stayed in love with him after he started pulling some shady shit.
"Fine, make me your villain."
Also, can we talk about how Leigh Bardugo writes some of the most powerful one-liners I've read in my life? I was blown away with a few in Six of Crows, but this book surpassed even those!
"The problem with wanting," he whispered, his mouth trailing along my jaw until it hovered over my lips, "is that it makes us weak."
Goose bumps. Literally goose bumps everywhere. Leigh Bardugo is so much more talented than some of these over-hyped YA authors today. It just doesn't feel like she gets the credit she deserves, because her writing is seriously on another level. I can't tell you how much I regret not giving her books a try earlier, because this is a low-key masterpiece.
So enough of my fangirling, and let me tell you what this book is actually about. This story follows a map maker, Alina, who is in the King's first army. She has been an orphan all her life, but has grown up, and fallen in love, with her best friend, Mal, who is also in the King's first army. Everyone in this world is scared of the Fold, which was created a long time ago and is filled with darkness. Inside the Fold, there are winged beasts called Volcra, that will show no mercy to anyone. When Alina has no other option, she miraculously shows that she isn't an ordinary girl, but a Grisha, and saves Mal's life from a light she is able to produce to eliminate the darkness. The Darkling, and many others, take notice of this talent and whisk Alina away for proper Grisha training so she can be in the King's second army, which is comprised only of Grishas and lead by the Darkling himself.
Even though the Darkling is on a whole other level, the rest of the characters are phenomenal as well.
Alina is another strong female that I'm proud to read about. She does have the "I'm just an orphan, I didn't know I'm the most powerful girl in the world" trope, but it actually didn't bother me because she had such a good heart and witty personality. Her loneliness also struck a chord with me that was rather reminiscent, so, regardless of her shortcomings, it would have been hard for me not to like her.
Mal is also a fantastic, and selfless, character that I feel like I should love. Unfortunately, my heart has no room for anyone but the Darkling.
"I missed you every hour. And you know what the worst part was? It caught me completely by surprise. I'd catch myself just walking around to find you, not for any reason, just out of habit, because I'd seen something that I wanted to tell you about or because I wanted to hear your voice. And then I'd realize that you weren't there anymore, and every time, every single time, it was like having the wind knocked out of me. I've risked my life for you. I've walked half the length of Ravka for you, and I'd do it again and again and again just to be with you, just to starve with you and freeze with you and hear you complain about hard cheese every day. So don't tell me why we don't belong together."
This book is unlike anything I've ever read. I absolutely loved it. And when Alina put on that freakin' black kefta it provoked so much unexpected emotional from me! Now, please excuse me while I binge read this entire series.