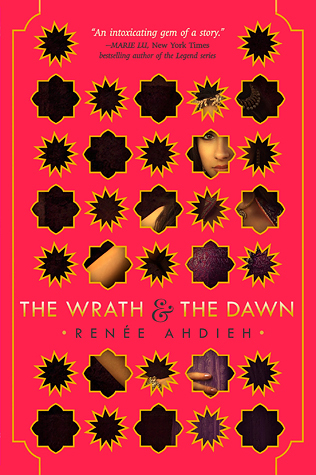 I enjoyed this book, but it did a horrible job keeping my attention for the first half. Maybe it was because I chose the audio-book as the medium to read this on. Regardless, the first half of this book was really hard for me in general, mostly because of Shahrzad.
This is actually a wonderful One Thousand and One Nights retelling. In case your memory is hazy, One Thousand and One Nights is a beautiful story about a man who takes a new bride each night, but they lose their life by the next day. One woman tells such a beautiful tale to this man that he keeps her alive the next day, then the next day, then the next day, and so on and so forth because he is so enthralled by her story. She lives for 1,001 nights, telling this tale, but he chooses not to kill her when it has ended, because by that point he is in love with her.
Well, The Wrath & the Dawn retelling is actually very similar. The twist this story has on One Thousand and One Nights is that Shahrzad, the girl telling the tale, is on a revenge mission because her best friend was taken and killed the following morning. But that sounds like a pretty cool twist, right? Right! That is, until Shahrzad starts falling in love with the man, Khalid, Caliph of Khorasan, two days after meeting him, for literally no reason other than him being good-looking.
"I will live to see tomorrow's sunset. Make no mistake. I swear. I will live to see as many sunsets as it takes. And I will kill you. With my bare hands."
Like I said, only the first half was somewhat disappointing for me, because after that I started to see behind the scenes and see Khalid's worth. But Shahrzad went into this mission thirsty for blood, and it was too unbelievable for me to imagine she would jeopardize her mission because her best friend's killer is handsome with a nice smile.
That being said, after that first fifty-percent, I became complete Khalid trash, too. Be still, my heart. I seriously fell in love, and some of the things that came out of his mouth made me melt into a puddle on my bed. Yet, then I couldn't help but question why he was so interested in Shahrzad. Why was she so different than all the others? I understand she was telling him a story, and that reminded him of his mother, but he seemed to instantly fall in love with her before she even opened her mouth to begin her plan.
"It's inevitable. When you meet the one who makes you smile as you've never smiled before, cry as you've never cried before… there is nothing to do but fall."
Oh, but heads up, there is a love triangle. Well, for me, personally, there was never any competition on who I would pick, but I feel it's worth noting for people who hate that type of angst.
The imagery in this book was close to perfection. I've seen this said before, but the statement holds true: this book makes you feel like you can taste the food they are eating, hear the music they are listening to, completely picture the palace they are in, see the clothes they are wearing in great detail. Renee Ahdieh really does a phenomenal job doing this, and you will feel completely immersed in this world she created.
The final twenty-five perfect of this book was, also, perfection. I actually even cried, not just for Khalid, but for Shahrzad, too. Hell, I even cried for Jalal and Despina! Then my heart started breaking a little for Tariq! I was a blubbering mess, but it's totally because this story is told so magnificently that it was impossible for me not to feel everything imaginable that these characters were feeling.
I could also probably highlight this whole book, because it is that beautifully written. I had so many quotes highlighted by the time I was done with this book, and many of them I will keep with me forever.
"I love you, a thousand times over. And I will never apologize for it."