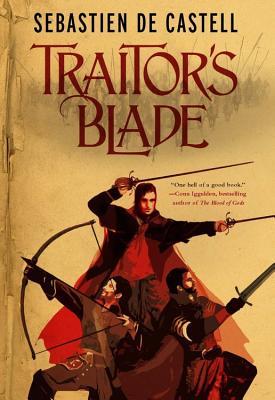 This was so charming, funny, and whimsical, while still being full of action. This book was just amazing, completely and utterly amazing. Sebastien de Castell has made a fan for life. Traitor's Blade is, so far, the best book I've read in 2016.
"The first rule of the sword is – put the pointy end in the other man."
This story is surrounding three Greatcoats, who used to be the judge and jury for King Paelis. That is, until he was killed. Yet before his death he forced his Greatcoats to stand down so they could receive pardons and keep their lives. He was a fair and just king, who truly wanted to make the world a better place, but now Tristia is ruled by Dukes and Duchesses who aren't the most morally pure of leaders.
This dueling army of the king's called the Greatcoats was called that for a reason – they all wear long, very protective, special leather coats with boning that can save their lives. Even after the king's death, the Greatcoats still wear these, therefore, they are very easily identifiable and very easily called traitors to the now ruling Dukes.
"Love abandoned me and so I made my deal with Death."
Falcio, the King's Heart – Our main protagonist, who has let cruel past events shape him into the man he is today. He was Paelis' first Greatcoat and prefers to fight with rapiers.
Kest, the King's Sword – Best swordsman in the world, and was Falcio's best friend growing up.
Brasti, the King's Arrow – Master Archer that never misses a shot, and is the funny playboy of the trio.
These three have traveled together during the five years proceeding King Paelis' death. All the while, they have been in search for the King's Jewels, his Charoite. It's been a rough five years, because everyone dislikes the Greatcoats and views them below dogs (which for the record, I view most dogs above humans, so this isn't a very good analogy). After these three fail a mission to protect their employer, a crazy turn of events make them have to guard a caravan to its final destination.
When the caravan stops at the City of Strife, Rijou, they discover that it is Granath Kalila or The Blood Week. This is basically a purge, where you can kill, steal, and loot, really anything without repercussions. After the event is over, the nineteen noble families come forward to say their name and inform everyone that their bloodline is still safe. As horrible and terrifying as this sounds, when Falcio and the boys enter the city, they see locals setting up to burn a mother and her children alive in a house.
The next day and a broken promise later, there is only one little girl barely alive from the fire. The Duke and all of his men want this little girl, and her bloodline, wiped away completely. Falcio feels like this girl could help them with the King's Jewels, and he feels responsible for her family's death, so he makes a promise to try to protect the little girl, at any cost, during Ganath Kalila so she can say her name and claim her bloodline at the end of the week.
"I don't know how well I can fight, or run, or judge, but when the blade comes, I swear on whatever they want me to swear on, I'll stop it, with my body if nothing else."
This book is filled with conspiracy theories, actual funny jokes and banter, moral dilemmas that make you think, and some of the best written (main and side) characters I have ever had the pleasure of reading. This book was everything that I would want from a high fantasy novel, and more so. I have no words for how highly I recommend this book.
If you're still unsure, you can read an excerpt from Tor (here) and, hopefully, fall in love with this world like I did.
Bloglovin' | Twitter | Tumblr | Instagram | Goodreads | Twitch