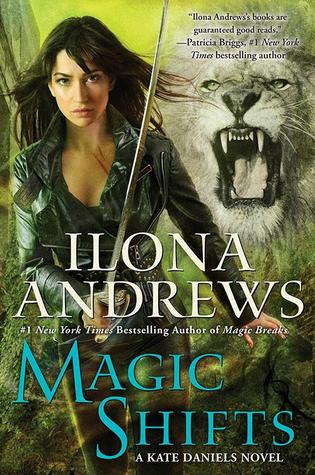 "Stop trying so hard to fit in. I love you because you don't."
I spent the tail end of my birthday finishing this book. I took my time reading this, really savoring this story and all of its bits and pieces. I adore this world and the magic it places over me while reading about it. I still think this is one of the best series to date, and this installment is a vast improvement from a few of its predecessors.
This book starts out with Kate and Curran (ex-Best Lord now) adapting to life outside the keep. I never pictured them as home owners, in the suburbs, with Julie and their demon poodle, but boy do I love seeing the spin they put on it. Even with leaving the Pack and the Mercenary Guild, their members always come back for Kate and Curran's help. This time it's George (Mahon's daughter) in search for her missing secret boyfriend Eduardo, who has been working for the Guild.
Well, soon enough they find out just how bad of shape the Guild really is in. There are also a lot of unfinished jobs, and tons of different monsters running amuck. Mostly ghouls and giants, and the giants are being a real pain in the ass.
Another cool and different thing was that the book's main villain is a Djinn (Arabic Genie) Ifrit. I've never really read anything like this, so I thought it was an awesome concept that IA executed really well. And that box is for sure going to come back into play further down the road.
I've had my problems with Curran, BIG PROBLEMS, but he was amazing in this book. He was trusting, considerate, there for Kate in every sense of their relationship, and he filled my heart with happiness. This was the book I needed of Curran. I can't wait for the last day of the Werewolf Summer. Oh, and I loved how they passed the earring between them. I loved the picture it painted in my head and was a wonderful way to finish off and trap the Ifrit.
You know who I don't have a problem with? Roland. Call me evil, heartless, whatever you want, but if the Applebee's scene didn't have you smiling the entire time, I have no words for you. I absolutely loved the whole thing. I understand you can't trust him, and he could be just pulling the wool over my eyes, but I can't help but like him. The story of Kate's mom brought so many tears to my eyes. I really don't know how to think, but I know how to feel, and my feelings aren't bad towards Roland. I can't wait to see how this relationship develops in 2016.
I also just want to add what a wonderful job these authors do with their side characters. The amount of love I have for Julie, Derek, Dali, Christopher, Ghastek, heck even Cuddles, is insane. They could write spinoffs for the rest of my life, and I'd buy them all. And this book is so freaking funny. This is one of the few series that actually make me laugh out loud while reading the whole thing. Literally, giggles from the first page to the last page. The banter in this book is 11/10.

"I will always be there. I will walk across the whole planet if I have to."
I closed my eyes and whispered, "I'll meet you halfway."