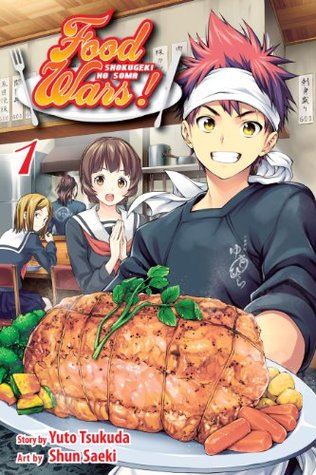 This was amazing! It was everything I hoped for and so much more! If you grew up, like me, being obsessed with Iron Chef (seriously, after all these years, Masaharu Morimoto is still bae) then you will probably love this manga, because that's the direction I see this going.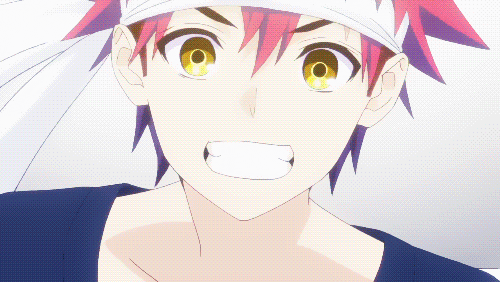 Soma Yukihira works at his family's restaurant. His father is the best chef to have ever lived, even though he doesn't get much credit because he only works at a small family restaurant. One day, he decides to shut down the restaurant for a few years, and sign Soma up for culinary school.
Soma is pretty negative at first, but then realizes that the culinary school isn't just any culinary school, it's the best culinary school in the world. The Totsuki Saryo Culinary Institute is so prestigious and elite only ten percent of its students graduate. Most of these students have also been going to the preparatory school for three years, so normally no transfer students are even accepted, that is until Soma attempts the entrance exam.
During this exam, where all other applicants fled after seeing the overseer of the exam, Soma totally pulls a Ratatouille and makes a "poor man's/working class" dish. He pours all of his heart and soul into this dish, knowing that the only way he will be a better chef than his father is to graduate from this school, while being the number one student.
This manga really deals with social class, and the expectations we put on people in those said classes. Most everyone in the Totsuki Saryo Culinary Institute is from well off families with very prestigious parents and restaurants in the food world, but they aren't half as good as Soma is with his lesser-off background. I think this book has such a great message, and really leaves the reader with a lot of hope to follow their dreams, no matter what.
Oh, and you get actual recipes that Soma makes! Like, how cool is that? I honestly cannot praise this manga enough.
The only "negative" thing I can say, which didn't bother me in the slightest, is that this series very much caters to fan service. Like, one second someone is going to take a bite out of a dish of Soma's and then they are in a dream-like state, half naked, and borderline orgasming over it. It is mostly with female characters, but this manga does not discriminate and shows men experience pleasure like this from food, too. Like I said, this didn't bother me, but maybe use discretion if you're unsure.
I cannot wait to continue on with this series. Mostly, so I can keep picturing Soma as a young Masaharu Morimoto, while I live my life vicariously through him.