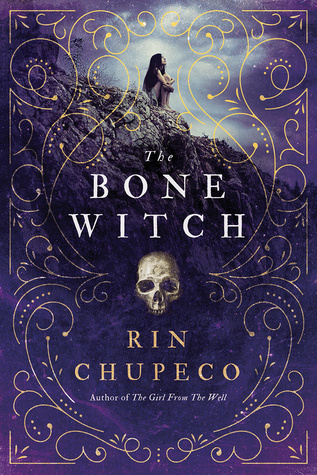 ARC provided by the publisher via Netgalley in exchange for an honest review.
I loved and devoured the first half of this book. If that pace continued, this book would have got an easy five star rating. Unfortunately, the last fifty percent of this book felt like it would never end, and not in a good way. This book has very, very long descriptions. Sometimes I would be taken out of the plot, because it was so overwhelmingly descriptive; especially with our main protagonist's lessons. This is a very early ARC, so I'm hoping that editors can cut this down a lot to help showcase the magic that was in the first half of this story.
First off, I was sold on this book because 1.) look at this cover, and 2.) it surrounds asha, who are beautiful, talented, and amazing fighters with magical powers. Asha are pretty much Geishas and learning about them and their schooling was really enjoyable. If you liked Memoirs of a Geisha you will probably really like this, too.
"There is no greater strength than the ability to understand and accept your own flaws."
The main asha of this book, Tea, doesn't start out even knowing she could be an asha. Her parents and sisters all have "normal" magical powers/elements. But Tea soon discovers she is a bone witch after accidentally resurrecting her newly dead brother at his funeral.
I loved Tea's relationship with her brother, and the bond they have. The thing I look most forward to in this series is seeing how that bond grows, and how it affects both of them.
Luckily for Tea, when she resurrects her brother, a very powerful bone witch is in her town. Mykaela is probably my favorite character in this world, and is an amazing teacher/mother figure to Tea. She completely takes her under her wing and teaches her about bone witches and their duties, while putting Tea on the path to become a very powerful asha.
Other ashas control elements: fire, earth, water, wind. Bone witches are dark asha, who tamper with death. Bone witches are not very respected in this world, even though their powers hold the most important job in this world: The False Prince used death magic to create Daeva, different demons that come back to life every so many years, and bone witches are the only kind of asha that are able to defeat them, that is until that next time they resurrect. Yet, because these monsters are created with death magic, bone witches also get the negative connotation.
One of the more unique and cool aspects of this world, is that all the people wear heartglasses around their necks. Your heartglass will change colors depending on what you're feeling, but will overall stay mostly the same color.
Green = Sickly.
Blue = Worry.
Orange = Disinterest.
Yellow = Fear.
Red = Healthy and Happy.
Pink = Romantic.
Black = Punishment.
Silver = Can draw runes, which means you can fight, whether it be as an asha if you're a girl or as a solider if you're a boy. Silver heartglasses are so very important and are so very sought after.
The other romantic and seriously scary thing about heartglasses is that if you fall in love with someone you can give them your heartglass. Tea's mother and father have done this. Even though it sounds romantic, it is scary because if you give your heartglass to someone that ends up being unworthy they can use it to control you and have an immense amount of power over you. Your heartglass is essentially a piece of you, and giving it away can be disastrous.
"We can endure any amount of sadness, for the people we love."
Heartglasses can also be forged by heartforgers using memories. This is going to play a big part in this series, I'm sure. As of now, only the very wealthy can afford such a luxury. Normal witches lose their memories after gifting them to a heartforger, but not dark asha, they are able to keep theirs.
Dark asha/bone witches are also able to read other's heartglasses, which comes in very handy. Tea can see when someone is hurt, angry, flirting, even lying. Like I said, the heartglasses were amazing and unique; I can't wait to learn even more about them.
This book also handles some pretty tough topics in a really positive way. The most prominent topic being how their society, like ours, views men's masculinity; Men in this world are not asha, and they are looked down upon on for dancing or doing "women-like" things. Tea's best friend, Likh, has a silver heartglass, therefore he could be an asha, and has dreamed of it since his heartglass turned silver, but instead men with silver heartglasses are forced to join the army. The arts do not show strength; therefore it makes men look weak to perform them. I could write an essay on how happy I am this is getting some attention in a YA book.
"Then perhaps we should carve a world one day where the strength lies in who you are, rather than in what they expect you to be."
Another cool thing about The Bone Witch is that the story is being told from Tea in the future. In between chapters you can see current Tea, much older, telling this tale to someone else. I always love when stories are chronicled like this, so that made it a much more fun read, too!
A couple of the more negative things about this book would probably be the potential for a love triangle and the fact that Tea definitely suffers from special snowflake syndrome. The love triangle is hinted towards, even though we only feel a real connection to one of them in this book. The special snowflake syndrome is very abundant, but Tea is also written very well and seems very intelligent and capable, so it wasn't overwhelming or angering to me.
"But when you are younger and know no better, an infatuation can lead all the world to burn."
This book series has so much potential. I will probably buy this in 2017 upon release, just because I really do believe this could be something amazing.