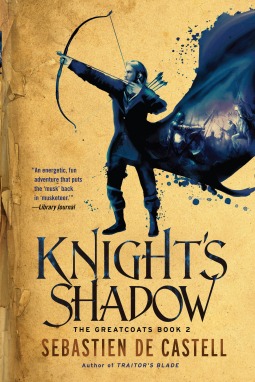 "My name is Falcio val Mond, one of the last of the King's Greatcoats, and if you listen very carefully you might still be able to hear me screaming."
I mean, this is probably the greatest line in any prologue, ever. And if this doesn't make you want to read this amazing series, I'm not sure what will. Yet, I'll try to sing its praises anyway.
Falcio and the gang are up to even move adventures in this second book, while still trying to honor their promises to their dead king. Someone is killing the nine Dukes/Duchesses of Tristia and blaming their murders on the Greatcoats. Falcio, Kest, and Brasti are trying to get to the bottom of it, while also trying to keep their lives in a world where the majority of the population want to see them dead.
The rest of this review will have spoilers from Traitor's Blade, so if you have not read Traitor's Blade – please do yourself a favor and start it tonight then come back and read this portion of my review!
"We'd stood in that room and locked eyes and without having to speak it aloud, shared a single silent promise: if the world is going to fall apart, then we will go down with it. Fighting."
Falcio is on a mission to tell the Dukes and Duchesses of the kingdom how needed King's Law is, since the events in Traitor's Blade have almost started a civil war. Trin, now duchess, is on a mission to rule and has five-thousand soldiers on her side. Falcio tries to win Aline's favor from the different Dukes, until the Dukes, and their family line, start dying.
Oh, and Falcio is dying from the neatha, thanks to Partiana in Traitor's Blade.
Yeah, this book is action-packed to say the least.
The Greatcoats are not the only ones being blamed for the murder; the Dashini assassins from Traitor's Blade are also being suspects.
The citizens of Tristia are also uprising, and have found the numbers and weapons to pose a big threat. Trin lurks in the shadows a great deal of this book, but has enough appearances to remind you she is the true villain.
Kest is constantly struggling to contain his Saint's Fever now that he is the Saint of Swords, which makes him go into a killing frenzy. Brasti is Brasti, the hilarious ladies man that makes me laugh out loud constantly while reading. Brasti's story-arc is actually pretty amazing in this book, and one of my favorite surprises.
We are introduced to a new character, and Greatcoat, named Dariana. I loved her storyline and characters growth, but I'm not sure if I ship her with Brasti or Valiana, to be honest. Regardless, Sebastien de Castell is the master at writing characters and he doesn't just use his talent for his main characters; his side characters are phenomenal, too.
The other character I actually really loved in this book was Duke Jillard. Well, him and Tommer. Seeing Jillard's reactions to his son and his son's actions are one of my favorite things in this book. And when he called Tommer his very soul, my heart exploded into a million confetti shaped hearts, I swear.
Lowkey, Tommer and Aline are my OTP.
"Happiness is a series of grains of sand spread out in a desert of violence and anguish."
This book is heart-wrenching, cruel, unfair, a tad bit soul crushing, and it is truly in a league above the rest. This is the best series I've read in years, and I can't believe it is not more popular. I honestly have fallen so in love with this series and I will sing its praises, like a Bardatti, to anyone who will listen.
RIP Vadren Graff, you will be remembered.