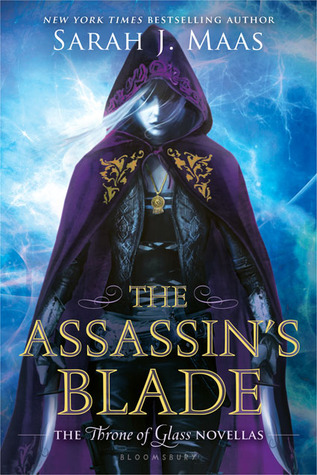 I really wanted to read this novella bind-up in preparation for Empire of Storms! These five individual stories actually line up chronologically and tell a pretty fluent big story. I wasn't expecting that, so I was pleasantly surprised. Instead of five completely different and random stories, you get five different stories that build up together for one event that ends up being the start of Throne of Glass.
Overall, I really did enjoy this bind-up, but I enjoyed some stories much, much more than others. Some of the stories felt perfectly synced with this world, and others seemed a little pointless and forced.
I will break down each short story, with links to their individual reviews on Goodreads.
#0.1) The Assassin and the Pirate Lord ★★★
This first novella had so much potential. I would have given the premise of this story a solid five stars. I mean, Sam and Celaena working with pirates to discover what happened to three of their fellow assassins? What more could I ask for? Sadly, the pirate lord, Rolfe, and their mission fell a little short for me.
I did love being reintroduced to Celaena, and just remembering how far she has came from this scared and arrogant sixteen year old. Sam was wonderful; I loved him from first glance and his back-story still breaks my heart. It was weird being actually introduced to Sam, because his memory has played such a big part in the series, it has just felt like I've always known him. Oh, and seeing Arobynn again made me feel a vast array of emotions, too.
#0.2) The Assassin and the Healer ★★
This was the novella that felt a little pointless to me. Because of Celaena's actions in The Assassin and the Pirate Lord, she is sent away on a punishment mission. While waiting for a boat to take her to her punishment, she is staying at the White Pig Inn, where she meets a very unique and kindhearted girl named Yrene.
I really liked Yrene, and the little bit of her back-story that we received, but this novella just completely felt like filler for me. Maybe we will see Yrene in this series eventually, and then this story will be a lot more meaningful, but as it stands, this story felt the weakest in this bind-up.
#0.3) The Assassin and the Desert ★★★★
This novella follows Celaena on her punishment mission with the Silent Assassins. I really liked this story, and it actually is pretty thought provoking on the subject of abuse. Even though we are watching Celaena try to get a letter of recommendation for the Mute Master, we also get to see her inner struggle dealing with her own abusive master. Celaena is now seventeen and realizing all the abusive things that have happened in her life are not normal or okay.
Celaena also befriends a young girl named Ansel, and I absolutely devoured her story-arc. Ansel is another character that I pray we get to see in this series eventually. Because of Ansel's story-line we get to see an Ironteeth witch and spider silk, both of which play a huge role in the newer installments of this series!
#0.4) The Assassin and the Underworld ★★★★★
Be still, my heart. This novella was everything I wanted from this bind-up and more! Celaena is finally back in Rifthold after her three month journey away. Celaena and Sam discover how much they missed each other, and after a few high sexual tension scenes, they realize how much they like each other. Celaena is able to buy both of their freedom, and they want nothing more than to spend the rest of their life together. Rowan who, again?
And freakin' Lysandra is in this story! Her and Celaena are just starting to hate each other, but, oh my gosh, it was so amazing to see these girls at seventeen, knowing how their paths will eventually twists together into something beautiful. Also, Arobynn is such a gross man!
#0.5) The Assassin and the Empire ★★★
I love all the scenes in Celaena and Sam's apartment. Oh, how I wish things in this story could have gone differently. We get to see all the filth that goes on in the Vaults, and, unfortunately, Sam is making money fighting there.
Sam wants to leave Rifthold very badly, and even though Celaena is unsure, she agrees. They pay Arobynn a huge sum of money to leave his assassin's guild, but Sam wants to finish one last mission on Rifthold before they leave the whole continent.
We've all read Throne of Glass, so we all know how this turns out. That doesn't make the events that take place any less heartbreaking.
That white stag though.
I gave this novella bind-up 3 stars overall, because out of a possible 25 stars (5 stars possible for each of the 5 stories) this bind-up accumulated 17 stars (68%).