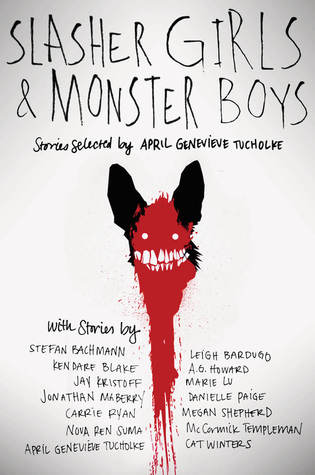 I wanted to get more in the Halloween mood, so I thought this anthology collection would be perfect! I also, low key, wanted to read this because I just finished Crooked Kingdom, and now I have to read every sentence Leigh Bardugo has ever published. Seriously, I'm desperate.
Verse Chorus Verse ended up not being my favorite, but I was still left speechless at how good this anthology collection was! Dare I say, this might be the best anthology I've ever read? It is for sure the best I've ever rated.
Sleepless by Jay Kristoff end up being my favorite story. It was so beautiful, so thrilling, and had such amazing twists throughout. I loved it, and it has completely motivated me to read his other work.
And, sadly, M by Stefan Bachmann was my least favorite story. I wanted to like it, I really did, but it was just so boring to me.
Overall, I did really enjoy this collection and it did a wonderful job immersing me into the Halloween spirit. This is the perfect book for the Halloween season, and I can't recommend it enough!
1.) The Birds of Azalea Street by Nova Ren Suma – Four Stars ★★★★
This was a perfect first story in this collection, because this author completely captures the creepy Halloween feel. This story drips with eerie, and gives a pretty good message about always listening to your kids. Also, creepy dudes are scarier than any Halloween creature.
2.) In the Forest Dark and Deep by Carrie Ryan – Four Stars ★★★★
This story was exquisite! It keeps switching back and forth between a span of ten years, and surrounds a girl obsessed with Alice in Wonderland, who has a very unusual friend. This story also gave me some major Five Nights as Freddy's vibes. I was drinking tea while reading this one, and I do not recommend that. Amazing, creepy, exactly what I wanted from this short-story collection!
3.) Emmeline by Cat Winters – Three Stars ★★★
This one actually surprised me. I'm not that big of a fan of Historical Fiction, and this is set at the end of WWI, in France. I did really like this, even though it was pretty predictable. My only complaint is that it leaves you feeling really sad, rather than scared or spooked.
4.) Verse Chorus Verse by Leigh Bardugo – Two Stars ★★
This was the novella I was most excited for in this anthology, but I think I set the bar too high. Honestly, I was pretty disappointed with this one. The rehab facility wasn't explained well enough, and I think we needed more about this mother and daughter's past to fully understand it. Don't get me wrong, it was creepy and wonderfully written, because Leigh Bardugo is Queen, but this didn't spook me or give me an eerie feel. It left a lot to be desired, and just made me think of an alternate reality Britney Spears.
5.) Hide and Seek by Megan Shepherd – Three Stars ★★★
This was a pretty unique take on the Grim Reaper. I also loved how it actually felt like a complete story with no loose ends. Also, the premise of Appalachian folktales hooked me from page one. This story was unique, thrilling, and had a great sense of closure.
6.) The Dark, Scary Parts and All by Danielle Paige – Four Stars ★★★★
Okay, this feels young and sort of Twilight-ish, but it was still really enjoyable for me. I loved all the nods at famous literature; it felt like a book lovers dream. Then, I was in Heaven with this modern day Hades and Persephone aspect. I know this is set in high school, but it also deals with the impact of bullying. Also, this has a very lyrical prose, which I absolutely devoured. I just really liked this short-story, and it left me wanting so much more!
7.) The Flicker, The Fingers, The Beat, The Sigh by April Genevieve Tucholke – Two Stars ★★
This one felt pretty weak, especially the tie-in with the title. It is basically just a bunch of Mary Sues and Gary Stus, in high school, making bad decisions. The end was somewhat creepy, but it took a long time to get there.
8.) Fat Girl With a Knife by Jonathan Maberry – Two Stars ★★
I'll be honest with you, the title of this, plus noticing it was by a male author, sort of pissed me off before I had even read one word of this story. So I was already developing pretty negative vibes for this story. Unfortunately, it didn't get better while reading. This was the first zombie story, but it felt so unoriginal and even referenced The Walking Dead. Also, this story wasn't even close to being creepy or scary; it was predictable and didn't accomplish much.
9.) Sleepless by Jay Kristoff – Five Stars ★★★★★
This was so amazing. At first, I hated their messaging conversations, and I was actually cringing at the abbreviations they used. I knew something bad was going to go down once they said they starting talking on a serial killer subreddit, but then the twist came and I was so surprised. Then the other twist came, and I was even more surprised! Seriously, this read like such a perfect and complete short-story. This is the perfect Halloween story, especially for my generation, and I absolutely loved it!
10.) M by Stefan Bachmann – One Star ★
This story felt the weakest in the collection, in my opinion. I loved the blind representation, but the story didn't feel very suspenseful, to me. I wish it felt more thrilling, but it fell very flat for me.
11.) The Girl Without a Face by Marie Lu – Three Stars ★★★
This one was more all around scary, than Halloween scary. I think the message is pretty important, and not nearly talked about enough, but it still just lacked the eerie Halloween feel I'm looking for in these short stories. Also, major triggers for rape and cutting.
12.) A Girl Who Dreamed of Snow by McCormick Templeman – Three Stars ★★★
If you've been following my reviews for a while now, you'll know that I absolutely love stories about Shaman and how much I wish there were more out there! Well, this story stars one, so I was instantly drawn in. Honestly, I would read a full story set in this world. I was completely hooked, and it was perfect for my high-fantasy loving self. My only complaint: It didn't feel like a Halloween story at all.
13.) Stitches by AG Howard – Four Stars ★★★★
This one was so creepy, yet empathetic! I loved these three children, and I can honestly say I've ever read anything like this; Perfect Halloween feel, amazing twists, and heart-warming characters. And the ending was so very clever. I still am thinking about this story, and I'm still super impressed.
14.) On the I-5 by Kendare Blake – Four Stars ★★★★
I loved this story, but I had the same problem I had with A Girl Who Dreamed of Snow: It didn't feel like a Halloween story. I still absolutely loved it, and it felt like such a complete story that really left me satisfied. Revenge stories are always the best thriller stories.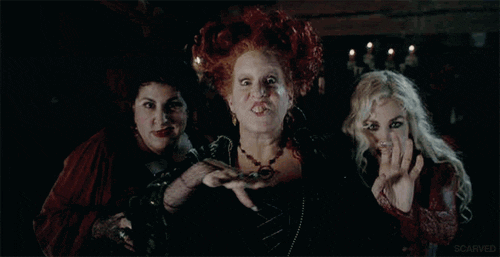 I gave this anthology four stars overall, because out of a possible 70 stars (5 stars possible for each of the 14 stories) this anthology accumulated 44 stars (63%). I know that's more like 3.5 stars, but since we can't do half star ratings on Goodreads, and because I really enjoyed this collection, I am happy to give this four deserving stars.
I hope all of my Goodreads friends and family have a very happy Halloween, filled with love, sweets, happiness, and lots of good books.