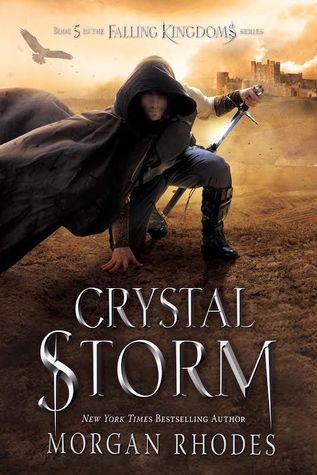 Out of all the feelings I expected to have while reading Crystal Storm I never thought disappointment would be one of them, or the most prominent. Crystal Storm was, hands down, no question, my most anticipated book of 2016. It was even on my rough draft list of "best books published in 2016" because I was so confident it would be perfection incarnate. Oh, how wrong I was.
Instead of perfection, we got plot holes, unnecessary angst between Cleo and Magnus, a cliffhanger ending that felt like Empire of Storms part two, and twists that I feel bad even calling twists because they came out of nowhere and were so unexpectedly bad. I'm so let down that I'm actually at a loss for words.
And what makes it worse is that this book has Magnus on the cover. How can anything with a picture of Magnus Damora be less than perfection? I mean, I know 2016 was a bad year for most of us, but this… this I never saw coming.
Anyways, this is the fifth book in the Falling Kingdoms series that, until this point, have only gotten better and better. This series follows four young adults and their different inner struggles for power, vengeance, and love. We also have some side characters along for the ride. A lot of people compare this series to a young-adult Game of Thrones, and I think that description is pretty accurate.
One of those four main characters, Magnus is one of my favorite characters ever written. His internal struggle, but the way the others perceive him from his outward actions, is one of the best things I've ever read in my life. He is, and always will be, my little cinnamon roll that is far too good for this world. He alone is the reason this book is getting three stars and not two.
"I want you," he whispered against her lips. "I want you so much I may die from it."
Seriously, all I want for Christmas is Magnus Damora. Please, Lord, help me with this unhealthy thirst for a fictional character.
The only person, besides the perfect Magnus, that I even overly enjoyed was Amara. Like, I understand she was sort of the villain, even though now her dynamic is quite shifted (oh please, Felix, give me the good angst.) My favorite types of villains are the villains that make sense, and Amara, to me, makes perfect sense. She comes from a long line of female oppression, and she is finally able to pave her own path. Seeing the continued abuse by her own subjects, just because of her gender, made for a really good read, and she really wormed her way into my heart. I have nothing but high hopes for her (and Felix) for the final installment.
"It is never too early for girls to learn to speak their minds. It's a habit that will make them braver and stronger as they grow up."
Surprisingly, Lucia's POV was pretty enjoyable, too. I even shed a few tears while a certain prophecy was being told and acted out. Jonas was also amazing, and I loved how he stepped up. Also, he always knows what to say. Both of these characters really stood out among all of the forced twists and plot devices.
I actually hated a lot of characters in this book: I hated Nic; he's such a little weasel. I hated Taran; talk about more unnecessary angst. I borderline hated Ashur, just because of his action at the end with Cleo. I still hate Gaius, because nothing has changed even though the story wants you to believe it has. And I obviously hated the out of the blue villain that Morgan Rhodes decided to sloppily write in.
Elena, Cleo's deceased mother, is obviously a key to much more that we don't realize yet. Cleo is most likely going to turn out to be even more of a special snowflake from the events that took place at the end of this book. But as long as she doesn't keep starting stupid, pointless drama, and keep pushing the paragon that is Magnus away, I won't hate her.
I mean, even with all the disappointments this book had, I'm still too invested to stop right before the final installment, but I for sure won't have as high of hopes as I did for Crystal Storm, and it won't be making any of my anticipation lists.