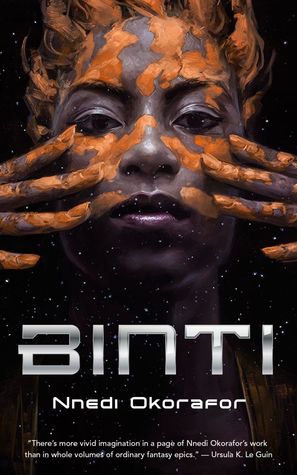 Binti is a beautiful Sci-Fi story about a girl who leaves her family and their dreams for her behind, because she has much bigger dreams for herself.
"We prefer to explore the universe by traveling inward, as opposed to outward."
This novella received quite a bit of hype at the end of last year, and I've been meaning to read it since it released, but after winning a Nebula and a Hugo I knew I couldn't let 2016 go by without reading it. Plus, look at that cover. I mean, it's honestly to die for.
Binti feels comfort with numbers and logic. She has been accepted not only to the best university in the world, but she has been accepted as the first Himba student. After escaping her desert home on Earth, where everything feels comfortable and she is highly praised as being the most intelligent member of her community, she finds herself among people who are very different than herself and most of those people openly give their opinions on their differences.
Eventually she makes friends with her soon to be fellow students. Binti is one of five-hundred passengers on a ship headed to the university, until a jellyfish-like alien race called the Meduse board their ship without mercy.
Binti finds herself in a very scary and unusual position where she has to take the customs of her people, the knowledge from her family, and her belief for her own future to be able to change the world forever.
While reading this, I kept thinking about how wonderful this book would be for middle grade readers. Religious and cultural acceptance is a concept that is never too early to start teaching your children. There are so many beautiful references to different cultures that really puts a heavy emphasis on their importance. We take for granted the beauty behind the rituals and customs of different cultures, when we really should be celebrating them.
Yet, the juxtaposition is equally as beautiful with the reminder that we are all free to try or to embrace a new culture without feeling shame, nor should we be exiled for turning our backs on the culture we were inherently born into if we were to venture out and try a new custom.
Like I said, this book makes a huge statement about acceptance and how we can miscommunicate with others unintentionally. The message is truly beautiful, and it is no wonder this book has made such an impact and won so many awards; Binti truly is a beautiful message that more people need to hear.
Tor is seriously publishing some amazing novellas lately, too. Binti and Every Heart a Doorway are both phenomenal, and I can't wait to read more of their stories, especially with the diversity that both of those novellas have inside of them.