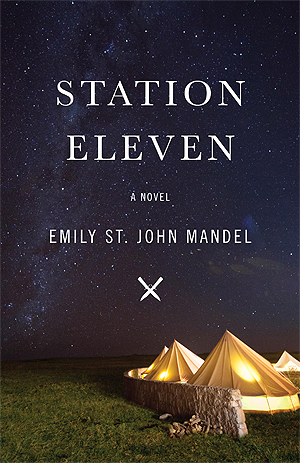 Amazon | Barnes & Noble | Goodreads
I gifted this book to many of my loved ones for Christmas, because this book instills so much hope in the reader, and let's be honest, after 2016 we could all use a little more hope inside of us. While writing little notes to all my friends and family about the magic of this book, I couldn't help but feel compelled to reread it myself.
I was born and raised in Michigan, so this book hits me and my feels so very much. Even though I lived in Flint for the majority of my life, all of the Michigan cities that I have visited so many times make this book even more important to me. And the airport Clark is in? I couldn't help but picture this as the airport I've flown out of over 100 times in my life. This story hits so close to home for me, literally, and it makes Station Eleven always a favorite for me to read. I will always carry this book and its message in my heart.
This book is another post-apocalyptic book, but it is truly a tier above the rest. Twenty years after the pandemic starts in this book, we follow a traveling symphony reenacting Shakespeare. They travel from civilization to civilization, trying to bring joy and happiness into this world that is just trying to survive.
Our main protagonist in the symphony is Kirsten, and she was very young when the flu that killed all but 1% of the population, and started the apocalypse, broke out. We are able to see her journey through it all and all of the threads that tie so many different people in her past, present, and future together.
Kirsten isn't the only point of view, there are actually very many. You will see relationships form before your eyes, and be in shock when you see how some of these people have connecting roots from their pasts. The reader will be constantly taken back and forth between post and pre apocalypse, but Emily St. John Mandel's transitions are so smooth, and she weaves together the time frames so well, that you will be completely captivated.
Saying this book is addicting is an understatement of the very word. The lyrical prose of this novel is one of the most beautiful things I've ever read and the characters and their actions constantly left me speechless. And so many of the reveals in this book shook me to my very core.
This book is truly haunting, and will stick with the reader for some time. For me, this book helped me be more thankful for everything I have, and it reminded me that nothing is ever promised. The message of what can happen when certain paths, which are beyond all of our control, cross is unforgettable. But in its bones, this book is all about hope and the importance of instilling that hope in future generations.
No matter what happens in 2017, try to have hope. Try to believe that we can come together and do amazing things that are filled with love instead of hate. Believe that you and your voice matter, and you are always worth being heard. Stand strong and be extra loud for the less privileged individuals, because their voices need to be heard even more so. Never give up, and always hold on to that hope, because sometimes it might feel like it is the only thing we have left.