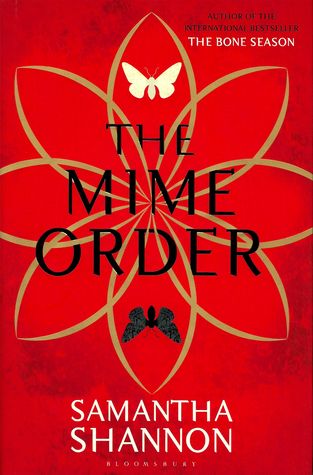 Goodreads | Amazon | Barnes & Noble
1.) The Bone Season ★★★
Would me writing "I hate Jaxon Hall" over and over again be an acceptable review? Because that's honestly how I'm feeling right about now.
"A boy who begged for books and pens as often as he did for coin. A boy with arms torn to ribbons by fingernails, plotting his escape from poverty."
The Mime Order picks up right where the The Bone Season leaves off, and I mean exactly how it leaves off: our group is on the train, and their escape from Sheol I didn't go quite as planned. I was filled with so much excitement; I couldn't wait to see what would happen when Paige and the gang returned to London! Yet, to my remorseful surprise, after the action packed opener the book felt pretty stagnant for quite some time.
My biggest issue with this book: Warden didn't show up until after 40% of the way through this book. Like, if a ton of exciting things were going on during that 40% to make up for Paige and Warden's amazing dynamic being missing than I would have been fine, but the story only started getting good, in my opinion, once Warden showed up. The first 40% was dull and uneventful. Yeah, later those dull and uneventful moments became something great, but it was still a little bit of work to force myself to read on.
The best part of this book: The exploration of how this shady government group is deceiving everyone. They are spewing lies and hate, and making everyone afraid of each other, while trying to cover-up that they are working alongside an even worse evil.
"Hope is the lifeblood of revolution. Without it, we are nothing but ash, waiting for the wind to take us."
The problems I had with information-dumping in The Bone Season subsided completely. These characters and this alternative London is starting to feel like home, and I really enjoyed that.
As far as new characters and locations, I loved reading about Jacob's Island and the Jacobites. It felt just like Ketterdam from Six of Crows to me. I was so enthralled so fast, and I didn't nearly get enough of it. Please, give me more Wynn Jacob and more of this island in book three!
I love the ragtag group that is known as The Seven Seals. Well, obviously I have issues with one of those Seals (and two others at the end), but I love their dynamic as a whole. The fourth scrimmage in the history of the London Syndicate gave me all the feels. Like, I reread that scene three times because I freaking loved it that much. The angst, the betrayal, the quick thinking, the cleaver mechanics, the waiting to see who chose what side, I loved it all!
The ending, for as much as it brought me rage, was amazing. It made me so thankful I received an ARC of the The Song Rising, and it made me want to ignore all of my scheduled February reading and start it immediately. So, that is pretty impressive and quite the hype I'm putting on it. Hopefully, it doesn't let me down, because I have super high hopes for it and the Black Moth!
"Words are everything. Words give wings even to those who have been stamped upon, broken beyond all hope of repair."