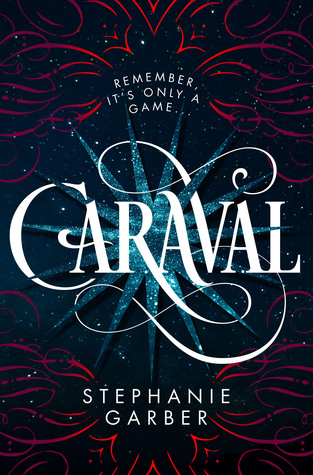 Goodreads | Amazon | Barnes & Noble
This story was so magical, so whimsical, and so perfect. I was skeptical, because I'm pretty much the only person on Goodreads that did not like The Night Circus, but this didn't remind me of The Night Circus at all. Well, at least the 15% I read before I couldn't force myself to read more. I mean, I can see where people would draw the parallels because of the plot, but the writing in this is much more reminiscent of The Raven Boys or Heartless. The prose is the epitome of lyrical, with descriptions that were nothing short of magical, and I devoured it all with a smile on my face.
"It looked like a storybook come to life. She peered down at bright pointy rooftops, moss-covered towers, gingerbread cottages, gleaming gold bridges, blue-brick streets, and bubbling fountains, all lit by candled lamps that hung everywhere, giving an appearance of time that was neither day nor night."
Can we talk about how this is Stephanie Garber's debut novel? I am seriously shocked, because this is not the writing of a new or amateur writer. She has perfected her craft, and made just a really addictive and impressive first story. I hope and pray she wins 2017's Best Debut Goodreads Author award, because she is so deserving with this masterpiece. I'm in awe of her talent, honestly.
God, the writing was so good. The descriptions were perfection. I understand this might not be for everyone, but this world consumed me and I didn't want to leave when I turned the last page. I know this book is about a magical place, but it truly ended up being a magical experience that I'm not going to forget anytime soon. Caraval is the first book I gave five stars to in 2017, and it is so very deserving of that title.
The plot of this has a perfect thriller tempo, too! Yes, I've been raving about how magical and lyrical this book is, but I have to emphasize that the pace is fast, too! Each chapter holds a new mystery, and I felt so compelled to never put this book down. Caraval truly is a fast and magical journey that I can't help but recommend everyone take!
Caraval is a magical game that is played once a year. Not everyone can go, but the lucky ones are sent tickets, and once they arrive they are able to choose if they'd like to watch the game or actually play the game. Scarlett has been writing to the master of Caraval, Legend, her whole life in hopes to acquire tickets for her and her sister, and after all these years she finally gets a letter back.
And the sibling love in this is so amazing. My brother and I are really close, and there is nothing I wouldn't do for him. Scarlett's devotion to her sister warmed my heart completely and I loved reading about it. Also, seeing them pick each other over boys is my freaking jam.
This book also tackles the hard topic of parental abuse, emotional, mental, and physical. This topic is so important, and doesn't seem to be in much YA, unless it is the center of the story. So many kids grow up being abused, yet, it doesn't become the center of their life. Seeing Scarlett realize she is not the value of her father's rage was beautiful. We need more books that handle this issue, because Uncle Vernon and Harry Potter isn't close to being the epitome of an abusive relationship. Many parents can be manipulative, abusive, terrible, and it isn't the victims fault, ever.
"People think no one sees all the nasty things they do in the dark. The foul acts they commit, or the lies they tell as part of the game. Caraval takes place at night because you like to watch, and see what people do when they think there are no consequences."
This book does border on unreliable narrative though, because as Scarlett is learning the rules of the game and the magic of Caraval, so is the reader. Caraval is a facade, it might be a beautiful facade, but it is still a facade. The reader is never sure if what they are reading is true, and that is because Scarlett never knows if what she is experiencing is true. I loved the mystery factor and thought it worked perfectly, but I can see where others might not like it as much as me.
And the characters and players in this world are so wonderful! Scarlett was my favorite, and I feel like it would be almost impossible not to fall in love with her. Her sister, Tella, has a good heart and her actions were coming from a good place, but she was a little frustrating. Hopefully, in the next book, my love for Scarlett will carry over to Tella. Julian is the other main character you read about, alongside Scarlett. His character was so endearing and I absolutely loved this story-arc and twist(s). Not knowing whether to root and cheer for him or wish him dead was a unique experience to say the least!
I loved this book. I loved it with my whole heart. I read this in one day; I couldn't put it down. This book is the definition of a sensory read. Please give it a try. I understand that not every book is for everyone, but this book is pretty close to perfection, in my eyes. I whole heartedly expect this to show up on my "Best of 2017" list, and I cannot wait to get my hands on the sequel.
I'll be honest, between this book and Beyoncé announcing she's having twins, I feel like the world is trying to ease the blow of Donald Trump's next executive order.