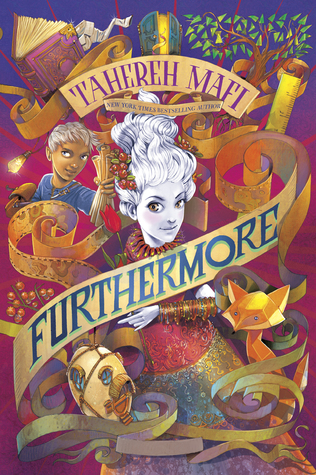 Goodreads | Amazon | Barnes & Noble
Readalong for the BooktubeSFF Awards which is being hosted by Adriana from Perpetual Pages, Chelsea from TheReadingOutlaw, Samantha from Novels and Nonsense, Connor from Connor O'Brien, Elizabeth from Books and Pieces, Kaitlin from Kitty G, Sam from Thoughts on Tomes, Elena from Elena Reads Books, and Thomas from SFF180!
Alice lives in the land of Ferenwood, with her mother and her three triplet brothers. In Ferenwood, the world is filled with color and magic, but our poor Alice is as blank as they come. She is in a constant battle of accepting and loving herself, and feels very alone in this world. That is, until a secret keeping boy named Oliver offers Alice an opportunity to go on an adventure and rescue the only person Alice has ever felt loved her.
Together, Alice and Oliver are swept away in the many different, and every changing, lands of Furthermore! This is honestly the middle grade version of Caraval, except it touches on the topics of race and of loving yourself for who you are.
"Why must you look like the rest of us? Why do you have to be the one to change? Change the way we see. Don't change the way you are."
I loved some of the messages of this book, but I didn't love the book itself. Maybe it was the hype? Maybe it was because I don't read middle grade too often? Maybe this just wasn't for me? Regardless, the journey that takes place in this whimsical story never completely swept me away, and it often came across as pretentious, if I'm being honest.
This book tried too hard to be whimsical and different. I was constantly being pulled out of the story by some of the passages and descriptions that were beyond words over the top, especially at the start of each and every chapter. I understand that this is intended for younger audiences, but I still couldn't believe most of the descriptions Alice gave.
Overall, this was just okay for me. Nothing groundbreaking, a lot of flowery writing and a few missed opportunities. Again, I don't read much middle grade, so it's hard for me to compare it to other things out there, but I was a little let down by this.
"The simple truth was that Alice would always be different—but to be different was to be extraordinary, and to be extraordinary was an adventure. It no longer mattered how the world saw her; what mattered was how Alice saw herself."
MINOR SPOILERS AHEAD!
Okay, these are the things that really bothered me with this story:
➽The ending happened in the blink of the eye, and I thought I had to be reading wrong, because there was no way all this lead up was for that anticlimactic ending, but it was true. After all the problems and trials Oliver and Alice endured, it felt so wrong for them to have such an easy ending.
➽Alice's mother seeing the right of her wrongs, and blatant abuse, all of a sudden felt really terrible to me, too. I loved that Alice had an unconventional family dynamic that made her question if she was loved. These problems are topics we need in middle grade to help kids not feel alone, not problems that get erased by turning the page.
➽Speaking of awful representation, can we talk about how Alice loses her arm, and they completely change the mission of finding her father to getting her arm back? My heart broke when I discovered this, because I actually thought that maybe she wouldn't have an arm, and middle grade readers would have a disabled amputee main character for representation, only to discover Alice's number one priority switched to being "fixed." It felt so bad and was such a missed opportunity.