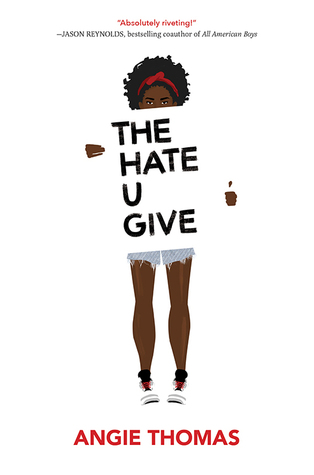 Goodreads | Amazon | Barnes & Noble
It has taken me a long while to compose this review, because this book is the most powerful book I've ever read. It is important, educational, and happening in our world right now as you're reading this review. If you can only read one book in 2017, please pick this one.
This book is inspired by the #BlackLivesMatter movement, where sixteen-year-old Starr witnesses her best friend, who is an unarmed black boy, be killed by a police officer. Starr is scared to speak up, constantly battling what to do, because there is never any justice for these heartless killings.
This book is real, honest, and it's going to make a lot of people uncomfortable, but being uncomfortable is necessary to change. And this book is going to change a lot of people's lives. I hope everyone reads this and starts educating themselves on, and will stop ignoring, the problems going on in today's world. Books are the most powerful and influential tool we have, and The Hate U Give is a literary masterpiece that will be a constant reference for years to come.
"That's the problem. We let people say stuff, and they say it so much that it becomes okay to them and normal for us. What's the point of having a voice if you're gonna be silent in those moments you shouldn't be?"
Important things that I want to say:
• Reverse racism doesn't exist.
• White people will never know what it feels like to be a marginalized black person who is still being oppressed in 2017. You might think you do, but you don't.
• When you say #AllLivesMatter, even when coming from a place of good, it is hurtful and ignoring the greater problems that are prevalent.
• When you say #BlueLivesMatter it actually makes me feel sick to my stomach, especially after reading this book. Stop doing this. I don't care if your dad is "one of the good cops out there"; it is disrespectful for this plague of an epidemic that is happening to our black men and women.
• I can do better and I can do more. We can do better and we can all do more.
• Here is a list of some unarmed black men that have been killed over the past few years by the police brutality that is ever growing in the United States: Trayvon Martin, Michael Brown, Eric Garner, Dontre Hamilton, Eric Garner, John Crawford III, Michael Brown Jr., Michael Brown Jr., Dante Parker, Akai Gurley, Tamir Rice, Rumain Brisbon, Jerame Reid, Tony Robinson, Phillip White, Eric Harris, Walter Scott, Freddie Gray, Keith Lamont Scott, Philando Castile, Alton Sterling, and more that go unnamed and unanswered every day.
Remember these names. Honor these names. Open your eyes. See what is going on in our world and see how wrong it is. It is easy to ignore when it is not happening to you, but is this really the kind of world you want to live in? Open your heart; be empathetic to your fellow human. Let's change this, and have The Hate U Give be the first stepping stone.
"You can destroy wood and brick, but you can't destroy a movement."
Thank you, Angie Thomas; I truly hope your book changes this world.
Lastly, I want to emphasize that this review is coming to you from a young, white, immensely privileged woman. These are five amazing people of color giving amazing heartfelt reviews on YouTube that showcases why this book is the most important and influential book of our time. Here are a few of the people we should need to be listening to:
• BooksAndBigHair
• TheBookArcher
• Lily Meade
• iLivieforbooks
• the (book) supplier
Bloglovin' | Twitter | Tumblr | Instagram | Goodreads | Twitch