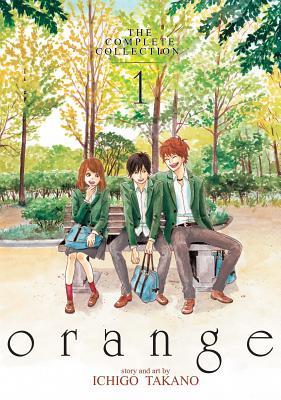 Goodreads | Amazon | Barnes & Noble
Buddy Read with Cory ❤
Orange is a manga series that will definitely pull on your heartstrings. Heck, before even starting the actual story, the first two art pages at the beginning about broke my heart by themselves. This story starts out with our main character, Naho, receiving a letter from herself ten years in the future. She and her group of friends are sixteen and in eleventh grade in high school, but what her twenty-six-year-old self is trying to warn her of is imperative.
Future Naho informs present day Naho that she will lose the boy she likes if she doesn't change some of the actions and choices she is about to perform and choose. This obviously makes Naho hyper aware of everything she and her friends are doing, because she is so scared she is going to repeat past mistakes and end up losing this boy anyway.
The best part about this manga series is the phenomenal friendships. This book has one of the best circle of friends I've read about in years. They constantly are showing their unconditional love and support to each other, and are honestly a freakin' treat to read about. Seriously, friendship goals.
➽ Naho Takamiya – Main protagonist, who receives the letter about what her life is going to be like in ten years, unless she changes some things. Very shy, very timid, a very sweet little cinnamon roll.
➽ Kakeru Naruse – The boy who will not be in their lives anymore if his friends do not change the past.
➽ Takako Chino – The more outspoken girl in the group. She always sticks up for Naho, since Naho is too shy for confrontation, and always just generally feels like the protector of the group.
➽ Azusa Murasaka – The happy-go-lucky one of the group, her parents own a bakery, and she's always super excited and supportive of Naho.
➽ Saku Hagita – Manga lover in the group, who is also totally in love with Azu!
➽ Hiroto Suwa – Honestly one of the best characters, and most selfless humans, I've read about in years. He's the leader of this group, one of the most popular boys in their school, an amazing soccer player, and proves his unconditional love over and love throughout this volume.
I could probably writes sonnets at this point about how much I love Suwa, and how I honestly just want him, Naho, and Kakeru to have a poly relationship where they all love each other, but this whole group of friends is amazing. I love their group dynamic and how they interact individually, too. They are all selfless, to be honest, and they all truly want what is best for their friends. They are a great support system for one another, and I love seeing them build and boost each other up.
This manga series is also important, because it never shies away from the topic of suicide. It brings up great points, especially for high school aged kids, about how sometimes when friends joke about death, they aren't really joking and to always take them seriously. On the flip side, it is also important to understand that sometimes the saddest people will mask their feelings with smiles and laughter, so always check in on the ones you love and make sure they are feeling okay.
The art is beautiful, the story is lovely, and the messages are so very important. I loved everything about this, and I cannot wait to start the anime after I finish Vol. 2.