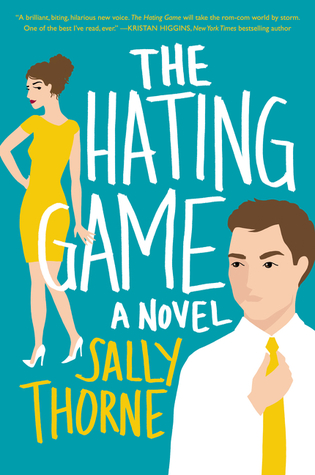 Goodreads | Amazon | Barnes & Noble
"All I want to do is kiss you until I fall asleep. I want to slide in between your sheets, and find out what goes on inside your head, and underneath your clothes. I want to make a fool of myself over you."
Oh my good dear sweet Lord, this book was absolutely heart warming. I was feeling a little under the weather and wanted something that would be cute, fluffy, and a fast read, so I picked this up completely underestimating how amazing it would be. This is honestly one of the best books I've read all year and probably the best romantic contemporary I've ever read in my entire life. Yeah, it's not the cold medicine talking; this book is really that good.
"Books were, and always would be, something a little magic and something to respect."
Also, this story takes place inside of a publishing house! I mean, what kind of book lover wouldn't automatically love that premise? This publishing house, Bexley & Gamin, is the result of a merger that happened a few years ago between Bexley and Gamin.
➽ Lucy Hutton – Executive assistant to Helene Pascal, the original CEO of Gamin.
➽ Josh Templeman – Executive assistant to Mr. Bexley, the original CEO of Bexley.
Lucy and Josh, working directly under both co-CEOs, share an office, which forces them to spend a vast amount of their time together. They constantly feel like they are in competition with one another, and play games with each other throughout the day, trying to assert dominance. They go back and forth, slinging insults while trying to get the upper hand. They claim to hate each other, but it is so clear to everyone but themselves that they do not.
But their dynamic completely changes when they are both up for the same promotion, which will cause one of them to be the boss of the other. Complete games and high jinks ensue, and they are forced to come to a realization of how much they do, or actually do not, hate each other and all the time they have been forced to be together over the years.
And the witty banter and back and forth lines in this book are complete perfection, and maybe my favorite thing of all. This book is so very funny that I was actually in tears from some of the banter. Like, Lucy is everything. She is so sassy and never afraid to speak her mind. And her dialogue feels so natural and constantly felt like something I would honestly say or think about in real life, and I just loved t.
"What are you imagining? Your expression is filthy."

"Strangling you. Bare hands." I can barely get the words out. I'm huskier than a phone-sex operator after a double shift.

"So that's your kink." His eyes are going dark.

"Only where you're concerned."
I really liked Lucy, but Josh won me over… from the elevator. No seriously, Josh was such an amazing romantic lead. And the things he said, oh boy, the things he said. I was swooning pretty hard for this fictional boy. He was expertly written and so easy to root for. I also loved the confidence he bestowed upon everyone, but the insecurities he showed Lucy behind closed doors. I loved the element of it being the guy that was self conscious about his body and about his food choices. It was such a wonderful switch up and surprise and I really appreciated it.
Lucy was a great character, too, though. She never questioned her worth, and was never going to back down from any interview or opportunity for that matter. I also loved reading about a character with anxiety, and how she was able to cope with overwhelming situations. And I loved how she stood up for what she believed in and wasn't afraid to stand up for others who were less willing to stand up for themselves. Also, again, I feel like the way she spoke was so very realistic to how people (myself, at least) actually speak. Also, Lucy and I are the same age in this book, so I guess I just felt a really believable attachment to her character.
I also loved Lucy's parents and their unwavering and unconditional love, and how they thought the sun rises and sets because of Lucy. Like, that's how my family is, and I seriously have to say the line "you're just biased!" on weekly bases, but it warmed my heart to see them support her, and it was very reminiscent to my family who I also moved away from after college.
"He still hates me." I take a fist of cashews and begin eating them a little aggressively. Dad is flatteringly mystified. "Impossible. Who could?" "Who even could," Mom echoes"
This book was so close to perfect, but I did find the wedding date very, very predictable. I kept feeling anxiety while reading because I totally knew what was going on, even though Lucy didn't and everyone else was acting ignorant about it. I understand this wasn't meant to be a mystery or anything, but I wish it was resolved a little sooner, because I hated reading the lead up to the explosion I guessed once they stepped foot into the hotel.
I also feel like there was way too big of an emphasis on Lucy's height. Like, I'm only 5'4″ so I'm happy for some short girl representation, but I didn't need to be reminded of her height on every freakin' page. Also, don't get me wrong, I completely understand 5'0″ is a lot shorter than 5'4″, but every guy I've ever dated or been with has been over 6'0″ (I don't even have a thing for tall guys or anything, it just happens to work out like this for me, I don't even know) and the height difference is never as crazy as this book made it sound like. Especially *gulp* during sex, you know?
The only other negative thing I can say is that I feel like the cover is really underwhelming and would probably detour people from picking this up at a bookstore randomly. Like, I'm being nice, this cover is borderline ugly. This book deserves so much better. So, so, so much better.
Regardless, this was the perfect summer romantic comedy read! It's adorable, heartwarming, and everything I could have ever asked for! But, like, I can't believe this is a debut novel! Sally Thorne is so talented, and this story she wrote was so captivating and addicting. She has totally made a fan for life and is now an auto-buy author for me. I cannot wait to get my hands on The Comfort Zone in 2018!