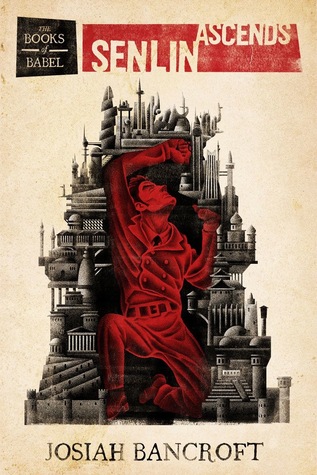 Goodreads | Amazon | Barnes & Noble
Buddy Read with Petrik ❤
This highly praised indie book series has recently been picked up by Orbit! After that news, and seeing the first two beautifully sitting on my shelf for far too long, I decided I wanted to experience this self published series before the year was over, but now I just want all the books immediately, because Senlin Ascends is a literary masterpiece.
"The Tower of Babel is most famous for the silk fineries and marvelous airships it produces, but visitors will discover other intangible exports. Whimsy, adventure, and romance are the Tower's real trade"
Senlin Ascends is unlike anything I've ever read before. The basic premise seems easy enough: A headmaster that works at a school in a very small and far away village, has newly married a girl who compliments him perfectly. Senlin is a man of planning, habit, and always following the rules, while his new bride, Marya, follows her own beat completely and just wants to see the world. Senlin is also obsessed with a mysterious tower that is far, far away from him and Marya's village. So, what better place for them to honeymoon than the tower that he's been obsessing over his whole life. I mean, Senlin has a guidebook, and he always follows the rules, what could go wrong?
"the Tower is a tar pit. Once you put a toe in her, you're caught forever. No one leaves. No one goes home."
Yet, we soon find out that inside the Tower of Babel there are completely different worlds living and dwelling inside each level, or maybe I should say functioning inside each level. And, yes, I said Tower of Babel, like the bible story you probably grew up hearing at least once about why we speak so many different languages. Basically, after the Great Flood happened, a bunch of people came together and agreed to build a tower that would touch Heaven itself. God, realizing what they are attempting, scatters them all around the world and makes them all speak different languages, hence our world today. Yet, obviously, the higher in the tower you are the closer you are to God and Heaven.
Also, unbeknownst to me both times, this is the second Tower of Babel inspired story I've read this month, because I also read Nyxia (The Nyxia Triad, #1) by Scott Reintgen . So now I'm lowkey sitting at my computer like, "Is God trying to tell me something?"
Anyways, this is a glorious painting done by Peter Bruegel, that I found because of my wonderful friend Mike's review, that is a very close interpretation to how I pictured the Tower in this book:

And here is the Tower that the amazingly talented author, Josiah Bancroft, made that shows us around and inside a few of the levels known to man:

(I looked at this constantly once Petrik showed it to me!)
Okay, so now you guys know sort of what the gist of the Tower is and sort of what it looks like, but I'm sure you're reading this review to find out about the story. Oh, my friends, this story is a treat to any book lover who happens to stumble upon this tale. It's mystery after mystery, surprise after surprise, whimsical new steampunk world after whimsical new steampunk world.
"Not a solitary soul will help you here. The good souls don't have the means or mind for it, and the bad souls will only bleed you dry."
As Senlin is ascending the Tower, this book will constantly lead you to believe something, and you will, with your whole heart, but it will end up being so completely different. And the book will do this over and over again, but it will never feel forced or gimmicky, but it will always surprise you. I'm not sure any author I've ever read has been capable of doing that before, and, again, this is a debut novel by a self published author. (Which is why we need to support indie authors and find more hidden gems like this little masterpiece.)
And the writing is so fantastic. It's entrancing and addicting, while also being one of the most immersive works I've ever read. Especially the baths, like, I'm still halfway convinced that I was there in my own little pinecone like shelf, watching everything play out through the streets of that city. This story reads like you're in a lucid dream that you're not sure you want to wake up from. Yet, it still feels like you're seeing everything through somewhat of a haze. Again, this tale is glorious and unlike anything I've ever read in my many years of reading.
"It is easier to accept who you've become than to recollect who you were."
And Senlin as a character was wonderful to read about, too. Seeing the Tower shape him into what he needs to be, is worth its own review. I mean, the Tower changes everyone, but Senlin always stays true to his caring self that loves to learn and to teach others and it makes him flourish. Senlin's journey is nothing short of beautiful. I also loved the Tower itself, and how it is so much bigger than anyone realizes. I loved Senlin's theory and I can't wait to ascend the next levels with him.
"The Tower is only as tall as the man that climbs"
The side characters that Senlin meets along his journey are also nothing short of exquisite. Iren, Goll, Tarrou, Edith, Adam, Ogier, they were all such wonderful additions that truly shaped this story into something remarkable that leaves me with a loss for words. I could read side story after side story about each of these individuals and their time spent in the Tower.
At this point, I also believe that Josiah Bancroft could very well just be a genius for crafting this complex tale that is so entrancing yet easy to follow. The only negative thing I can really say is that this book does end, and I mean it ends somewhat abruptly, and if you don't have the next book, Arm of the Sphinx, on hand, you are probably going to cry. If you're looking for a fast paced adventure, with a completely addicting story, with some of the most beautiful prose I've ever read, that is unlike anything you've ever read, please give Senlin Ascends a try.