Amazon | Amazon Australia | Amazon UK | Amazon Canada | B&N | iBooks | Kobo
📖💗: You can win an exclusive Book Nerd T-Shirt by being one of the first 100 people to leave a review of Black Bird of the Gallows by Meg Kassel on Amazon! Enter to win Here!
📖💖: Three people can also win a Black Bird of the Gallows canvas tote bag (11"x14") which includes a custom made crow pendant and ball chain, bookmark and stickers, $10 Amazon Gift Card (INT) Enter to win Here!
📖💕: And check out the rest of the reviews, interviews, and more from this blog tour Here!
"Stay away from the bees."
Black Bird of the Gallows is a debut standalone paranormal YA romance that reads like a mixture of Candyman meets The Birds meets Twilight. (And I mean that mashup in the best way possible!)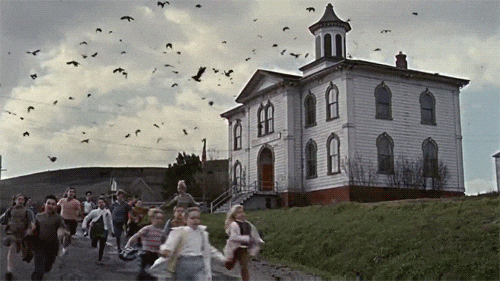 "The energy flows over me, fills me, and none of it feels tainted, contaminated by the darkness of my mother's mistakes."
Angie Dovage lives in a small town in southwest Pennsylvania and is counting down the days of her senior year of high school, so she can finally graduate and escape the small town that won't let her forget her childhood. She is living with her father, making music with her two best friends, and trying to ignore that past that still haunts her. That is, until a new boy moves in next door and makes her realize there may be more to her small sleepy town than anyone realizes.
Reece is not your regular human boy, but is also harboring a secret that will change Angie's world forever. Together they are trying to uncover the fate of their small town, while also learning to trust one other and overcoming their own personal fears.
"If you had asked me a few weeks ago, I'd have said magic is impossible. Irrational. Just considering its existence in this world is insane. But I saw bees crawl out of a man's mouth. I saw him change faces like pages of a book."
This book has a dark and spooky vibe throughout its entirety. The writing is beautiful and for sure helps create this haunted aesthetic vibe, which I loved. This book feels and reads very much like a mystery thriller, even though it is for sure a paranormal romance. Also, I feel like the story itself was just super unique.
"I endured two centuries of horrors, and maybe it was all so I could be here with you. If my unnatural existence means nothing else, it means this. I get to be here, now, with you."
I had a little problem with the romance in this book, and how fast and instant it seemed to be. The story later addresses this with more back content, but that addition just made me feel a little creeped out. I also felt like the ending was a little too easy and convenient for my liking, as well. But those were the only two issues I really had. Besides those, this was a really enjoyable read.
I do think it's important to note that this book centers around death a lot. So, trigger warnings for talk of death, child abuse, and a minor plot point that surrounds a school shooting. Yes, this is a YA novel, but the nature of this book definitely deals with some dark subject matters, so please go into this book knowing that.
I completely recommend this, especially for a fun Halloween paranormal read! I really enjoyed Angie's friendships with Deno and Lacey and then her parental relationship with her father. Also, I love that this is a standalone, because those are so unheard of nowadays, especially in the paranormal genre. This is a quick and easy read that would be super enjoyable for the fall season. And I will definitely read future books by Meg Kassel, because of this wonderful debut.
Bloglovin' | Twitter | Tumblr | Instagram | Goodreads | Twitch
The quotes above were taken from an ARC and are subject to change upon publication.