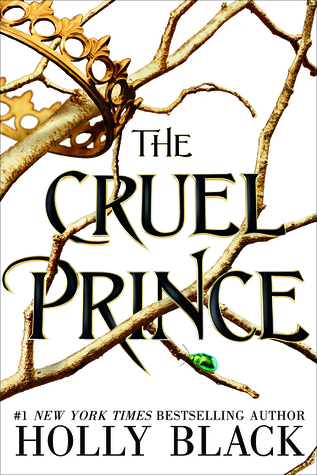 Goodreads | Amazon | Barnes & Noble
"He looks like a faerie lover stepped out of a ballad, the kind where no good comes to the girl who runs away with him."
If you guys ever want to see what my true heart's desires are on paper, read this book. This book is a piece of heaven that was sent from above, this book is the perfection incarnate, this book is nothing short of magical, this book easily makes my top five books of all-time list, and this book is without a doubt the best book I've read in 2017. I'm not sure how I'm even going to attempt to come up with a review fitting for this masterpiece, but I'm going to try.
If you can only preorder one book for the rest of the year, please pick The Cruel Prince by Holly Black.
Okay, maybe I should start this review off with a personal story. You know, full disclosure and all that. I was a very young girl, at the mall with my mom, and we walked into a Borders Outlet. I've always been a rather ravenous reader, but at that time in my reading life I was reading only crime thrillers. Think things like James Patterson and John Grisham. Well, while I was perusing the new releases on this autumn day back in the 2007, a worker came up to me and started talking to me about her love for books, but more importantly her love for fae books. She was so kind and warm and enthusiastic, I couldn't help but ask her to pick me one of her favorite fae stories. Well, she ended up handing me two, but one of them was Tithe by Holly Black, and this godsend Borders Outlet employee completely changed me and my reading life forever.
After that day, and after I inhale read that book, Holly Black became one of my favorite authors and my parents couldn't keep unread fae fantasy books on my shelves. And ten years later, I've never looked back. I've been completely obsessed with fae stories ever since. And if I ever develop magical powers, one of the first thing I'm going to do is track down that Borders Outlet employee and thank her for making me the reader that I am today.
Okay, sappy and heartwarming story aside, this book was honestly perfection in every aspect. You want fae courts? Bloodthirsty fae royals fighting for a crown? Twists after twists and reveals after reveals? Heartwarming scenes followed by heart wrenching scenes? The slowest and most agonizing but also the most romantic and powerful and rewarding hate to love romance in the world? Pick this book up.
"Because you're like a story that hasn't happened yet. Because I want to see what you will do. I want to be part of the unfolding of the tale."
And the writing? I mean, not only is Holly Black the literal queen of all things fae, she is also the queen at stringing together words that make me feel everything in the entire universe. The amount of sticky notes and highlights I have in this book is ridiculous, but Holly Black's writing is so poignant and lyrical and honestly the most perfect thing my eyes have ever seen. This entire book reads like one giant tragic ballad, yet it is equal parts heartbreak and hope. This book is so haunting, so dark, and so twisted.
"But I will not stand in front of your happiness. I will not even stand in front of misery that you choose for yourself."
Jude is a very young girl when she witnesses her parents murder. After that terrible night, she and her sisters are whisked away by the murderer to live in Faerie. Now, ten years later, Jude is trying to live among the fae, while constantly being reminded of her mortal human status. Yet, she soon gets wrapped up in a very elaborate game, from many different sides, which will cause a civil war to break out in the Courts of Faerie if the game isn't played properly.
The High King has ruled for centuries, but people feel like it is finally time for him to step down and give the royal crown to one of his children. In this world, the king chooses his successor; it doesn't automatically go to the oldest child. And the High King has six children in line waiting for him to make his choice.
Prince Cardan is the youngest son of the High King. He is wicked, and charming, and smart, and maybe even a little cruel. Oh, and he makes Jude's life a living hell most of the time. He's also one of the best characters I've ever read in my entire life.
And with Cardan, comes his group of friends: Nicasia who likes power, Valerian who likes violence, and Locke who likes dramatics, but they all love tormenting Jude in very different ways.
"That's what comes of hungering for something; you forget to check if it's rotten before you gobble it down"
Even though Jude is the only point of view, and is the main protagonist of this amazing story, her two sisters play a huge part of this story, too. Taryn is Jude's twin, who must watch all the torment that Jude endures, and Vivi is their older sister and one of the best side characters I've ever read. She's unique and defiant and strong and devoted, and her romance with her girlfriend meant everything to me. Also, Vivi is on the page bisexual and that representation meant even more than everything to me.
Oh, and speaking of adorable queer relationships; Ben and Severin, from The Darkest Part of the Forest, make a cameo in this and I was crying the happiest tears! I don't think I will ever be over THAT whisper, and I've just completely accepted that. Be still, my heart.
But Jude is our main character of this story, and you can tell from everything that I've written above that she doesn't have the easiest of lives. See, the fae in this world are very dependent on humans, even though they remind them of their lower status constantly, because the fae women have a very hard and sporadic time conceiving and bearing children, therefore, they rely on humans reproducing for them. Well, Jude doesn't want that life, she wants to make a name for herself and be one of the greatest knights that the Courts of Faerie have ever seen!
Jude is strong willed and very determined, but she is also one of the most selfless characters I've ever had the pleasure of reading from. She is a very morally grey character, yet she will completely capture your heart. But she's young and learning that love comes in very different forms, and sometimes we are unable to control what we feel.
"I stand in front of my window and imagine myself a fearless knight, imagine myself a witch who hid her heart in her finger and then chopped her finger off."
One of the most beautiful things about this book is that none of these characters are perfect. Jude, Cardan, all of them do bad things, and none of them are ever excused of their crimes, but they learn to deal with them and the other ramifications that come from their actions. I mean, none of us are perfect people, and we all make bad choices at times. But this book accepts that and reflects that, but also highlights the importance of growing, and becoming a stronger person, and picking what battles you choose to fight. It's a truly beautiful message and I really appreciated having a full cast of nonperfect characters that do nonperfect things.
"But we all want stupid things. That doesn't mean we should have them."
Also, this is a spoiler free review, but I just have to yell from the rooftops say that Chapter 26 is the best chapter I've read in all of literature. I will fight anyone that says otherwise. Chapter 26 tortured me, broke up, killed me, rebirthed me, and gave me new life. The end of Chapter 25 through Chapter 26 was the most romantic scene my eyes have ever witnessed. I feel so blessed to have even been able to read those glorious paragraphs. Like, I'm a different person after experiencing Chapter 26. When I'm sad or hurt or angry, I'm going to reread Chapter 26 so I know the true meaning of this life.
"…like taking a dare to run over knives, like an adrenaline strike of lighting, like the moment when you've swum too far out in the sea and there is no going back, only cold black water closing over your head."
Also, fair warning, this book has a cliffhanger ending that puts all other cliffhanger endings to shame. Just typing that sentence gave me full body goosebumps, by the way! Oh, and the title of this book is absolute perfection, as well.
This book has touched me in a way that very few books have in my life. This is the type of book that reminds me why I fell in love with reading in the first place. This is the type of book that makes me believe words have the most powerful healing magic of anything in this world. This is the type of book that completely sets my soul on fire and makes me feel utterly enchanted. I just know that The Cruel Prince is a once in a lifetime series, because this first installment was everything I have ever wanted in a book.
Holly Black immerses me, captivates me, and makes me believe in magic. I have no words of gratitude for that, and I'm not sure what the world has done to deserve her stories, but I will forever be grateful. Holly Black helps me forget all the actual cruel princes in our world today, and their terrible choices that they are making for all of us. And honestly, I'd be super surprised if she isn't an actual fae queen, that just escaped faerie to torture us with real stories that went on while she was ruling.
Again, if you can only preorder one book for the rest of the year, please pick The Cruel Prince by Holly Black. It's not only my favorite book of the year, it's one of my favorite books of all time. And then read the rest of Holly Black's work, because her books are truly the closest thing to magic and each is a tangible vessel of joy that I have an an unconditional amount of love for.
"If I cannot be better than them, I will be so much worse."
Bloglovin' | Twitter | Tumblr | Instagram | Goodreads | Twitch
Content warnings for bullying and abuse.
The quotes above were taken from an ARC and are subject to change upon publication.
(Thank you so much, Diana. You've completely made my entire bookish life! This book means more to me than you'll ever know. I am forever grateful and will always remember and cherish your kind note. Thank you for giving me an ARC of my favorite book! 💖)