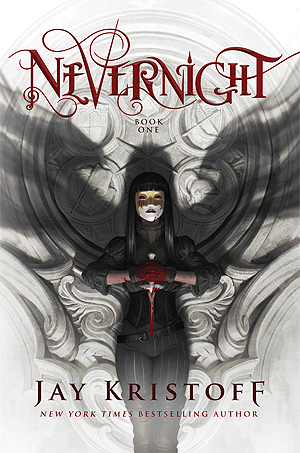 Goodreads | Amazon | Barnes & Noble
"The last thing you will ever be in this world, girl, is someone's hero. But you will be a girl heroes fear."
I feel like this book is extremely polarizing but if you love it, you will love it completely and whole heartedly. If you love it, you won't be able to put it down. If you love it, you will probably consider it one of the best book you'll read all year. And I loved it. I loved it so much. Even though, when I look through my friends' reviews, I feel like I'm in the minority. But for me, Nevernight is worth all of the hype.
I will say that I personally feel like this is an adult fantasy novel, not a YA fantasy novel, despite the characters age. There is sex, a lot of sex, and violence, a whole lot of violence, and gore, don't forget all of the gore! So please go into this book knowing this, and knowing that this is a very mature book in general.
Also, before I get into my review, I want to address the problematic, hurtful, and harmful representation of the Māori people (the indigenous Polynesian people of New Zealand) that Jay Kristoff was inspired to base the Dweymeri race in this book from. Jay has stated, "the tatts aren't based off Māori designs" but it still feels a little bad while you're reading this story, even if the Dweymeri are not direct representatives of the Māori. I just think it's important to bring this discussion up and I want everyone to know about this controversy surrounding the portrayal of this culture. I, also, do not want anyone to think that I'm making excuses for it, because I am definitely not even though I did love this book. Cultural appropriation and reinforcing stereotypes will never be okay and I truly wish this element was not a part of this book, but it is, and I'm not going to not bring it to your attention whether you believe it is or not.
Nevernight is a story about a sixteen-year-old girl named Mia Corvere, who is on a mission for vengeance and to right the wrong that has been done to her family in the only way she knows how: killing everyone. Mia find her way into the Red Church, who worship the Goddess of murder, where she is training to become one of the deadliest assassins of all time. Also, Mia has an affinity for the shadows, which not only grants her the only companion she has ever known, but also sends her on a quest to discover more about her powers and who she really is.
"The brighter the light, the deeper the shadows"
This story reads like a dark version of Harry Potter, to me. From the boarding school aspect, to the magic, to how they travel through the world, to the professors and their different classes, so much of this book reminds me of the wizarding world.
And even though this is a series, there is no real cliffhanger (even though you will be left wanting more), this is a full standing book that has an amazing story and that you could just read on its own. I'm not sure the last time I read a book in a fantasy series that did that.
This book is so sex positive, and the opening chapter of this book was so beautifully done. It is one of my favorite first chapters of all time, and I think Jay Kristoff is nothing short of a genius to have been able to write a juxtaposition that well. I mean, Jay's writing is lyrical and beautiful, too, but it's so damn smart that I can't help but be in awe of this story he has crafted.
And Mia's bisexuality is so beautifully on display. Like, all I want in my reading life is girl assassins loving each other and saving the world, and this book doesn't disappoint, even though the main "love" story is hetero. We need more stories with queer main protagonists that are normalized and just having their adventures and story told without a coming out story or an explanation on why they feel the way they do. Again, Jay Kristoff gets all the kudos and credit.
I always pride myself in being able to see the twists coming, and I was completely blindsided by the end reveal of Nevernight! Also, for those of you who have finished, I will go down with that hate to love ship. I. WILL. GO. DOWN. WITH. THAT. SHIP.
And finally, if you find yourself loving this series and wanting more, I can't recommend Mark Lawrence's Red Sister enough! It's a very reminiscent story, with perhaps more violence, but with definitely less sex, and both star queer assassin nun-like characters who study at a church.
Nevernight was everything that I never knew I wanted, and it is totally just as amazing as some of the most popular and highly acclaimed adult fantasy series out there. This novel meant so very much to me, and I cannot wait to start Godsgrave as soon as humanly possible! Happy reading, everyone!
"The books we love, they love us back. And just as we mark our places in the pages, those pages leave their marks on us. I can see it in you, sure as I see it in me. You're a daughter of words. A girl with a story to tell."

Bloglovin' | Twitter | Tumblr | Instagram | Goodreads | Twitch