This tag was originally created by Sam from Thoughts on Tomes!
Also, this is a bit of a controversial tag, because it kind of showcases negative opinions. And I won't lie, I actually tried to pick bigger named books that might surprise some of you. So, I just want to preface this by saying that I'm sorry if I didn't enjoy one of your favorite books, series, or characters. And that my feelings do not invalidate yours whatsoever. And that's the beauty of the book community; we can all read, interpret, and love differently.
➽1. Half of the lights on the Christmas tree are burnt out : Name a book/series/character that started out good but then went downhill
This was also Sam's answer, but it's honestly perfect for this question. Falling Kingdoms by Morgan Rhodes has like plummeted. The first couple books weren't that great to begin with, but books three and four were so amazing! And then book five came out around this time last year, and it was honestly the worst in the entire series. I have no faith whatsoever in the next and final book.
➽2. Annoying Great Aunt Sally who will not leave you alone : Name a book that you didn't enjoy, but everyone else seems to love so it never goes away
This is just because I'm on Goodreads so much, but I will forever and always be haunted by A Promise of Fire (Kingmaker Chronicles #1) by Amanda Bouchet. If you guys every want to see literal garbage fire comments, check out my Goodreads review for that book. Numerous people have actually written reviews about my review for that book. I honestly wish I never even picked up an ARC of that shitty book, because it was totally not worth.
➽3. Your pets keep knocking over the Christmas decoration : Name a character that kept messing things up for everyone else (can't pick a villain!)
Without question, Mal from the Shadow and Bone trilogy. Like, not only did he mess things up for everyone, he messed things up for me. He also messed things up for Alina. I wish he could honestly disappear from this series.
➽4. You hear your parents putting out the presents and learn Santa isn't real: Name a book you were spoiled for
I guess I would have to say the Outlander series, and it was super recent. And it wasn't really that big of a spoiler, but Paloma totally let it slip that someone who I thought was dead was not really dead! Haha! But, I mean, no body = no confirmed death, anyways, so I probably could have guessed this person wasn't dead, but she totally confirmed it and now I'm a bundle of anxious nerves. (I'm honestly super good about reading new releases, and I very rarely get spoiled for things. #blessed)
➽5. It's freezing outside: Name a main character you just couldn't connect with
If I'm aiming to be controversial, I would totally say Cinder and/or Cress from The Lunar Chronicles. I don't know why that series doesn't work its magic on me like it does everyone else, but here we are. I did really love Scarlet, but for some reason I never felt like I was truly every rooting for Cinder or Cress.
➽6. Mariah Carey's 'All I Want for Christmas is You' and it's giving you anti-romantic feelings : Name a couple you couldn't stand
I could say Alina and Mal. I could say Celaena/Aelin and Rowan. But I guess I'll be extra controversial and I will say Jon Snow and Daenerys Targareyen from ASOIAF. Oh, and I also fucking hate Agnieszka and the Dragon from Uprooted, too. People think that's romance? *sips tea forever*
➽7. That scratchy homemade wool sweater you got for Christmas years ago but won't get rid of : show some books that have been sitting on your shelves for a while, and you aren't motivated to read, but you don't have the heart to get rid of
Okay, I feel personally attacked, but a few are: Succubus Blues (Georgina Kincaid #1) by Richelle Mead, Winter (The Lunar Chronicles #4) by Marissa Meyer, Carry On by Rainbow Rowell, The Kiss of Deception (The Remnant Chronicles #1) by Mary E. Pearson, and The Lightning Thief (Percy Jackson and the Olympians #1) by Rick Riordan!
➽8. Grandma Got Runover by a Reindeer: Name a character death you still are mad about (warn people for spoilers! You can also use TV or movie deaths)
Without spoilers, even though I'm sure everyone has probably read and/or been spoiled for this before, but a certain beloved house elf in the Harry Potter franchise still makes me weep.
➽9. The malls are overly crowded with holiday shoppers: Name a series that has too many books in it/went on too long
Without question, the Fever Series by Karen Marie Moning. Lord, help me. Like, it's finally starting to get better again, but that series should have concluded at book six and been left for me to love in my nostalgia. Now, all my angsty teenage memories are tainted by convenient plot twists, terrible switching of PoVs randomly, and now tragedy porn. Jericho Barrons, my originally book boyfriend, deserved better.
➽10. The Grinch : Name a main character you HATE (No villains again!)
Everyone is going to hate me for even saying this, but Celaena/Aelin from the Throne of Glass series by Sarah J. Maas. Like, she's the worst assassin and everyone hails her as the best assassin in the world, when literally she only accidentally kills people. She is annoying, and her decisions are always ignorant, and she makes the worst impulsive choices while being condescending to everyone about theirs. Like, please, just make Manon the rightful star of that series.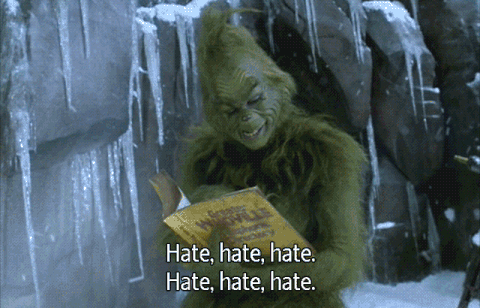 Whew! Okay! That was the Grinch Book Tag! Hopefully you guys are still going to follow me and be friends with me on here! Again, I'm so sorry if I brought up one of your favorite characters, books, or ships. I promise, whatever you like in literature is valid, and never let me or anyone else take joy away from you over it. I mean, Sam completely trashed The Bronze Horseman and you all know I really enjoyed that first book. So yeah, I hope you guys are having an amazing December and holiday season! Also, if you want to do this tag: consider yourself tagged! And happy reading, lovelies! ❄☃💙
Bloglovin' | Twitter | Tumblr | Instagram | Goodreads | Twitch