This tag was originally created by A Thousand Lives of Daisy, but the reason I decided to do it was because I very recently saw chelseadolling reads do it! 🎁🎄💛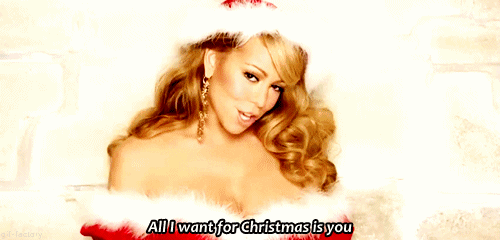 ➽1) What fictional character do you want Santa to leave under your Christmas tree?
Oh gosh, either Manon Blackbeak from Throne of Glass by Sarah J. Maas or Magnus Damora from Falling Kingdoms by Morgan Rhodes! Or, like, both! Please?
➽2) What character do you want to kiss under the mistletoe?
You guys who have read the series, please don't think I'm a terrible person, but I'd totally pick Aalea from Nevernight by Jay Kristoff, even with the chance that I might die afterwards!
➽3) You write your Christmas list for Santa, what are the top 5 books on it?
➽4) It's secret Santa at Hogwarts, what do you most want to receive?
Is "for people to actually give a shit about other humans and/or our Earth" a really negative answer? Probably. I'll just go with what I want the most under the tree, and that's a weighted comforter because 1.) I'm old and 2.) anxiety is real, my friends. (Somehow, I still made this such a negative answer, haha!)
➽5) You get to the spend the day with the characters and movie adaptation actors from one fandom, what do you pick?
This is a hard question, but I keep coming back to The Lord of the Rings, just because I love those characters with every fiber of my being, and I really enjoy most of the actors. Ian McKellen, Sean Astin, Orlando Bloom, Viggo Mortensen, Elijah Wood, Sean Bean, Liv Tyler…. Like, I'd love to chill with any of them, honestly. (But especially Viggo…. Boiiii…)
➽6) What fictional animal would you like to replace Rudolph and be able to meet on your roof?
Oh my gosh, without question it has to be Solovey from The Bear and the Nightingale (Winternight Trilogy #1) by Katherine Arden! Probably my favorite animal companion of all time, and I want to hear all his sassy banter with me and Santa.
➽7) You invite 10 fictional characters to your New Year's Eve party, who do you pick?
This legit is such a hard question, because you have to make sure they will (for the most part) get along with one another! I guess I will do five pairs, so at least everyone will have someone they feel somewhat comfortable with!
➽8) What character would make a good Santa? (Doesn't have to be appearance, personality counts too)
Like, I think I'm going to have to say Hagrid from Harry Potter, because he's so sweet and kind and thoughtful. Yet, he is also big and soft and has an amazing beard. AND he could have so many awesome mythical creatures pulling his sleigh. Ahhh, I now need him to be the non-muggle Santa.
Okay, guys! That was the All I Want for Christmas book tag! I hope you enjoyed all my pervy answers, and I hope you guys all do this tag, too! And I hope you guys are having an amazing December and holiday season! Also, if you want to do this tag: consider yourself tagged! And happy reading, lovelies! ❄☃💙
Bloglovin' | Twitter | Tumblr | Instagram | Goodreads | Twitch