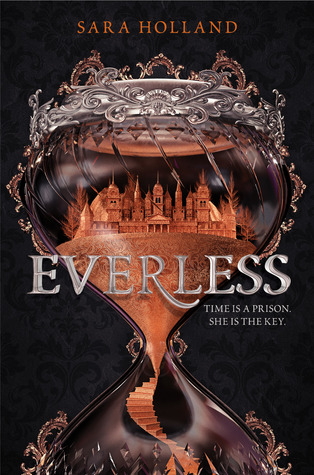 Goodreads | Amazon | Barnes & Noble|Book Depository
ARC provided by the publisher via Edelweiss in exchange for an honest review.
Maybe I would have really enjoyed this if I hadn't read so much YA Fantasy. Maybe a younger Melanie would have ate this up and asked for seconds. Sadly, I'm just at the point in my life where I feel like I've read this all before.
And the aspect of this story that is really cool and different is the everyone's lifespan is their currency. In this world, you can bind your blood to iron to make coins. And they come in amounts of hours to years. Now this is absolutely amazing, and I love the concept completely, but my friend, Em, pointed out how similar it is to the movie In Time starring Justin Timberlake and I just couldn't unsee the similarities.
The last negative thing I'll say is that the romance isn't very compelling, swoon-worthy, or even that good. It was very obvious, over the top, and added nothing to the story for me. And towards the end of this book, there was an opportunity for the main character to be like "I love and choose myself!" or even "I love and choose my family!" but instead it reads like she's just picking another boy, and it felt so ungodly bad to read. Like, a rotten cherry on a mediocre sundae, you know?
But I don't think this is a "bad" book per say. And I don't feel like the author is directly copying In Time or is breaking any copyright laws or anything along those lines. This just wasn't the book for me, personally, but there are ton of high reviews for this book so maybe take my review with a grain of salt.
As for a synopsis, this is a story about a girl that has lived her life running from her past. Her and her father once lived in Everless, where her father worked as a blacksmith and she was able to play with the two royal brothers. But after an almost tragic incident, her and her father were forced to flee, in hopes to forever live their life in hiding.
But the cost of living is expensive, and it's exceptionally pricey if you pay in the currency of your life. Wanting to protect her father, our main protagonist, Jules, runs away to Everless to work among the people her father has continuously warned her against ever seeing again. Jules tries to stay undercover half the time, but the other half she literally doesn't listen, or care, or forgets, or something. But regardless, we get thrown into a world of lies and deceit, and prophecies and old story book tales.
Overall and again, I didn't think was a terrible book by any means, it just felt like the same YA Fantasy story to me. Plus, it had an opportunity to be very powerful to young girls, and it just ended up reading like you always have to love a boy. Plus, I honestly couldn't care less about any of the characters. Like, they felt so one dimensional to me, and Jules was the worst undercover character I've probably ever read about, despite her father's very serious warnings. Again, I'm very much in the minority with my feelings towards this book, so hopefully if you pick it up you will enjoy it a lot more than I did.

Bloglovin' | Twitter | Tumblr | Instagram | Goodreads | Twitch