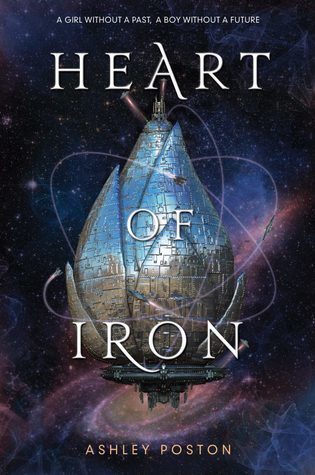 Goodreads | Amazon | Barnes & Noble | Book Depository | Books of Wonder
ARC provided by the publisher via Edelweiss in exchange for an honest review.
"Ana had never believed much in the Goddess. She only knew the origin story, as sweet as a bedtime lullaby. How, in a kingdom of shadows, the queen bore a daughter of light who chased the Dark away."
Heart of Iron had all the potential in the world to be my new favorite book. Basically, it's a new and unique Anastasia retelling but set in space with a crew of outlaws who end up entwined in secrets and mysteries! We follow four points of view:
➽Ana – Our true main character, who is on a mission to find a new robot body for D09. Also, she's a PoC!
➽D09 – A Robot who is in desperate need of a new memory core and keeps malfunctioning.
➽Robb – The next biggest character, whose brother is going to be Emperor, but he is too busy searching for his father that was pronounced dead seven years ago. Robb is also a PoC and queer!
➽Jax – The pilot of the crew he and Ana travel with. He is a different race than human, and his ancestors had the power to see the future in the stars. And he is also queer! Jax is EASILY my favorite character in this entire book.
Ana and Robb's paths cross, because they are both after the same coordinates. Robb wants them in hopes of finding out what happened to his father seven years ago, when a rebellion happened that set fire to the royal family and left them all for dead, even though they never found the body of the young princess. Ana wants them in hopes of finding a new body for D09, the robot she is in love with, even though he can't process or feel feelings, and she will jeopardize her crew's other missions to try, because it is almost impossible for Ana to find a new body or parts.
Robots in this world were created to treat the infected people of a plague twenty years ago, but as I stated above, seven years ago a rebellion happened and now the only robots that people trust are the ones that are "hived" or mind controlled as the Iron Kingdom army, and they are called Messiers.
Meanwhile, back in Nevaeh, where many of the other royal families reside, Robb's brother, Erik, is about to be anointed Emperor. The crown is said to be made of the Goddess' heart, and only the worthy can wear it without it immediately rusting. And by worthy, I mean only the Armorov bloodline can, but they all died in the fire seven years ago.
"All stories are built from the bones of something true. You are the daughter of iron and stars. You are the symbol of hope in a time when light only shines from things that burn."
If you guys have seen Anastasia before, you probably can guess how this plays out. But overall, I do think the story is pretty good. Also, there are some 5/5 twists at the end of this book. Sadly, the four points of view switch constantly, with very little pages or substance per chapter, and it made for such a disjointed read. I'm not sure if this is just the new trend with YA Sci-Fi, but I felt the very same when I read Zenith. It completely ruined the reading experience for me, and I had such a hard time connecting to the characters and to their relationships.
Ana and D09's relationship was just too much for me in the first half. I didn't enjoy it at all, and it had nothing to do with him being a robot, it was that he was a robot that didn't feel things. I would have so much preferred them to just have a friendship. I'm not entirely sure, I just really wasn't feeling their love story from the start, but I do have high hopes if we do get another book in this world!
Robb and Jax's sexuality is never stated on page, but they are for sure queer. They are probably both gay, but my pansexual self never wants to erase any sexuality. But I loved these character's representation and their story lines were for sure the strongest in the entire book. Oh, and their banter and jokes with each other was so freakin' pure and wonderful. And, I'll be over here melting into a puddle on the ground and swooning forever, bye.
I will say that there was a somewhat triggering comment made in passing about how Robb was in a relationship with a boy that ended up killing himself, yet it wasn't very clear. Regardless it made me a little uncomfortable, and I think it's important to note and use caution going in. Trigger/Content warnings for mention of suicide, abuse, and death.
As for more sexual representation, the captain of the ship, Ana's adoptive mother, is a lesbian and married to another woman. Like, this book brings the sexual representation, and I'm living for it. And two main characters of color was also such a blessing.
This book does have a major theme spotlighting the importance of found families, and for that I am so very thankful. This book helps solidify that blood is just blood, but people who unconditionally love and accept you will always be family. I did love this constant theme and the many mentions, and for that I was so happy and grateful.
Overall, this is a super fast paced story, that is very easy to get through. And even though I didn't love it, and maybe even felt a little disappointment, because I had such high hopes, I still enjoyed it. Also, there is a lot of good in this book, that I'm very thankful for. Also, Ashley Poston seems like such a sweetheart, and after reading this and Geekerella, I will continue to read everything else she writes! Which will hopefully be a sequel to this, because this ending is cruel, and I need answers!
Bloglovin' | Twitter | Tumblr | Instagram | Goodreads | Twitch
The quotes above were taken from an ARC and are subject to change upon publication.
Buddy read with Elise! ❤
---
MORE INFORMATION HERE & HERE!
(The pre-order IS International — but HEART OF IRON itself is only available in the US, so it's only available through international companies such as Amazon (or an independent bookstore that is willing to ship to you!)