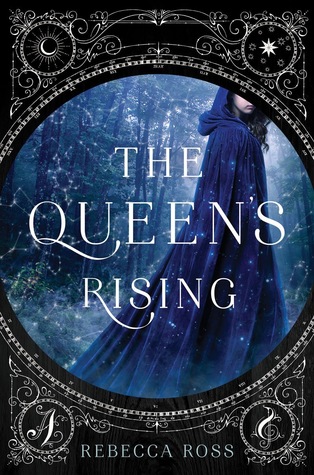 Goodreads | Amazon | Barnes & Noble | Book Depository
ARC provided by the publisher via Edelweiss in exchange for an honest review.
I feel like I keep reading YA SFF and just not feeling like there is anything new or unique. I went into The Queen's Rising expecting to feel the same, especially amidst all the lower reviews I kept seeing on Goodreads, but this ended up being a treat to read. I really enjoyed this, and I was constantly surprised by the twists and turns. The only negative thing I can say is that the romance is a little on the skeezy side, and I'll talk about that below, but if the romance wasn't in this book, or started differently, this would have been an easy five star read for me.
"Bow to no king"
In this world there are Houses, which are small boarding schools that specialize in five passions: art, music, dramatics, wit, and knowledge. If you have a natural talent for one of these five categories, you will go away to school once you are ten-years-old and begin your education that will last for seven years. And the unique thing is the House will only admit one child per passion for those seven years, and each child is given their own personal teacher that they will study under for the entire seven years.
And upon graduating, you will be declared a master of your passion and you will be given a very special cape, which you see the main protagonist wearing on the cover of this book. Each different passion has a different color cape that is given. A party/gathering will also be held where people will come from all around the world to offer you patronage to work under them and become almost part of their family. Whether that be touring the country with your music passion cape and a band of other musicians. Or maybe using your knowledge profession to work under a doctor that needs help. There is a vast array of different jobs a graduating passion will be offered.
Our story follows Brienna, a girl who has had the identity of her father hidden from her. After her mother's life was taken much too soon, Brienna has been raised by her grandfather until the age of ten. At ten, Brienna heard her grandfather make a desperate plea to the headmaster/owner of the Magnalia House. Agreeing to help hide Brienna, she is admitted into the House and she chooses the passion of art!
Sadly, Brienna soon realizes that maybe her talents are not aligned with art, so year two she tries something else, and then something else year four, and year five, and finally upon year five she asks for Master Cartier to teach her everything it takes to become a passion in knowledge in only three short years.
And then the story truly takes place at the end of Brienna and her classmates' seventh year, where they are all hoping to get the patron of their dreams. Brienna isn't ready to say goodbye to the friends who have been her sisters for the last seven years. Especially Merei, who was her roommate and who studied the passion of music, and who was probably my favorite side character. Seriously, this book highlights the power of friendship between these two girls and I loved every single part of it.
This story also centers around the two countries of Valenia and Maevana that are connected by a channel. Valenia is way more forward thinking, where Maevana is ran by an evil dictator king, even though it is supposed to be governed by a queen. The Magnalia House is in Valenia, but that doesn't mean that many of the girls will have to cross over to Maevana with their patrons.
Brienna ends up going on quite the adventure, that is filled with twists and turns that I honestly didn't see coming. This book seriously shocked me numerous times, and the storylines were just so well crafted! This was such an amazing debut novel and I feel so very honored that I was given an ARC for it.
Okay, let's just get the bad out of the way. The romance in this didn't feel good to read, for me personally. I suppose I will say: this lone paragraph will have very minor spoilers! But honestly, you learn very quickly that a romance is going to bloom between Brienna and her teacher of knowledge, Cartier. Romance is never at the forefront of the book, and is nonexistent for a large majority of it, but it is still sprinkled throughout. Now, once things progress, Brienna is eighteen, but that's not the problem I even had with this romance, it is the fact that this teacher, who Brienna has trusted, and respected, has known her since she was ten-freaking-years-old! Like, this has a "grooming" feeling all over it, and I could never get past it. And I could write this entire review about the power imbalance between these two individuals alone. Also, the professors are referred to as master in this book, and it feels exceptionally bad to read when Brienna kept calling Cartier it. This was my only complaint about this book. If you take this out completely, or pretend that Cartier is just a guy Brienna meets on her journey, then it is a five star book. Sadly, I couldn't ignore it, as hard as I tried, and it was the only negative thing in this story for me.
"But I will say this: no matter which path you choose, I will follow you, even unto darkness."
But again, if you ignore the minor romance that is sprinkled throughout, this book is perfection. And the writing? Lord, the writing in this is magical. It made an over 400-page novel seem like 200. I couldn't believe how fast I was turning the pages. I just wanted more and more and more! The writing was so lush and lyrical! And it was the perfect mixture of whimsical, yet still so very bloody.
Another thing I loved about this story was that it really is a love letter to found families. It has a running theme of how unimportant blood truly is, but how the people we choose to love and support mean everything. You guys know that I'm all about books with found families, and this one truly celebrated them.
Also, this is the first book in a series, but another thing I really loved about this book is that it totally reads like a standalone. I am 100% completely and utterly satisfied with the conclusion of this book, and even though I can't wait for more, I love that everything felt wrapped up, yet still gives the promise for so much more. I'll take a wonderful ending like this over a cliffhanger any day of the year.
Overall, I loved this and I can't wait to see what is next! This is one of the best debut novels I've read and is one of the best ARCs I've read so far in 2018. It was a breath of fresh air among all the other YA fantasy novels that just have not been doing it for me lately. This was wonderful, and I hope you all give it a chance, because the inside of this book is as beautiful as the cover.
Bloglovin' | Twitter | Tumblr | Instagram | Goodreads | Twitch
The quotes above were taken from an ARC and are subject to change upon publication.