Top Ten Tuesday was created by The Broke and the Bookish in June of 2010 and was moved to That Artsy Reader Girl in January of 2018!
---
This week's prompt was such a perfect prompt, in my opinion! I don't do too many rereads, but these ten books I'm about to talk about are so perfect and I know I will reread them for the rest of my life, over and over! And prompts that allow me to gush like this, especially over ten books, will always be a prompt that I love! Let's be real. These are the ten books that I could reread forever and ever!
1.) Harry Potter and the Goblet of Fire (Harry Potter #4) by J.K. Rowling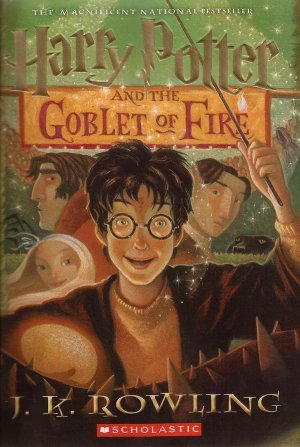 Honestly? I could make seven out of ten of these answers Harry Potter, but I try not to bore you guys too much, so GoF is the only one I will pick. GoF is tied with DH as my favorite Harry Potter, but I feel like out of all the books in this beloved series GoF is the one that is the best standalone. Also, this book holds my favorite HP scene of all time. And this is probably the book I've reread the most in my life, honestly.
2.) The Name of the Wind (The Kingkiller Chronicle #1) by Patrick Rothfuss


I know the dreaded question all of us book lovers hate to hear is, "what's your favorite book of all time?" And I know most of us are always inclined to say Harry Potter, because that series has shaped so many of us as readers, but if I truly had to pick a favorite book of all time, I'd pick The Name of the Wind. And this book? I could read it over and over, forever. Perfection.
3.) Blue Lily, Lily Blue (The Raven Cycle #3) by Maggie Stiefvater


I've heard there are two types of people who love this series: People whose favorite book is The Dream Thieves and people whose favorite book is Blue Lily, Lily Blue. I mean, this entire series is perfection, but this third book will always hold such a special place in my heart. And my friend Julie is making me want to reread it this very instant.
4.) Strange the Dreamer (Strange the Dreamer #1) by Laini Taylor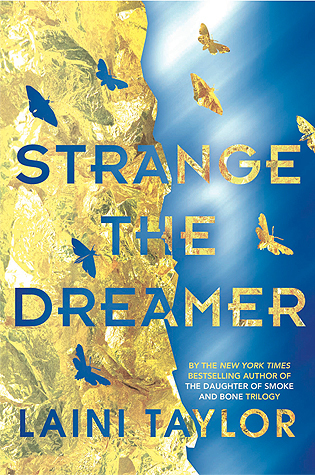 I can't believe I haven't reread this yet, but I totally plan to this year. This is probably going to be the newest release on this list, but this book truly changed me as a person. I'm still unsure if I've ever read anything as beautiful as this book, and I know I will cherish and reread this lyrical book forever.
5.) The Bear and the Nightingale (Winternight Trilogy #1) by Katherine Arden


This is also a 2017 release, actually, but I could reread this winter fairy-tale nonstop. I'm not sure I could ever get enough of this world, these characters, or all of the messages. This book still has me under its spell, and I cannot wait to reread this.
6.) Crooked Kingdom (Six of Crows #2) by Leigh Bardugo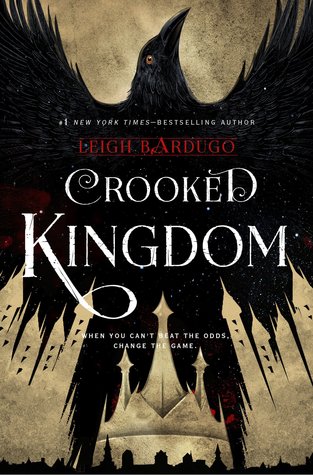 My biggest OTP is Kaz Brekker and Inej Ghafa, and for that reason alone I will never get enough of this book, and I'll never get tired of rereading it. This book proves that romance and love come in so many forms, and the ending of this book is the most perfect ending of any book ever. That is the hill I will die on, happily.
7.) Saint's Blood (Greatcoats #3) by Sebastien de Castell


This is my favorite series of all time, so picking a favorite book is so damn hard. But if I had to, I'd pick book three each time. Best characters, best fight scenes, best twists, best friendships, best adventures, best wit and humor, best damn series. I will forever and ever reread this, with a smile on my face.
8. ) Bad Things (Tristan & Danika #1) by R.K. Lilley


I feel like I just keep talking about this book now! But I'm going to be real with you for a minute (like I always am when this book comes up): This book has my favorite sex scene that I've ever read. On top of that, this book, and the rest of the series, is set in Vegas, which is where me and the author both live, and I love seeing the characters go to all of the places I go to a lot. I just love this book, and know I will reread it numerous times.
9.) Senlin Ascends (The Books of Babel #1) by Josiah Bancroft


I've been reading for a very, very long time, and I've ever read anything like this book in my entire life. This is the most unique fantasy book, and I feel like I could find something new to appreciate every single reread. Also, the imagery in this book is so perfect and I always feel teleported when I open this book up, and I never think that feeling will end.
10.) Mud Vein by Tarryn Fisher


Never, have I ever had a book impact me the way that this book did. This is one of the most beautiful books I've ever read, and it makes me feel every emotion under the sun. This book means so very much to me and this story is one that I will never get enough of, ever.
---
Okay, hopefully this wasn't too much of an incoherent gush! I hope you all enjoyed, and I hope that I might have swayed you to add a book or two to your already overflowing TBRs! Happy Tuesday, lovelies!
Bloglovin' | Twitter | Tumblr | Instagram | Goodreads | Twitch