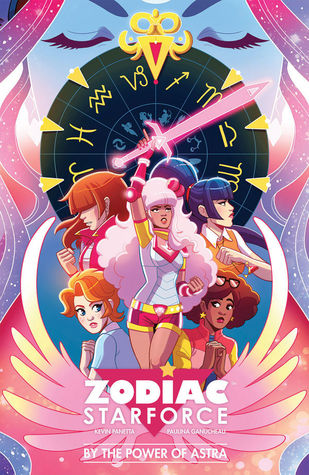 Goodreads | Amazon | Barnes & Noble | Book Depository
First off, this was nothing short of probably the most adorable graphic novel I've ever read. Secondly, I love magical girls, always and forever. Thirdly, I never knew I needed magical zombie girls until now, but it turns out I did. Fourth, the color pallet and art throughout this entire story is beyond words beautiful. And lastly, this showcases how girl friendship can be the most powerful magical force in the world, and I loved this.
Oh, and this is about magical girls who all embrace a different zodiac sign. Like, can I yell how perfect this is any louder? This story embraces and celebrates body diversity, ethnic variety, and multiple sexualities! Like, there was a text message in this using the pan hearts and I promise you that I was hollering over it for at least fifteen minutes.
I loved this! I loved how unconditional friendship was always at the forefront. I loved all the diversity (Molly is Asian, Lily is Black, Emma is for sure not white at the very least, Savi is a bi/pan main character, and Lily is a lesbian/bi/pan main character)! I also loved the constant portrayal of grief from Emma. I will always love seeing girls ditch abusive boys and getting with sweet girls, let's be real. And this was nothing short of a treat to read! Also, it feels like a good standalone, but I want so much more from these girls and this world! I can't wait until July! Oh, and I'd commit a minor felony to get a Virgo Zodiac! You all, pick this graphic novel up!
Okay, I'm going to briefly break down each of the issues in this bind up volume, so there will be spoilers ahead! I just always like to break down graphic novels this way, so I can come back and remember each issue! Plus, I think people like it. Hopefully. Okay, moving on to the break down!
➽ CHAPTER ONE
We get to learn all the characters, but this issue really focuses on the Starforce leader, Emma! She is a sixteen-year-old in high school, when a monster attacks! After defeating it, she starts to feel weird. Then her friend, Kim, finds her and stresses how important it is to get the gang back together! Also, Kim is looking for a missing friend named Alice, who happens to be at a party the girls attend.
➽ CHAPTER TWO
The girls made a new friend named Lily, who Savi has taken an interest in! They all attend a volleyball game together, which more monsters attack. Emma's infection is spreading, and the girls need to do something quick!
➽ CHAPTER THREE
Well, a portal is now open, and monsters are everywhere in Virginia! Emma is unable to move and has passed out. We find out a mean girl that we met at the party in issue one is a much worse mean girl than originally anticipated. And she wants to sacrifice Emma to Cimmeria to please her.
➽ CHAPTER FOUR
Cimmeria offers Emma something that would be hard for any child to turn down, but luckily for us, Emma isn't any child. And…. I got all the zombie magical girls I didn't know I needed! The conclusion was super satisfying, but I want more. And… I want to meet these new characters! And like, please give me my Virgo Starforce girl, please!
Bloglovin' | Twitter | Tumblr | Instagram | Goodreads | Twitch