Goodreads | Amazon US| Barnes & Noble | Book Depository
1.) Illuminae ★★★★
2.) Gemina ★★★
"Every story needs its hero.
And its villain.
And its monster."
Hi, my name is Melanie, and I'm the only person in the book world that doesn't love this series the same way everyone else does. Seriously, take this entire review with a grain of salt, because I am very much in the minority with my feelings. There is just always something stopping me from loving and being completely invested in this series.
Illuminae is easily my favorite in the series, and even though every part of me wants to say that's because it is where Ezra and AIDAN have the biggest roles, the realistic part of me knows it is probably because it was the first time experiencing the unique formatting. This series is told in case files, hidden documents, and messaging programs. But maybe the newness wore off after the first book?
"There's a billion different versions of you out there, in a trillion different universes. And I still can't get over how lucky I am that, out of all those versions, you're the one that's mine."
Obsidio picks right back up after the events of Gemina, and all the characters are together and trying to save what there is left to save. This series surrounds teens in space, that after way too many betrayals, have learned that they are the only ones they can trust. This is the third and final novel, but the enemies this time are the worst type of monsters: humans.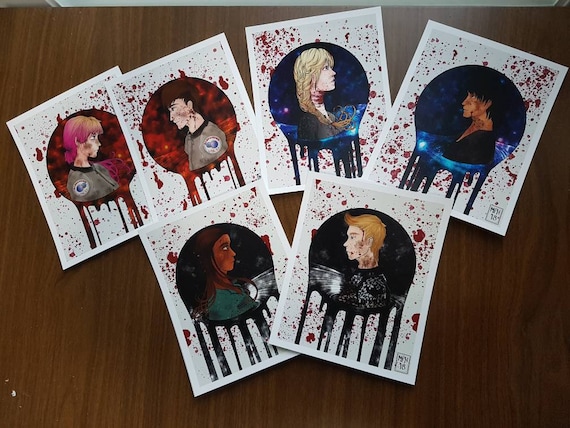 This is the most amazing artwork from MeganJeongArt!
The story did keep me invested, and these books always feel so easy and fun to read. But, I do feel like my second biggest complaint with Obsidio was all the camera surveillance. It completely takes away from the strongest aspect of the book. And if I'm being honest, it reads like a not as good book.
I completely understood and enjoyed being introduced to Hannah, Nik, and Ella (The best person in the entire series, if we are REALLY being honest here) in Gemina, but I felt like adding two brand new characters (and their completely unnecessary romance) into Obsidio was such a poor choice. I totally get how their stories (especially Asha's) were needed with the direction of the plot, but I truly wish it could have somehow been done some other way.
Moving on, Obsidio was able to evoke a lot of emotion from me around the half way point. I was snapping my friends, convinced that this was going to be my favorite installment in the series. And, like, I should totally care more about the humans than an AI, right? RIGHT? The lines are blurred, people. And it was hard to think with so many tears streaming down my face.
But the number one thing I disliked the most about Obsidio was the ending. I am going to keep this spoiler free, but if you've read it then you probably know what I'm talking about.
Overall, and again, please take this review with a grain of salt, because most of my friends have five starred all three of these books. Like, completely loved and adored and put on their favorite shelves. And, again, I don't know why I can't connect with these stories the way my friends do, but if you are even somewhat interested in this story, you should totally give these books a shot. I mean, murderous AI, crew of cutthroat kids willing to do anything to save each other, betrayals, twists, turns, heartbreaks, romances, the most wonderful hacker in all of literature? These all sound pretty amazing, true? Seriously, check out come of my friends' reviews: Brandi, Em, Lilly, & Dani! TL;DR – listen to them, because I love them with my whole heart and trust them completely. Just, for some reason this series is my kryptonite.

Bloglovin' | Twitter | Tumblr | Instagram | Goodreads | Twitch
Buddy read with Wren! ❤