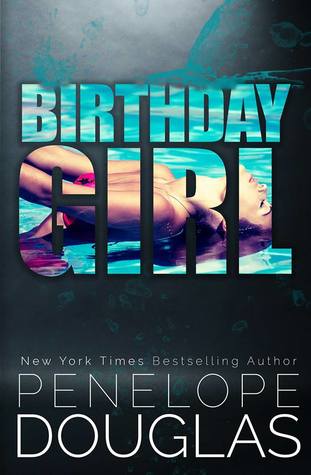 Goodreads | Amazon US
"Whatever the birthday girl wants"
Friends, I really wanted to love this, and I still enjoyed it! Penelope Douglas is the queen of writing enemies to lovers. I am obsessed with Corrupt, Bully, and Punk 57! So, when I heard she was releasing a new taboo standalone, I knew I couldn't resist one-click buying! But… dare I say? This book wasn't taboo enough for me. It read just like a normal romance, where the characters have a big age difference.
Jordan is a nineteen-year-old girl who comes from a very abusive home. Her mother left her, her father remarried a not so great person, and they live in a very bad neighborhood. She is also dealing with the loss of one of her best friends, but her and her other best friend decided to move out together and start a relationship. Jordan is going to college, working at a local bar, and she is pretty much the only responsible one in her relationship, because her boyfriend, Cole, just got them kicked out of their home.
But the night before that happens, Cole doesn't pick Jordan up from work late night like he's supposed to. So, she decided to catch a late movie screening of an old 80's horror movie, and she bumps into a guy who finally makes one of her days feel good. Oh, and it's her birthday. After a great time connecting with this guy, they soon part ways because she has a boyfriend she is committed to. But they soon realize he is committed to her boyfriend as well, because it is his son. *dun dun dun*
And since Cole just got them kicked out of their residence, the only solution is to obviously move in with his dad, who she just accidently shared an amazing movie night with! You all, the Lord is testing me! But for real, this actually has a really good romance that I was completely invested in.
I mean, yeah, this is a story about a girl falling for the dad of her boyfriend, but it never really feels angsty. Her boyfriend is a disgusting jerk for 99% of this book. He not only lies to her, disrespects her, and hangs out with her abusive ex that puts her in uncomfortable situations, but he's also never there for her. And in turn, this book never feels like an angsty love triangle where a dad and son are fighting for the same girl; you root for the dad 100% of the time. And even though the angst is for sure there, this is such a damn slow burn romance.
"Turns out my dream girl belongs to the one person it would kill me to hurt."
And let me put a big emphasis on the fact that Jordan is only nineteen-years-old and Cole's father, Pike, is thirty-eight. On top of the fact they are both now living in his house rent free. Plus, Jordan has a really shitty home life and feels like she has nowhere to go. I could write an entire review on the power imbalance between these two love interests. So, please never think I'm ignoring this. I just rate erotic books differently than other books! I know many of the relationships are toxic and problematic and I completely understand that they wouldn't be the healthiest and/or most ideal of starts for people in real life, but I love steamy reads and I rate them purely off my enjoyment. But I'm never making excuses for any of the content in this book.
Content Warnings: abandonment, talk of physical abuse, underage drinking, death of a friend, and cheating.
I will say that Jordan is a very strong character and does have a lot of agency. She never read like a young adult and she never felt childish. The best part of this romance is that she always stuck up for herself to Pike. And she honestly always put her self and self-worth first.
"I should thank you, actually. I've been trying for years, it seems, to be the kind of woman I admire, and all of a sudden I feel like I am that woman now. I know I'm worth it. You're just not."
I also really loved Jordan's sister in this. I am a big sucker for sibling relationships and Cam and Jordan's unconditional love was a treat to read. Cam never felt shame for her work, and always let people know that she wasn't doing anything she didn't want to do. I don't know, I just really liked her character. I also loved that Cam was a single mom, and I wouldn't be surprised in the slightest if Penelope Douglas gives us a book about her in the future.
But as I said above, this is an erotic romance, so I suppose I should talk about the sex in this book. I, personally, always love Penelope Douglas's writing and her sex scenes always feels like a gift from above. Consent was something that was always stressed in this book too, so I really enjoyed that considering the not "normal" relationship. There is also a scene in this with mud that hit kind of close to home for me, so I really liked that. I just really loved the chemistry between these two characters, and I may complain that this wasn't taboo enough for me, but the sex was really damn well done.
Okay, on to the biggest thing I didn't like, which is something that's just personal to me: this book really stresses having kids before you're "too old" and I really hated every time it was emphasized. Since Pike is 38, he is very sensitive about having more kids, because he's always wanted more, but like, it's 2018, more and more people are starting to have kids in their 30s. I know that I will not be having kids in my 20s, so maybe that's why it rubbed me the wrong way. But I still had hope that this wouldn't turn into a "everyone should get married young and have kids in their twenties" type story. And I honestly probably would have given this book four stars if the epilogue was not included in this book. Again, maybe this is just me, but I almost felt shamed for choose to live my life for me in my twenties, and like, I'm not about to have an erotic romance novel make me feel bad about myself or my body that will be completely capable to bear children in my 30s.
Also, I will say that I really disliked how this book kind of makes it seem like joining the military fixes your problems. Like, I obviously support our troops, and my dad is a retired marine, but I hate when books portray "bad boys" who are sex obsessed, womanizing, partiers and then instantly fixes all their issues by joining a branch of the military. I know a lot of bad dudes that have joined the military and came back to my home town, and guess what? They are still bad dudes, just with worse haircuts.
And, in turn, I kind of didn't like how this book displayed people who work at strip clubs. I mean, it wasn't anything blatantly offensive, but it for sure hinted at, "you can do better than showing dudes your body" and it was annoying. Again, let me scream from the rooftops: It is 2018, please stop shaming sex workers. Okay, thanks, bye.
But overall, I still really enjoyed this one. I read it in two sittings and couldn't put it down. Penelope Douglas is a super talented author, and even though I think I like her hate to love romances a little more than her standard romances, I still completely devour her books. Her writing is phenomenal, her characters are also so captivating, and she always comes up with unique elements that make me want to read everything she writes!

Bloglovin' | Twitter | Tumblr | Instagram | Goodreads | Twitch