Goodreads | Amazon US| Barnes & Noble | Book Depository
Vol. 1: ★★★★★
First and foremost, this manga heavily talks about depression and suicide so major trigger and content warnings. This story starts out with our main character, Naho, receiving a letter from herself ten years in the future. She and her group of friends are sixteen and in eleventh grade in high school, but what her twenty-six-year-old self is trying to warn her of is imperative.
Future Naho informs present day Naho that she will lose the boy she likes if she doesn't change some of the actions and choices she is about to perform and choose. This obviously makes Naho hyper aware of everything she and her friends are doing, because she is so scared she is going to repeat past mistakes and end up losing this boy anyway.
And this group of friends truly selflessly and unconditionally love each other. It's truly the best aspect of this manga. Their willingness to do every and anything to save their friend is something so beautiful that I can't even find words to describe it.
➽ Naho Takamiya – Main protagonist, who receives the letter about what her life is going to be like in ten years, unless she changes some things. Very shy, very timid, a very sweet little cinnamon roll.
➽ Kakeru Naruse – The boy who will not be in their lives anymore if his friends do not change the past.
➽ Takako Chino – The more outspoken girl in the group. She always sticks up for Naho, since Naho is too shy for confrontation, and always just generally feels like the protector of the group.
➽ Azusa Murasaka – The happy-go-lucky one of the group, her parents own a bakery, and she's always super excited and supportive of Naho.
➽ Saku Hagita – Manga lover in the group, who is also totally in love with Azu!
➽ Hiroto Suwa – Honestly one of the best characters, and most selfless humans, I've read about in years. He's the leader of this group, one of the most popular boys in their school, an amazing soccer player, and proves his unconditional love over and love throughout this volume.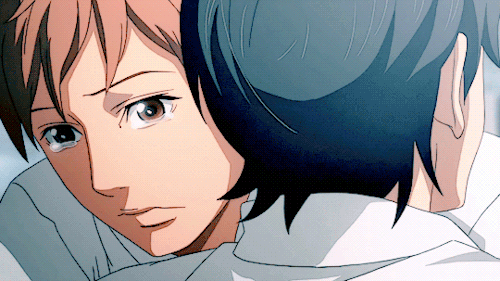 And honestly that is probably another reason I had a problem with the ending of this duology series; Suwa deserved better! He was easily the star of this entire story. And his selflessness makes me weep. I honestly just want him, Naho, and Kakeru to have a polya relationship. Is that too much to ask for?
But my biggest problem with this concluding half is the way mental illness was handled. This entire story is about how this group of friends is trying to prevent Kakeru's death, but everything they do it is to fix the turn of events, not trying to understand why their friend is hurting. I don't know, it just kind of reads bad, especially with how the story ended.
Which the ending is the thing I truly disliked the most. Like, is this a parallel universe? Are they going to take steps to ensure that Kakeru is not only safe, but is also getting the help he needs? IS THE BABY THERE? So many questions left unanswered! Like, this ending was so open, and it truly ruined the story for me. And everything I loved about book one was still in book two, but it's hard to truly love something when the ending just isn't there.
Overall, I'm not even sure if I can recommend this in good conscience. I love the art style of this so much. From the drawings, to the color, to the text bubbles, I truly think this is a wonderfully crafted manga series. Plus, it's cool to be able to pick up two big volumes and read an entire story. But the ending really was such a let down for me.

Instagram | Bloglovin' | Twitter | Tumblr | Goodreads | Twitch
Buddy Read with Cory ❤