Goodreads | Amazon US | Barnes & Noble | Book Depository
Friends, I love this story, this art, and these characters with the sum of my being. This is such a diverse cast, from sexuality (seriously, I think everyone is queer), to race, from social and economic backgrounds, to different family dynamics; there is so much to love about Fence. Like, C.S. Pacat's writing and Johanna the Mad's art is honestly a match made in Heaven, and these four issues were absolutely perfection.
Fence surrounds a boy's boarding school, where many of the students are trying out for the fencing team. They all come with different levels of experience, with different strengths and weakness, but they are all competing for one of three open spots on the varsity team. And even though everyone wants to make the team, it is absolutely dire for Nicholas Cox.
"I know I can fence."
I so very easily fell in love with each and every single one of these characters. And I found these amazing character layouts on C.S. Pacat's Twitter!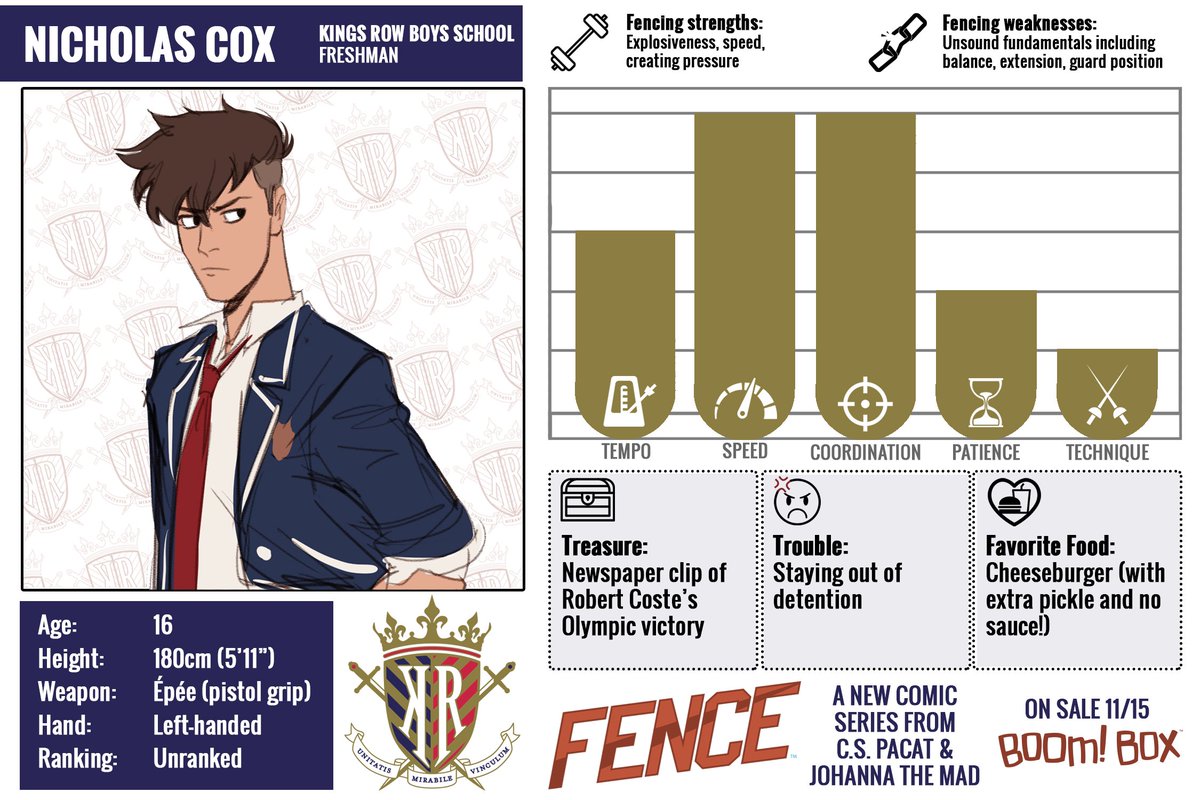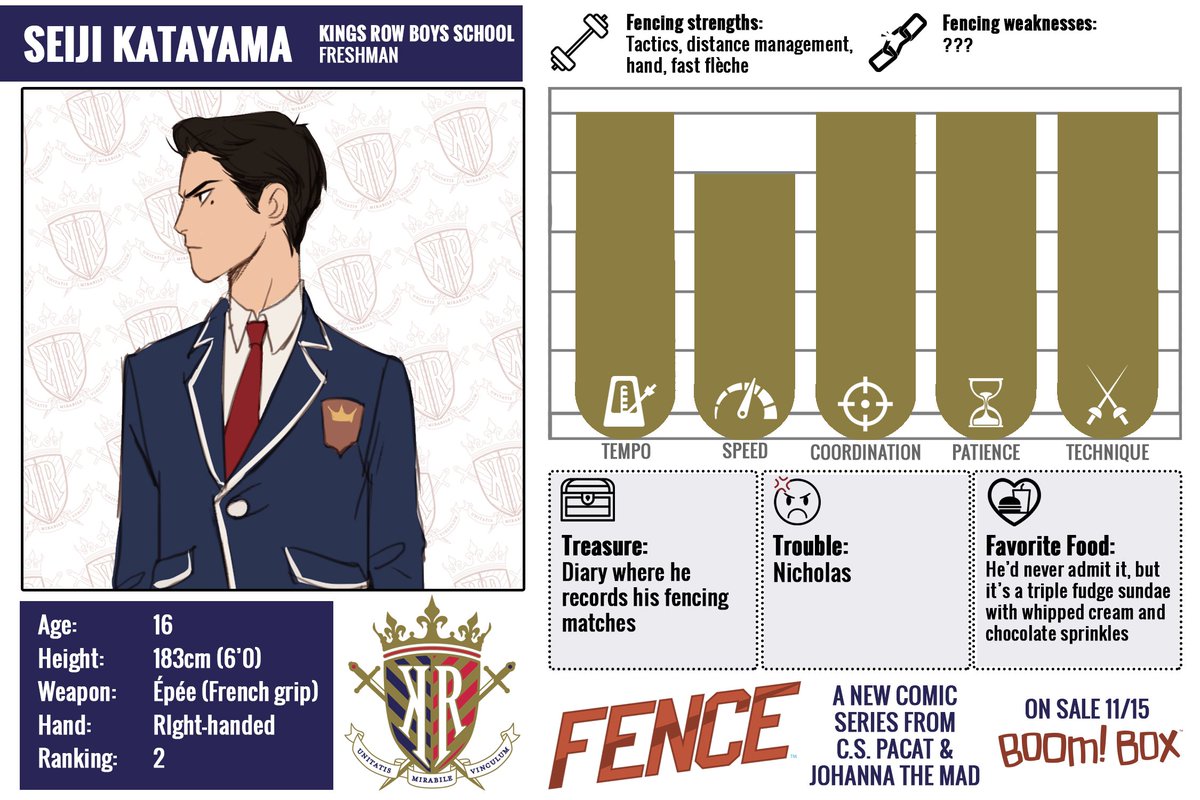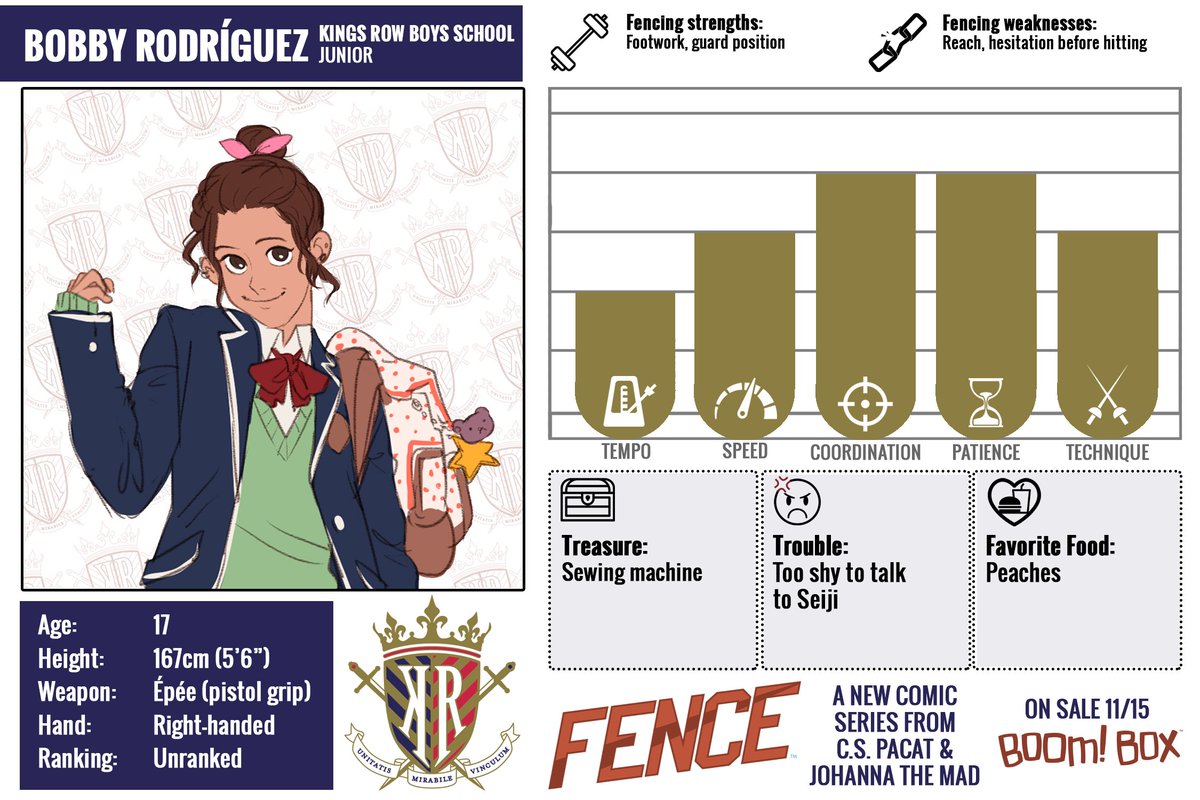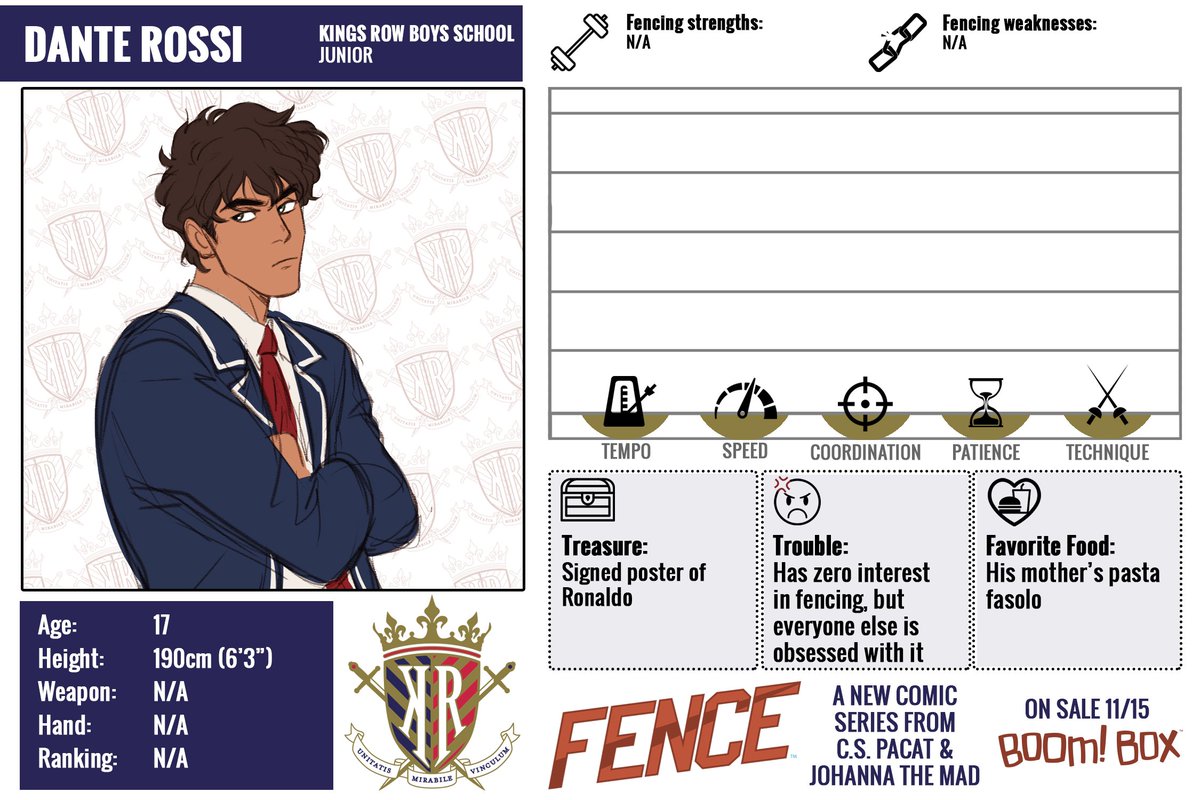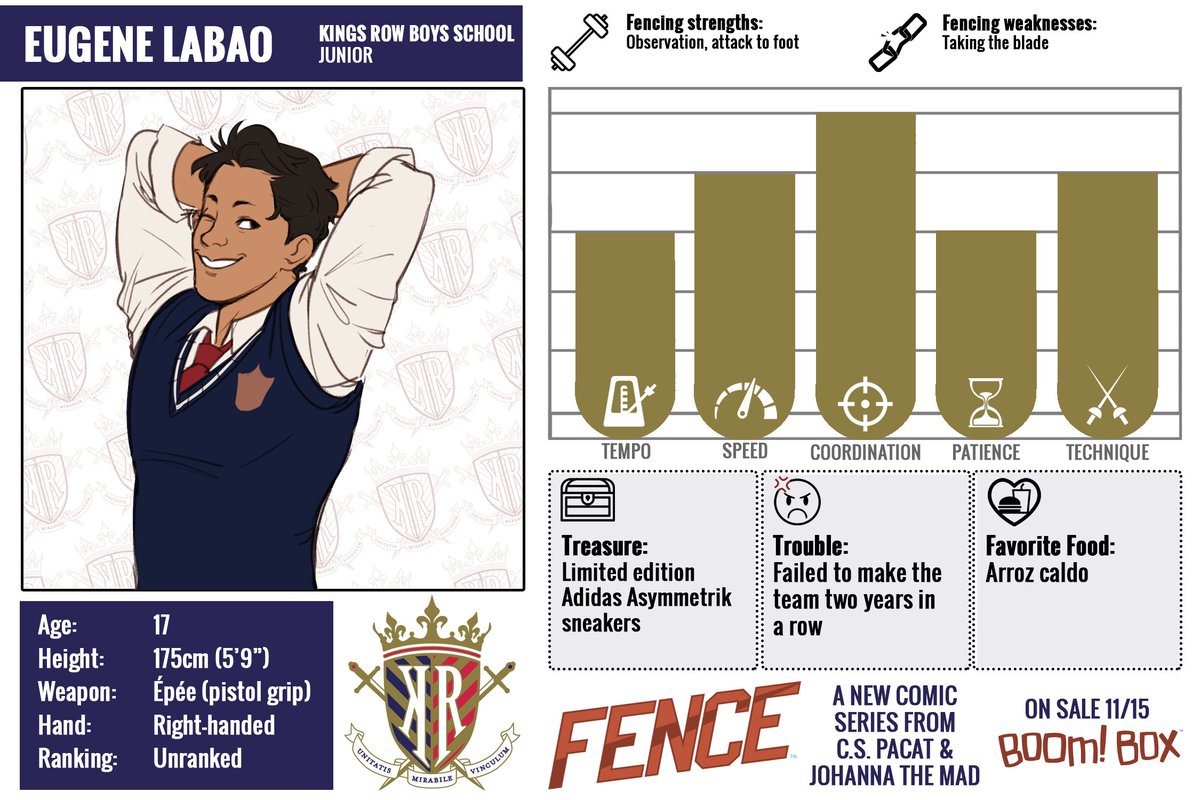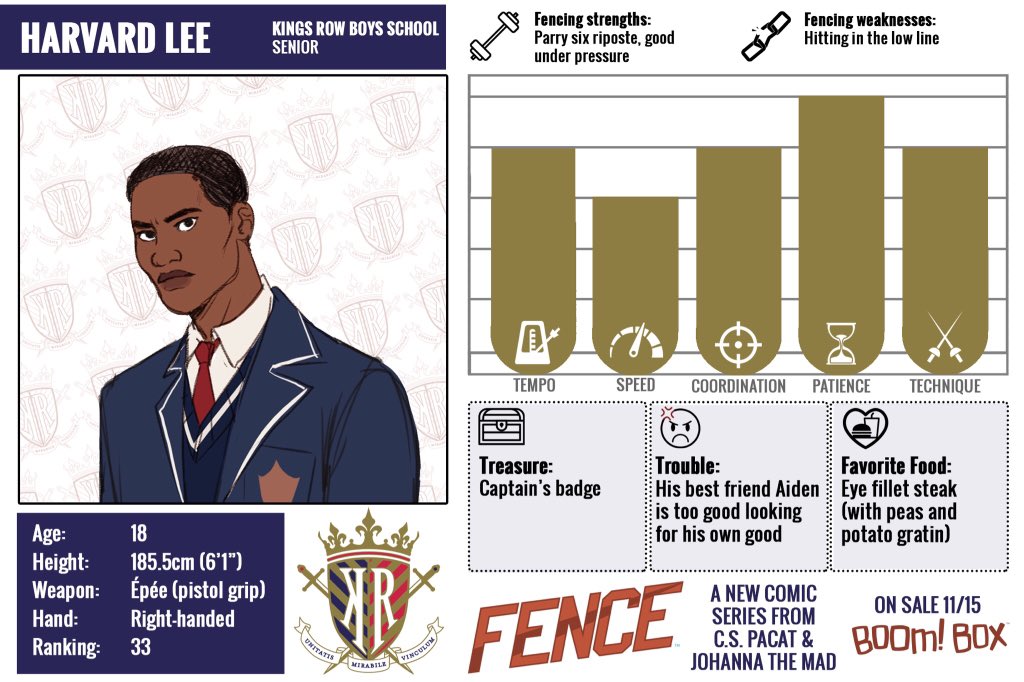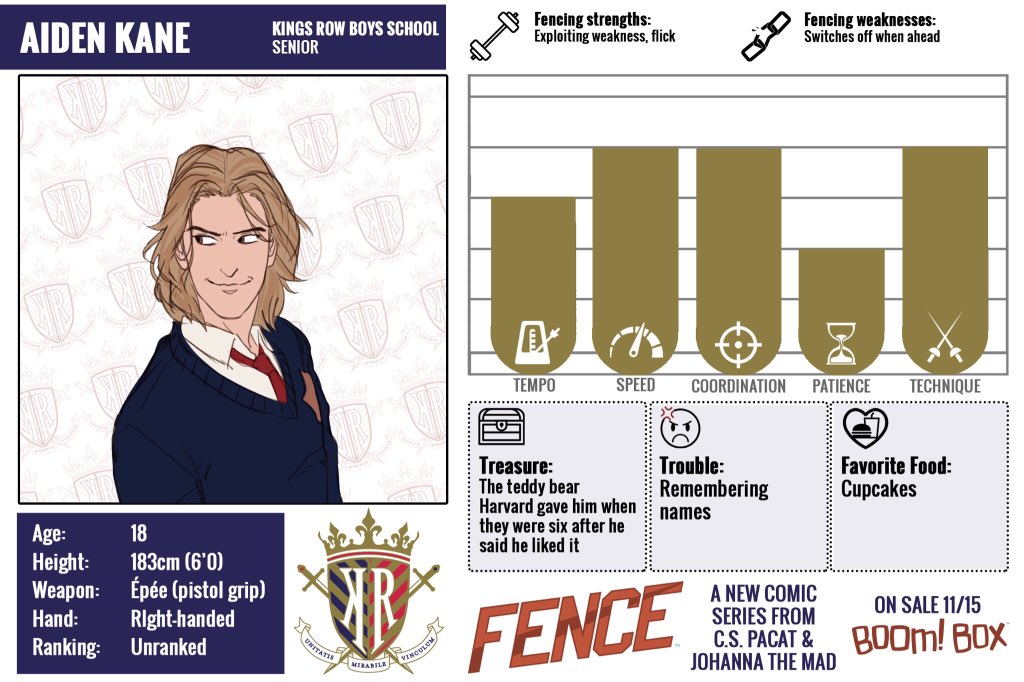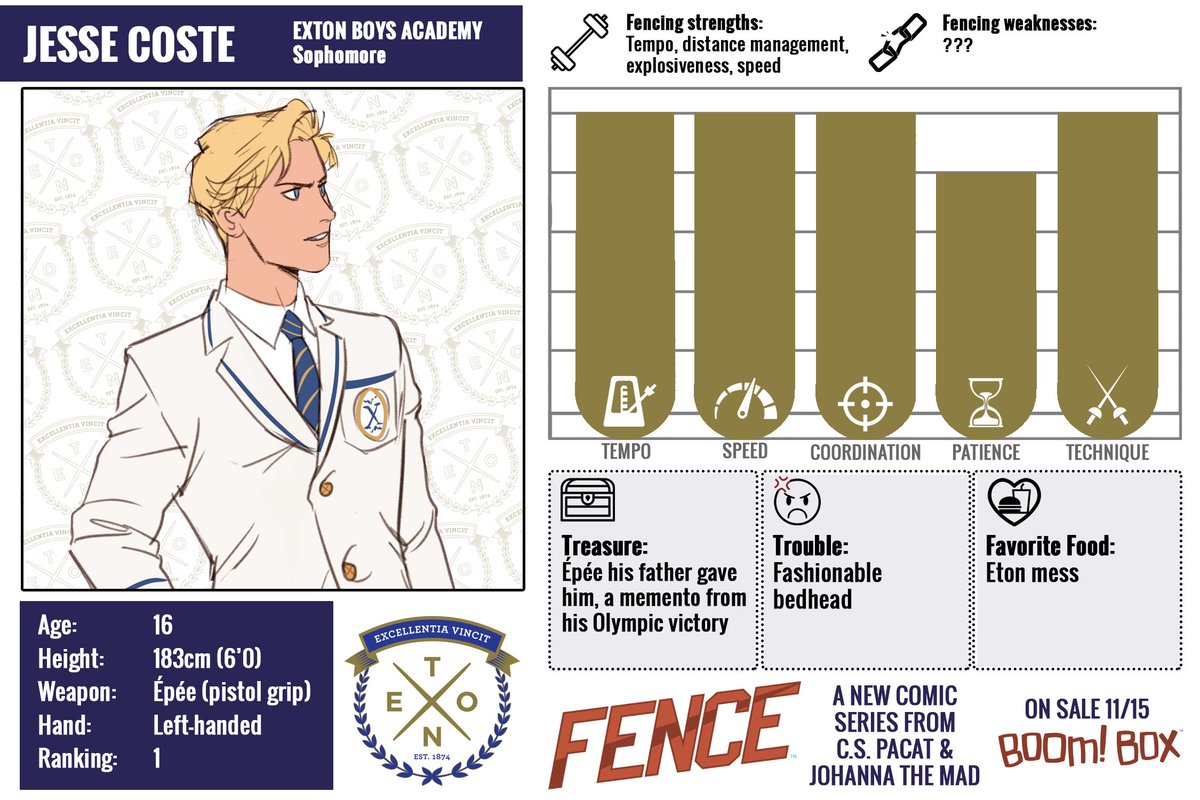 And the "treasure" and "trouble" are honestly a gift from a higher power. And, don't be me wrong, Nicholas and Seiji and their dynamic is perfection, but I honestly fell the most in love with Harvard and Aiden. Like, I can tell you all right now that that is going to be the ship I go down with. But my favorite character is easily Bobby! He completely made the comic for me, and everything about him just felt like a shining light at this boarding school!
Okay, so like with every graphic novel that I review, I always do a breakdown on my thoughts and feeling of each individual issue. So, the next portion of this review will be a little more SPOILER-Y! Obviously, I won't give away anything too pivotal, but I will talk about some of the themes that each issue had inside.
Trigger and content warnings for minor bullying and for abandonment.
➽ CHAPTER ONE –
Oh my gosh, this first issue was everything! I loved being introduced to these characters, and I loved how Nicholas and Seiji literally first meet because they have to fence one another. I also loved getting to see a little more into Nicholas' backstory and why he wanted to fence in the first place, and seeing him try to healthily fill that abandonment void with something positive.
➽ CHAPTER TWO –
This issue lets the reader see the boarding school that is really going to be the starting point of this story. It is six months since chapter one, and Nicholas is finally at Kings Row Boys School, where he hopes to get a scholarship from making varsity fence. We are introduced to a ton of new amazing characters that completely captured my heart; Bobby, Harvard, Aiden. And seeing the juxtaposition of Nicholas and Jesse Coste was really moving and powerful. I just want the best for my fence babies. Oh, and Nicholas also finds out who his roommate is going to be, and I actually screamed with pure joy.
➽ CHAPTER THREE –
We learn in this issue that there are only three available spots on the varsity team. And we also get to see all the people trying out's different weaknesses and strengths. Nicholas is still hurting from an emotional wound that has never healed his entire life. Seiji still thinks he is God's gift to fencing. We get introduced to Dante and Kally, who I easily fell in love with, too. And the round robin tournament for the three spots at stake begins.
➽ CHAPTER FOUR –
We get to see the fencer's matches and that's all I really want to say. But the ending of this bind-up volume was so damn brutal. Like, I need so much more! And I don't want to way for Volume Two in January. I loved this, and it is easily my favorite graphic novel of 2018, so far.
Instagram | Goodreads | Twitter | Tumblr | Twitch | Bloglovin' | Wishlist