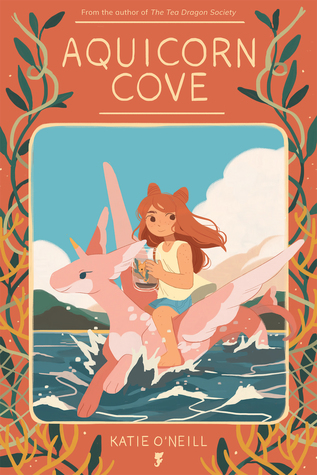 Goodreads | Amazon US | Barnes & Noble | Book Depository
ARC provided by Oni Press in exchange for an honest review.
"But there's no home without a future…"
I just want to say that Katie O'Neill has the most breathtaking, most gorgeous, and most adorable illustrations out there right now. Each page is literally a brand-new work of art. Never have I ever loved the illustrations in anything as much as I do in this and in The Tea Dragon Society!
Aquicorn Cove stars a young girl named Lana, and she and her father come to visit her Auntie Mae on her little island. Lana is grieving the loss of her mother, but feels happier in her hometown, before Lana was forced to move to the city with her father. And the village is rebuilding after a disaster has struck. But Lana is more than happy to help. But when she goes to the water, she finds a little seahorse-like friend, who is in need of her help!
We also get to see Auntie Mae's journey below the water, where the Aquicorns live! And Aunt Mae and their leader, Aure, strike up the most heart-warming f/f relationship. But we also get to see firsthand how important it is to keep our waters clean and that we need to respect coral reefs and underwater ecosystems.
Every book I've read by Katie has also has such an important and powerful message. Aquicorn Cove is about conservation and how the actions we take on land are impacting our waters. How overfishing, climate change, and polluting is hurting these water sources, and if we don't change our actions then the results are going to be more and more severe. This is a book that really focuses on the delicate balance we have with all living things, and how we have to respect and protect each other to keep the cycle going. We all have to be responsible for our carbon footprint, or nothing will be safe; land or sea.
"Children don't deserve to lose their home with the sea."
Overall, I loved this more than words. Some of these panels were able to evoke such an emotional response from me. I shed so many tears, but also grinned so many smiles. I truly think Katie O'Neill is doing so much good in the world, and I wish I could put her work in everyone's hands. Beautiful and breathtaking illustrations, empowering and important messages, and characters that I wish I had growing up. I hope you all pick this up and fall in love, too!

Instagram | Bloglovin' | Twitter | Tumblr | Goodreads | Twitch| Wishlist
The quotes above were taken from an ARC and are subject to change upon publication.