Goodreads | Amazon US | Barnes & Noble | Book Depository
1.) City of Bones ★★★
2.) City of Ashes ★★
3.) City of Glass ★★★
1.) Clockwork Angel ★★★
4.) City of Fallen Angels ★
2.) Clockwork Prince ★★★★
5.) City of Lost Souls ★★★★
3.) Clockwork Princess ★★★★★
"You are the blade of Heaven. Make sure you are worthy."
Friends, we did it, we read all of the The Infernal Devices and The Mortal Instruments. I'd like to take a moment and thank each and every one of you who motivated me to read this backlist instead of just jumping into The Dark Artifices. Seriously, I am so grateful because even though the road started off rocky, I quickly became so attached and fell so in love with these characters and this world. (But we don't talk about City of Fallen Angels, that book never existed!)
Basically, if you are on the fence about starting this series, and not sure what it is about, this is a story about a paranormal world that is hidden from the mundanes (non-magical humans). We see vampires, werewolves, fae *swoons forever still*, angels, demons, and everything else you think of when you think paranormal. And we also are introduced to the world of shadowhunters, the warriors who are sworn to defeat the demons.
But this is also a story that puts friendship at the forefront constantly. This is a tale about found families, choosing who you want to share your life with, and realizing that neither of those things require the same blood. This is a book about unconditional love, and selflessness, and doing anything you can to protect those you care about. And you follow so many different characters, friend groups, and families along the way.
"There will always be those who want to tell you who you are based on your name or the blood in your veins. Do not let other people decide who you are. Decide for yourself."
And there is just something so beautiful about seeing all these stories, characters, and families intertwine. All these bloodlines mixing truly feels like something so special to read. I don't compare things to Harry Potter too often, but I will say that the feeling I had while flipping these pages, never wanting to stop, excitedly purchasing the next book, it was all so reminiscent of my Harry Potter experience. And there is really no higher praise that I can give a book series than that.
I loved this final story. I believe with my whole heart and soul that Cassandra Clare just kept improving throughout all of these books. And I have only the highest of hopes for what she will do next. But the rest of my review is going to touch on a couple key things that happened in this book and things that have happened in previous books, so please use caution reading the rest of this review if you have not read this book and its predecessors! And as always, I'm going to do a little mini character breakdown on my thoughts and feelings on all the main characters in this book. Spoilers ahead!
"I think sometimes we are reckless with our hearts the way we are with our lives. When we give them away, we give every piece."
(I could not find the artist's name, but I found this amazing picture on Pinterest!)
➽ Jace – I didn't hate Jace in this book. Damn. There. I said it. Are you happy now? Again, I think Cassie Clare just gets better and better at writing as these books go on, and I was legit happy with Jace's character, even his pervy dude scenes, because #relatable. But my beautiful friend, Lea, pointed out that Jace brought a condom to Hell and I honestly died of laughter for about five minutes. I aspire to the level of confident that Jace has to not only think he could put it in while in hell, but to also bring protection just in case. But like… I'm here forever and always for safe sex portrayal, especially for teens, even in Hell, my good dudes.
➽ Clary – I feel like I've never fallen in love with Clary the way that I have with other characters from this world, but I've never disliked her. And I really like how Jace took a backseat and trusted her to finish her own story. Also, I love how she used her power at the end, because I always forget what a badass power it is.
➽ Simon – My sweet, kind, geeky, selfless boy. Simon honestly might be my favorite of this entire world. And him constantly willing to sacrifice parts of himself for his friends, you all… I need all the tissues in the world. He is friendship goals, boyfriend goals, and just human goals. This boy deserves the world.
"I don't want the world. I want you."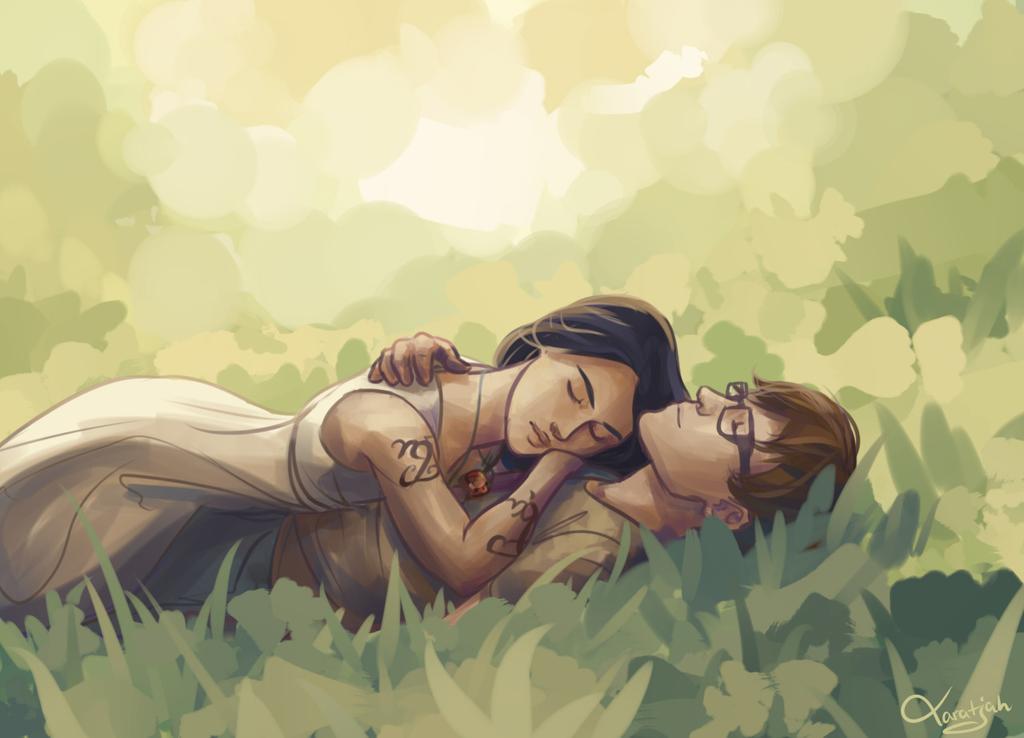 (Beautiful fanart by taratjaht!)
➽ Isabelle – And Izzy is truly my world. I think Cassie Clare did such a wonderful job crafting her character to break all those gross "mean girl" stereotypes. Izzy is hard and soft, confident and unsure, and beautiful inside and out. Her friendship with Clary in this one also made me really weak. But her realizing she actually loves this selfless vampire, this kind dork, and sweet boy… you all, it is still breaking me. Sizzy 4 lyfe!
➽ Magnus – Okay, be honest, how messed up am I that I really enjoyed seeing Magnus' dad? Like, damn. I'm impressed and want to know everything about Asmodeus. Magnus was amazing, like always, even though he lost his cat. Ahhh, my heart! But I can't wait to see what happened in Peru, and some more of his adventures, in The Bane Chronicles!
➽ Alec – I wasn't the biggest fan of Jace or Alec until this book. Alec was a realistic eighteen-year-old that just had his heart broken, to me. And he was actually amazing throughout this entire story, while showing us all the things he is struggling with deep down. Also, his dad is a fucking asshole even after he was like "my best friend, who was a dude, loved me and I told him to fuck off!" Like, I'm sorry, was that supposed to make me like you and realize you are tolerant of your kid being gay? Miss me with that shit forever, please. But Alec was, and is, going through a lot, and he was still able to tell Magnus what he wanted and what his limits were at the end of this book. Like, I think I finally ship them together.
➽ Emma – Okay, let's be real, she is Jace junior, BUT 102 times better. But I instantly loved her and wanted her to be protected. I can't even imagine the grief or trauma she went through and is still going through. And I can't wait to learn more about her, while she hopefully learns more about her ancestry.
➽ Julian – Legit, these kids are like thirteen-years-old and I'm like "don't become parabatai, you're soulmates!" like an insane person. I can already tell that Emma and Jules are going to give me all the feels when they are older. And their writing on each other? Cutest, most pure shit in the entire world. And Julian wanting to be there and raise his brother and sisters when he is just a kid himself? What a sweetheart, and I'm ready to protect him at all costs.
➽ Brother Zachariah – Legit, this character made me cry more than any. From saying where his home was, to asking if someone might play the violin. My heart, I can't. And I am most excited to see where his storyline goes. And to see him talk about his past with a few young shadowhunters.
"Ghosts are memories, and we carry them because those we love do not leave the world"
➽ Luke – I've loved Luke from City of Bones and I loved him through the last page of this book. Legit the best dad, and he deserves the entire galaxy.
➽ Jocelyn – I honestly just came to hate Clary's mom more and more as this series progressed. Luke is too damn good for her. She not only was a shitty mom to Sebastian, but she was to Clary, too. And hearing her say all that horrible shit about how she wished she could kill him in the crib and stuff. Like, I get it, he's evil, but can you like not say shit like that? Fuck. Maybe he didn't get all his evil from Voldemort Valentine.
➽ Mark – At the start of this book, learning that he was half fae, I instantly fell in love. Seriously, I need to know everything about this hunt, and I'm praying that it will be touched upon more!
➽ Helen – At the start of this book, learning that she was half fae AND QUEER, I instantly fell in love. I felt so bad for her at the end of this book because of how she was treated for being half something else, but I can't wait to learn any and everything about her.
➽ Aline – In my review for City of Glass I wrote, "Um… is this new character Asian and queer? Because, I think she is, and I think I'm head over heels in love with her already." AND MY SENSES JUST KNEW! JUST KNEW! I bet this character ends up being one of my favorites.
(Gorgeous fanart by DREI SJ!)
➽ Jordan – His death was actually my least favorite thing about this book. And don't get it wrong; I hated him from the first time I realized who he was. But… the way Cassie made him and Maia so in love, to only realize that fans were probably like, "yo, this some abuse apologist bullshit" so she killed him off and…
➽ Maia – …Maia realized she never could have been happy with him? Like, no. Sorry. That's not how it was written. And it's so messed up because I should be so happy that at least the abuse apologist storyline is over, but it just makes me angry how much it got swept under the rug. Especially because Maia is like one of four characters of color. I don't know, friends. I just, I didn't like it. Oh, and then she is obviously going to just jump into another relationship with the Bat dude? Like, why does Cassie Clare treat the character of Maia so poorly? It felt so forced and I felt so much cringe while reading it. But I do love how she is in charge of the pack now, so hopefully I enjoy her in other books.
➽ Raphael – Oh and then one of the other three characters of colors dies? Feels bad, man. Especially because I was really starting to feel for Raphael. Poor guy just got dealt such a bad hand in life. But I can't wait to see his past with Magnus in The Bane Chronicles.
➽ Maureen – This death actually made me sad, too. Like, she didn't even have a chance. They couldn't have captured her and done something? Like, how heartbreaking. Seriously.
➽ Seelie Queen – Okay, but where did this bitch go? I literally gasped when I found out who was warming her bed. I'm still not over it.
➽ Kaelie Whitewillow – We are all rooting for you!
➽ Sebastian – You all, I really came to like Sebastian's character. Was he a little extreme? Yes. Does Cassie Clare love threatening incest? Yes. But even before the evil left him, I felt a lot of empathy for him. He really is the product of growing up with no love, and it really doesn't have to do with his demon blood. Maybe it's my age while I'm reading these for the first time or something, but I actually felt a great deal of sadness from Sebastian, and I think he was a really good villain in this book because of the emotions he was able to evoke from me.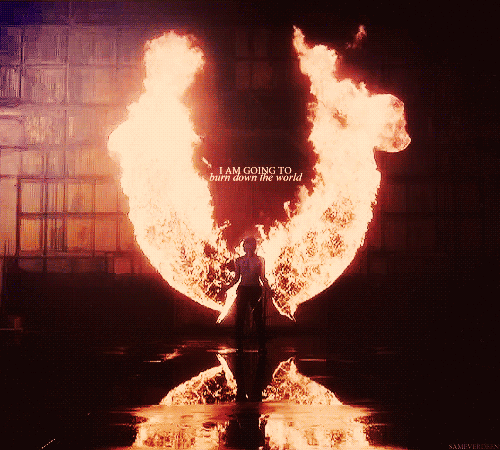 So, to summarize, Jace and Clary did it in Hell (protected), Simon and Izzy are the OTP of my dreams, Magnus and Alec deserve all the happiness in the world, I better get more of this fae hunt society thing with Mark, Emma and Julian are already killing me, Sebastian was wild and evil but I still felt bad for him, Maia is a hot mess but it's Cassie's fault, Raphael deserved better, and all I want is Alline and Helen to rule the shadowhunter world. It has been a wild ride, friends.
Overall, I am so happy you all convinced me to read this series, instead of just jumping into Lady Midnight. This book in particular gives you so much new information and characters, I think you'd for sure be doing yourself a disservice if you didn't read at least this book. The road might have started out a little rocky for this series, but I really did come to love it with my whole heart. Simon and Izzy are in my top five OTPs of all-time, Magnus is one of my favorite characters in all of literature, and I already need to know more about everything fae! I can't wait to continue on with The Bane Chronicles!
Instagram | Goodreads | Twitter | Tumblr | Twitch | Bloglovin' | Wishlist
Content and trigger warnings for attempted rape, assault, captivity, attempted/desired incest, self-harm, violence, blood depiction, death, murder, loss of a loved one, abandonment, drugging, and war themes.