Hey, friends! I've been having a hard time getting into the Halloween spirit this year for some reason! So, I thought a good way that could help make me feel a little bit more spooky would be to share my love for the paranormal with you all! For five nights I'm going to spread a little love for my favorite eerie entities: Witches, Ghosts, Demons, Shifters, and Vampires! I hope you all enjoy and maybe pick up a new book that will make your Halloween feel a little more haunted! 👻
---
➽ Strange the Dreamer by Laini Taylor


Like, I know this is cruel, but I couldn't NOT have this make this list! Have you ever loved a book so much that it completely fills your soul, warms your heart, and heals your broken pieces? Because that's Strange the Dreamer. This was my favorite book of 2017, and I will always recommend it with my whole heart.
---
➽ Shadow of the Fox by Julie Kagawa


This is a bright, shining light in 2018 fantasy! Friends, I loved this from the very first chapter, and was more captivated than I have been reading any other book this year. Like, go into any bookstore, read the first chapters of this book, and I dare you not to want to immediately buy it. Goosebumps. Tears. Perfection. Those are the three words that come to mind, and I just continued to fall even more in love with this story as it progressed. And the ghost in this is perfection.
---
➽ The Astonishing Color of After by Emily X.R. Pan


This is one of the most beautiful books I've ever read in my entire life. It's powerful, moving, poignant, lyrical, important, and touched me beyond words. From the discussion about mental health and the stigmas we still have in 2018 (especially in Asian cultures), to the true portrayal of grief, to the heartbreaking truth about depression, to the realistic depiction of what it means to be not only biracial but to be white passing, to the discovery of your identity. The Astonishing Color of After is a book I will cherish for the rest of my life.
---
➽ The Raven Boys (The Raven Cycle #1) by Maggie Stiefvater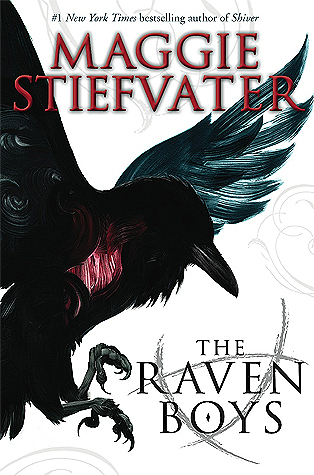 This completely unique story is about a girl, Blue, that lives in a house full of psychics. She is the only one in her family that does not have psychic powers, but instead possesses something much different. Blue amplifies the spirit's voices. This not only helps her family, but also helps the spirits in other ways. Blue is a little bitter that she cannot actually see the spirits, until one night she is able to see one. If Harry Potter was my childhood, The Raven Cycle is my twenties.
---
➽ Small Spaces by Katherine Arden


This is Katherine Arden's debut middle grade novel and I loved it so very much friends. Many of you know that The Bear and the Nightingale is one of my favorite books of all-time, and even though these stories are nothing like one another, the beautiful writing, amazing characters, and important themes shine through. I went into this expecting a fun and spooky read (which it was), but what I also got was such a beautiful love letter to grief, depression, and trying to live in a world that has taken away someone who you feel you cannot live without.
---

Okay, friends! I hope you enjoyed! And I hope the end of your October is filled with all the amazing books! Tell me your favorite ghost story in the comments, please! And happy Halloween! Stay spooky! 🎃✨
Instagram | Bloglovin' | Twitter | Tumblr | Goodreads | Twitch| Wishlist