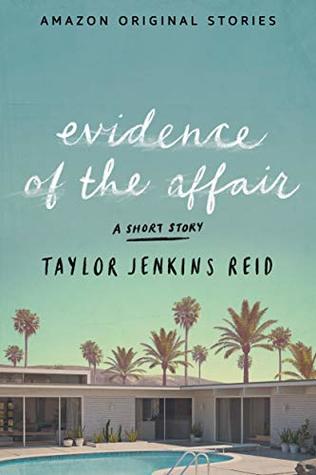 Goodreads | Amazon US
"Alone in the world and alone in my marriage. Alone in love, really."
So, basically, I'm trying somewhat hard to hit 200 books this year. And last night I just couldn't sleep, so in the late hours of the night, I decided to read this short little novella to help boost my number. Holy shit, friends, I went into this book not expecting much, but came out weeping over its beauty.
This is a very short read, that is told completely in the format of letters from the late seventies. Letters between two cheating individuals, but, more importantly, letters between the spouses of those cheating individuals, who are sharing the letters they find between each other. Taylor Jenkins Reid is kind of known for pulling off some powerful and emotional twists in her stories, but I am in awe of how flawless she was able to do it in such a short number of pages!
"Dear Mr. David Mayer, My name is Carrie Allsop."
➽ Carrie Allsop – A stay at home wife, who has always been happy with her dependable, yet boring, husband. Even though she is constantly questioning her worth because she is thirty and still hasn't gotten pregnant in the decade she and her husband have been trying.
➽ David Mayer – High school teacher, who loves his wife and four sons more than anything in this world. But he has also been questioning his self-worth because money has been getting tighter and tighter.
And I just loved the completely taboo and unconditional friendship that these two form over a horrible situation. I love how they were each other's soundboards because no one else would even begin to understand what they are going through, the exact way that they understood it together. I don't know, this was just a really beautiful story. And I really love the way TJR ended this book, too. Legit perfection.
I think this book really has a good discussion about love, and how it is not always that perfect, Hallmark picture that so much of the world will have you believe. Real love can be complicated, messy, hard, and something that you have to work for every single day. And sometimes it can be filled with forgiveness. And I think this book really does a great job at touching on how easy it is for people to judge other's relationships, without having any empathy and without believe that something similar could ever happen to them.
"It is funny the crazy things our brains make up to save us from the truth."
Overall, I really loved this. I was blown away and I will continue to read everything that TJR comes out with. She truly is becoming one of my favorite contemporary authors, and I think she is doing some really unique things with her writing. Also, as of today (December 14th, 2018) if you have Amazon Prime, this is FREE on Amazon US!
Instagram | Bloglovin' | Twitter | Tumblr | Goodreads | Twitch | Wishlist | Youtube
Content and trigger warnings for infidelity and talk of infertility.