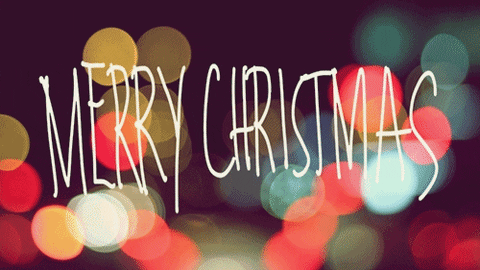 Merry Christmas, to all my friends who celebrate! Today's post is something I've looked forward to doing all year long, so it's really a gift to myself! So, on January 6th of 2018, I made a blog post all about the twelve books that I *must* read during 2018! And I finally read the last one at the start of December! This was my first year doing this, but I loved it so much that I hope to continue to do it forever. It really helped me to read books that I already owned, and it gave me a much-needed break between ARCs when I was feeling rather burnt out. And even though I did predict these all being five stars (they weren't), I still ended up loving so many of these titles! 🎄🎁❤
---
➽ The Secret History by Donna Tartt – ★★★★★
This was the first book I read in 2018! And I still have never read anything like this book in my entire life. I laid in bed for over an hour last night upon finishing this book, just tossing and turning and thinking about everything I just consumed. I still don't think I can put my feelings into words, but I can honestly say this book was a cathartic experience for me, and the irony of the word "catharsis" being a Greek rooted word is not lost on me, because if this book is anything it's a modern-day Greek tragedy.
---
➽ Jane Eyre by Charlotte Brontë – ★★★★★
I fell completely in love with this. This was so intelligently crafted and so expertly woven! And the dark feelings and vibes throughout really makes this such a unique and amazing reading experience. And I think this is a book that I will be able to read and reread over and over for the rest of my life. You also best believe that if I ever have children, this will be required reading once they get a bit older, because this book seriously has an immense amount of power. And I truly believe this is my favorite classic of all-time now. And I never want any woman to feel like a bird trapped in a cage.
---
➽ Jane Steele by Lyndsay Faye – ★★
Reader, I was so damn bored. I was a little intrigued at the start. I mean, it is hard to not get hyped about a serial killer who loves Jane Eyre. But as more and more time went on, I just cared less and less. Also, I really was leading myself to believe there was going to be a sapphic relationship in this, only to cry over what could have been, and that's never a good feeling, even if I queer-baited myself.
---
➽ The Song of Achilles by Madeline Miller – ★★★★★
In high school I became really obsessed with Greek mythology. I couldn't get enough of the adventures in The Iliad and The Odyssey. And the Trojan War is almost a decade worth of adventures that I fell completely in love with. And I always had a special soft spot for Achilles, son of a god and a king, being convinced to join the Greek army by the Greek commander, Odysseus, to become the greatest warrior in the world. But so much happens before that deadly battle between Hector and Achilles outside the gates of Troy. And The Song of Achilles is Madeline Miller's love letter to Achilles complete story, and it is an actual masterpiece that is the best reimagining I've ever read in my entire life.
---
➽ The Seven Husbands of Evelyn Hugo by Taylor Jenkins Reid – ★★★★★
This is one of the best books I've ever had the privilege to read. It is probably in the top five for best books I've ever read in my entire life. I have been looking for a book like this my entire life, and no combination of words I'm about to type, and you're about to read, is going to do this masterpiece justice. If you all ever take a recommendation from me; please have it be The Seven Husbands of Evelyn Hugo.
---
➽ The Book of Etta (The Road to Nowhere #2) by Meg Elison – ★★★★
Meg Elison writes the queer, feminist, inclusionary literature of my heart. This book is important, and powerful, and empowering. It's hard, and brutal, and heartbreaking, but I promise it is so rewarding. The reason I am giving it four stars is because the ending felt rushed to me. And even though I loved this entire ending with the soul of my being, it just happened in the blink of an eye. Yet, I am so excited to see where the next book picks up, because I am sort of obsessed with their location! But friends, if you are in the right headspace, please give The Book of the Unnamed Midwife a try. It's truly a masterpiece, and this entire series means more to me than I have words for.
---
➽ Now I Rise (The Conqueror's Saga #2) by Kiersten White – ★★★
Friends, I'll be honest with you, I have been dreading writing this review. I don't know what's wrong with me or my reading tastes, but this series just isn't the series for me. So many of my friends love this series more than anything and you should check out their reviews: Chaima (Muslim ownvoices), Elise, and Emily! But, sadly, I'm calling it quits and I'm not reading the third book. And if you want my honest opinion? Read The Traitor Baru Cormorant, because it's a better version of (Radu's storyline especially) this story. I didn't hate this book by any means, it's just really a 2.5 star, middle of the road book for me. And I'm going to try to keep this review short, because I completely recognize that this series just doesn't work for me! But this is a historical reimagining, starring two children during the fall of Constantinople, but one of those children is a genderbent Vlad the Impaler.
---
➽ The Queen and the Cure (TBATS #2) by Amy Harmon – ★★
I loved The Bird and the Sword so much when I read it, so I was looking so forward to the indirect sequel, the Queen and the Cure. But, sadly, I was so let down by this next installment. I didn't care about the character, the story, or any of the hardships that they were going through. Honestly? The only parts I really liked where when the characters from The Bird and the Sword made brief cameos. Kjell is the captain of Tiras's guard, and is on a mission to find any remaining Volgar. Not only is Kjell a strong warrior and leader, he is also a very gifted healer. But his healing comes at a price; for every life he saves, he gives up a day of his own life. But he stumbles upon a young woman named Sasha who is in desperate need of healing, and he doesn't even hesitate to save her life.
---
➽ A Daring Arrangement (The Four Hundred #1) by Joanna Shupe – ★★
I am not sure if this is because I just don't read that much historical romance, or that I just couldn't connect with these characters or story, but this just did not work for me. Honestly, I think I'm going to try a Tessa Dare book, and if that doesn't work for me then I'm just going to swear off historical romances for a while. This was just so boring. Nothing happened what so ever. And I'll admit, I picked this up because I was craving romance, so maybe the fact that the romance didn't even start until 70% into the book made me really not enjoy it.
---
➽ The Abyss Surrounds Us (TASU #1) by Emily Skrutskie – ★★★★★
I fell totally in love with this story and it surpassed every high expectation I had for it. The writing is addicting, the story is so unique, and this book holds my now favorite enemies to lovers, angst-filled relationship of all time. Oh, and it's between two girl pirates. Sold yet? You should be. This book was a gift.
---
➽ Hideaway (Devil's Night #2) by Penelope Douglas – DNF @ 58%
I'm just going to DNF this and pretend that Corrupt is a standalone. You all, this is just awful. From the Japanese main character who constantly talks about dojos, to the constant grey area consent, to pedophilia and even incest. I can't. I cannot do this. And I refuse to read a Damon redemption story for the next book. This is easily one of the worst things I've read all year.
---
➽ Three Dark Crowns (Three Dark Crowns #1) by Kendare Blake – ★★★★
This world is gloriously feminist, and I loved each point of view from the different islands. And the writing? Beautiful, lyrical, genius. And I fell so very in love with each sister, easily, and happily. These characters are honestly a tier above almost every YA character I've ever read. And again, this was such an amazing journey and I hope more people give this book a shot, despite the mixed reviews.
---
Okay, my loves! I hope you enjoyed this as much as I did actually doing it! And I absolutely cannot wait to do this again for 2019, but with an even more exciting twist! And hopefully I have just as many five star reads ahead of me, and hopefully no DNFs! Let me know below if you all do something similar to this with your reading year! And I hope you're all reading something that's five star worthy! Merry Christmas! ❤️🎄🎁
Instagram | Bloglovin' | Twitter | Tumblr | Goodreads | Twitch | Wishlist | Youtube