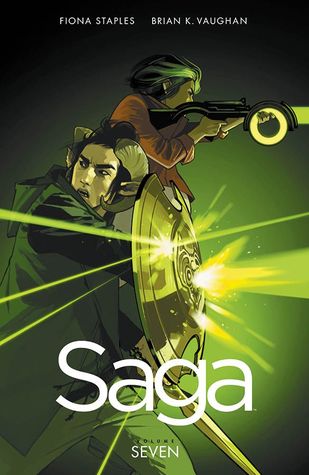 Goodreads | Amazon US | Barnes & Noble | Book Depository
Vol. 1 ★★★★
Vol. 2 ★★★★
Vol. 3 ★★★★★
Vol. 4 ★★★★
Vol. 5 ★★★★★
Vol. 6 ★★★★★
"Nothing in the universe was safe from the endless war between mom's planet and dad's moon…"
This seventh installment is truly a masterpiece, and one of the most impactful graphic novels I've ever read. The ending of this is true and utter perfection, and the emotional range that Brian K. Vaughan and Fiona Staples are able to evoke is truly something I don't have words for. This but seventh volume truly shows why Saga is one of the best graphic works in existence.
And this volume really talks about heaven and hell and believing and not knowing. All six issues really have the theme of what if there is something better after this life? What if there is something worse? What if there is nothing at all? And we get to see so many people live their lives feeling very differently on the spectrum, while also seeing it shape their lives entirely.
We get to see some amazing new characters in this, but we also are forced to say goodbye to many. All the volumes in this world can get pretty dark, but this one especially has some major content and trigger warnings for sexual content, violence, attempted suicide, death, murder, an animal death, talk of miscarrying, and war themes. Please use caution going into this bind-up.
And it feels extra heartbreaking because you only want the best for these characters, after seeing them go through such horrific things for the last six volumes, all because two people, from two different races, decided to fall in love.
As always, I'm now going to break down each chapter (single issue) in this bind-up. I mostly do this so I can go back and refresh what has happened in which specific issue. There will be SPOILERS, so please do not continue if you have not read this graphic-novel or the ones leading up to this volume!
➽ CHAPTER 37
We get to see Alana (who is very pregnant), Marko, Hazel, Izabel, Petri, and Sir Robot all together on their latest ship. But they desperately need to refuel, so they go to a new place called Phang, where they meet Jabarah, Kurti, and their whole big family! We also get to see Gwendolyn, Lying Cat, and Sophie (who is ten now), on a new adventure together!
➽ CHAPTER 38
Hazel and the family end up staying for six months on Phang! And they become very close with Jabarah, Kurti, and their family! We get to see The Will meet up with Velour (Gwendolyn's wife), because he is trying to track her down. And we get to see a new villain, The March, who is a two headed alien, who kills Izabel and I'm forever crying.
➽ CHAPTER 39
The Will is fired from his freelancing job and is just doing worse and worse mental health wise. Hazel and everyone else are trying to deal with the loss of Izabel. And this volume really starts the questions about an afterlife, and what people are willing to do in the name of it.
➽ CHAPTER 40
Gwen is selling or trading a very mysterious box that is going to do very bad things. Prince Robot is spiraling worse and worse, and finds some drugs that helps remind him of everything he as lost, and he makes some really poor choices.
➽ CHAPTER 41
Phang is going to crash into a timesuck, so Marko and Alana are desperately trying to get everyone together leave. The Will meets up with Sophie and the gang, and gives her the choice to come with him. Sophie stays with Gwendolyn, and Lying Cat doesn't want to leave Sophie, so she stays, too.
➽ CHAPTER 42
Marko shoots a weapon, but it's going to really impact him down the road, but there was no other choice. The Will's dog dies, and I was not prepared. And then Jabarah decides to keep her family on a dying thing because she has faith in a higher power. So, Hazel and the gang are forced to leave, but they lose so very much.
Again, this entire volume is about faith and believing and loss and how each person will live their lives differently surrounding those three things. The last pages of this? They broke me. I had tears streaming down my face as those heartbreaking black pages. Again, the emotions this story is able to evoke from me is something I will never have words for. But I love these characters, this art, and this beautiful story with my entire existence.
Instagram | Bloglovin' | Twitter | Tumblr | Goodreads | Twitch | Wishlist | Youtube